Eating well is Jiu-Jitsu – The favorite Pre-Workout snack of Samuel Nascimento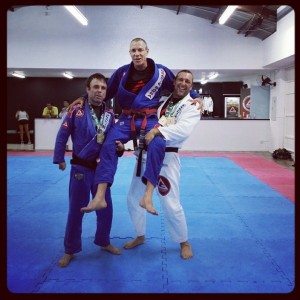 Many of you probably know the life story about our champion and great example Samuel Nascimento, known as Samuka. For those who still do not know, when Samuel was about 2,5 years old, the common childhood curiosity made him take his hands to a bread machine owned by his family. What should be a little joke became a serious accident, leaving Samuel without both hands. To read the whole story, click here (in Portuguese).
As we know, this 3rd degree black belt from GB Florianópolis never gave up his dreams and, with lots of willpower and determination, he adapted himself to the gentle art and is making history in every championship he attends. "Most of the time, the problem is on the people's head".
Samuka brings a conviction within himself:  "If I want, I can. If I can, I do". And he actually does! Now being 41 years old, the black belt already holds numerous important titles, like these latest ones: South-Brazilian 2014 CBJJ in Master 3 Black Belt modality (featherweight) and Compnet Champion in Senior Black Belt modality (featherweight).
As a devoted athlete, our champion does know that: eating well is health, eating well is Jiu-Jitsu. Today we will present Samuka's favorite pre-training meal: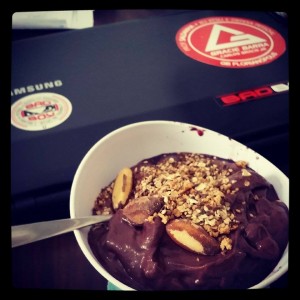 Pre-training Açaí's Bowl 
Ingredients:  
– 1 'Açaí + Guaraná' mixed pulp
– 1 white banana
– 1 tablespoon (full) of peanut butter
– granola to taste
Preparing:
Firstly, combine the banana, açaí pulp (well cracked/ground) and the peanut butter in the blender.  Blend all ingredients until obtaining a smooth cream. Transfer to a bowl and serve with granola.
"Have a nice snack and a nice train. Oss" Samuka GB Florianópolis – 3rd degree Black Belt.
This article has only an informative purpose and has no intention to replace a professional guidance. The use of vitamins and supplements can offer you great results, but before using any product, we strongly recommend you to visit a Nutritionist, Doctor or another specialist for an analysis and follow-up.
Note: Illustrative photos