Eating well is Jiu-Jitsu: Quinoa Tabouleh with Carol Gracie.

Our eating well today is extra special as it's put together with the collaboration of Carol Gracie, the daughter of Master Carlos Gracie Jr. As you all know, Carol keeps a healthy lifestyle that combines physical, mental and spiritual well-being through the practice of Jiu-Jitsu, outdoor exercises with a healthy and balanced diet. In other words, Caroline has a lot to teach us …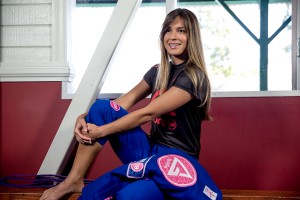 A purple belt in jiu-jitsu, she loves to train and sees numerous benefits in the practice of jiu-jitsu for women.
"For me, the most important are self-confidence, self-defense, physical fitness, strength, balance, flexibility, sociability, leadership and entertainment." Carol Gracie
It's obvious that Caroline has a routine of intense physical activities, yoga, weight training, outdoor activities like paddle boarding, surfing, hiking and so on. But it doesn't just stop there… Carol is also a reporter for the GracieMag USA and has a busy schedule as one… Interviews, blogs, recordings. The Lifestyle with Carol Gracie has become one of our most popular programs so it's understandable that she always tries to eat well.
Carol Gracie chose to share with the GB family a recipe for a Quinoa Tabbouleh today.
"I like this dish because all the ingredients are consumed raw, thus preserving all their nutritional properties. It's a vegetarian dish suitable for everyone.  Still, it is rich in protein which is good for muscle gain I learned it from my mother." CG
Quinoa Tabbouleh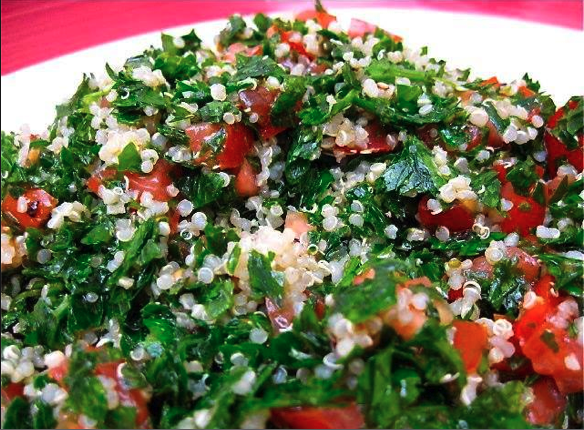 Ingredients:
2 cups ( 480 ml ) of water
1 cup ( 175 g ) quinoa
Pinch of salt
4 tablespoons ( soup) of oil
1/2 teaspoon (tsp ) salt
4 tablespoons ( soup) of lemon juice
3 tomatoes , diced
1 cucumber , cut into cubes
2 spring onions , chopped
2 carrots , grated
1 cup ( 60 g ) chopped fresh parsley
Preparation:
In a saucepan, bring water to the boil. Once it's boiling, add the quinoa with a pinch of salt. Lower the heat and simmer for 15 minutes. Set aside to cool down at room temperature. Stir the quinoa with a fork.
Meanwhile, in a bowl  mix the olive oil, salt, lemon juice, tomatoes, cucumber, spring onion, carrot and parsley. Add the quinoa.
Like it? Share with friends 🙂
Click here for Carol's Facebook page.
This article is for informational purposes only and is not intended to replace professional guidance. The use of vitamins and dietary supplements can benefit a person, but we recommend consulting a nutritionist, doctor or other specialist for evaluation and monitoring prior to using any health enhancement products.
Note: Illustrative pictures