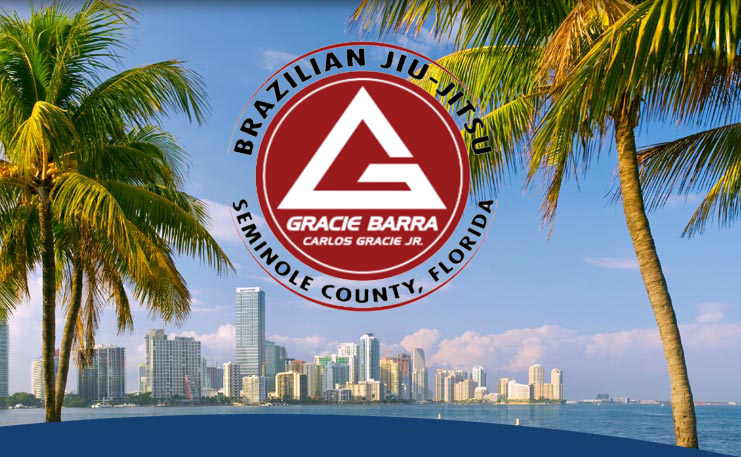 Gracie Barra Seminole County Opening March 2nd
When training Brazilian Jiu-Jitsu is met with great semi-tropical weather, that is when Gracie Barra gets a hold of Sanford in the heart of Florida. Coming soon to the locals of Seminole County is another world class school for Brazilian Jiu-Jitsu. For the people within Sanford Florida, taking a trip to Seminole County to meet with these Gracie Barra disciples is definitely worth it (we even guarantee it).
Coach Wellington Lage (owner) has been training Brazilian Jiu-Jitsu since 2007 with Professor Rodrigo Lopes black belt 2nd degree under Carlos Gracie Jr, and head instructor at GB Seattle. However, Wellington took his instructions in Seattle, now he is training with Professor Vanderson Gomes in Florida, where they live. Coach Wellington was born in Minas Gerais, Brazil.
Coach Wellington's love and passion for Brazilian Jiu-Jitsu is obvious.  This passion led him to teach kids classes, and for him, as a Dad, there is nothing better then teaching them and sharing knowledge in this amazing martial art.
"It is because it takes over everything in your life in a positive way. It's a lifestyle! Something like being patient, more confident and more healthy, physically and spiritually. No matter the challenge in life, win or lose, you learn to always make the best of it," he says.
His business partner and friend, Vanderson "Vandinho" Gomes, believes in the dictum. A 2nd degree blackbelt born in the capital of Brazil – Brasilia on July 19,1979, he is the head instructor of Gracie Barra Seminole County.
At the age of 7 he began training Judo, then when he was age 13 he began training Brazilian Jiu-Jitsu with master Ary Sardela. At the age of 15, because his master retired, he decided to train with the Brites family (Ailson Henrique Brites "Jucao"and Admilson Brites "juquinha"). Vanderson is a black belt under TBF (the Brites family), training for 19 years, travelling all over the world training and teaching BJJ. In 19 years as a competitor, Vanderson Gomes has won many titles such as: Brazilian National, North American National, American National, Pan American, World, many others, totaling over 50 titles. Professor Vanderson is still an active competitor.
I started very early in the world of martial art, BJJ was actually making me a better person every day, I was changing for better without realizing it, I was calmer, I felt more confident, you learn to respect people more, help more, be more patient, to be more humble, have a healthier life, and all that surround you, you want to share it with them. BJJ is not only a sport for me, but a philosophy of life in which every day I propose to teach and learn from everyone. – Professor Vanderson Gomes
Professor Vanderson Gomes believes Brazilian Jiu Jitsu is for everyone! Training with him means you will gain self-respect, physical and mental health, security, tranquility, discipline, self-esteem, a larger view of the world, a family, lifelong friends, focus, and much more. Professor Vanderson Gomes is one of the most focused in careful attention to detail, student safety, love for Jiu Jitsu, and has a friendly approachable personality. His mission is continuing to bring the Gracie Barra legacy to as many new students possible. It is a big honor to be a part of the largest team in the world – the GB family!
So What's In a School?  
You can spend a couple of years doing the tread mill to get in shape, or be a belted Brazilian Jiu-Jitsu artist. The choice is quite easy, but in every school, there is always the "it" which makes it special.
Coach Wellington gives us some details about his school:
"Gracie Barra Seminole County offers world-class level Brazilian Jiu-Jitsu instruction for individuals, families, and Law Enforcement officials and is a reference for fitness, character development, self-defense, martial art, and Brazilian Jiu-Jitsu training for the communities of Seminole County, Florida."
Coach Wellington adds, "…Gracie Barra is for anyone who values discipline, wellness, martial art, respect, and is looking for a well balanced life-style. It doesn't matter if you are a person with no training background that wants to loose weight or learn self-defense, a busy business man looking for a stress relieving activity, a parent searching for something to complement the education of your kids, or an experienced martial artist aiming for the further development of your fighting skills, come to the school," he promotes. "We are sure you will find an exciting and challenging place that will allow you to achieve your goals."
Gracie Barra Seminole Offers the Following
MUAY Thai Program
Muay Thai is a form of martial arts practiced in large parts of the world including. Thailand and other Southeast Asian countries. The art is similar to others practiced in Cambodia, Myanmar, Malaysia, and Laos. Muay Thai has a long history in Thailand and is the country's national sport. Traditional Muay Thai practiced today varies significantly from the ancient art Muay Boran and uses kicks and punches in a ring with gloves similar to those used in Western boxing.
Muay Thai is referred to as "The Art of the Eight Limbs" since the hands, shins, elbows, and knees are all used extensively in this art. A practitioner of Muay Thai ("Nak Muay") thus has the ability to execute strikes using eight "points of contact", as opposed to "two points" (fists) which is commonly seen in Western boxing, or "four points" (fists, feet) which is used in primarily sport-oriented forms of martial arts.
MMA Class
This class is focused on striking combinations into takedowns, and defending strikes and effectively striking while in grappling range (mount, guard, clinch, etc.) of your opponent.
Women Program
The Gracie Barra Women's Program combines a comprehensive self-defense curriculum with emphasis on drills that simulate realistic attacks and escape situations.
Striking Class
The Striking class teaches you the basic fundamentals of striking. This class will take techniques and principles from most of the striking arts but the main influences are drawn from Boxing and Thai-boxing. Each class will start with a warm up then technical instruction will begin usually with the use of focus mitts, glove drills or heavy bags. It is designed to teach our students the basic fundamentals of punching and kicking and the proper techniques to defend and counter these attacks.

——
For more Information: you may reach Coach Wellington at his facebook page or call (206) 265-0543