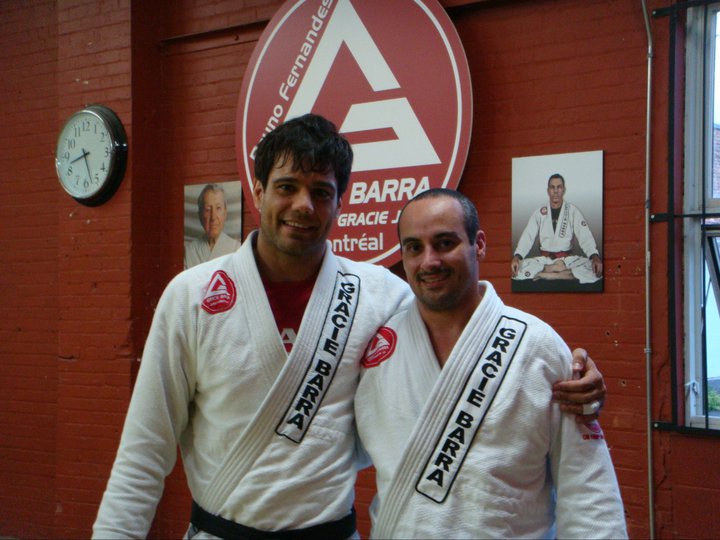 Gracie Barra Montreal just had the pleasure of receiving a new Professor in Rodrigo Mendanha. Professor Rodrigo is a black belt under Professor Vinicius "Draculino" Magalhaes who has just moved to Montreal in order to give his children an experience to see a different part of the world. We caught up with Professor Rodrigo to get the inside scoop on his new move.
Tell us a little about your back ground?
I started when I was 17 at 1996. After I had practiced a little bit of wrestling when I lived in Chicago, Il. I went back to Brazil looking to train martial arts when I found Draculino's Team. Some of my competitive accomplishments include:
First place at IV Golden Lion Cup
Bronze Medalist at Brazilian league Champion at the 1st interstate submission cup
First place at 1st Bad Boy Oficina do Guaraná Jiu-Jitsu Cup – BH/MG
First place at 7th Novo Leblon Guaraplus Jiu-Jitsu Cup – Rio de Janeiro/RJ
Silver medalist  at the Brazilian Teams Championship
6x times champion Gold Medalists at state championship – Minas Gerais
2x times silver medalist at state championship – Minas Gerais
What made you decide to move to Montreal?
Brazil will be always at the top of the pyramid in my life. I really love that special place. But, since I went to U.S.A. as a foreign student when I was a teenager, looking for new experiences, I knew I would try to do the same for my kids. So, last year I started to research for a place to give my little ones an international experience while they are still kids. Now, I believe, it is better to show them the world without edges and other languages sooner than later. I came to Canadá (Montréal) last year to explore, and to see if it would be the place chosen, because I have some friends that talked well about the life`s quality and a lot of positives points. And  when I talked to my master and friend Draculino about my idea, he introduced me Bruno Fernandes and when we first met each other I could feel positive energy coming from him, his academy, and his team.  Everybody was so friendly, professional, and opened to the idea of receiving me at GB Montréal and my family had really loved Québec.   So, everything cooperated, giving me courage to take the next step and move to Montreal. I felt it was the right place and the right time. The opportunity was knocking at my door.  Actually, as I said before, the possibility of working with something that I love was the part that really caught me.
How do you feel about working for Professor Bruno?
Last week I told Bruno that everytime I talk to him I always think of Draco (Draculino).  The tone of his voice, the way he speaks. I think that is because they are both from Rio's city… That is so good, I feel at home!  Also, professionally speaking, the more I know him, the more I admire! He is great! I will be always grateful for the warm welcome he is giving me. What I can say after some years making part of GB and also having opportunity to train with Ralph and Cesar Gracie during my trips, and now here, in Canadá, I can guarantee that what Gracie Barra is a unique family all around the world. It doesn't matter where you are! If you are a member of this family, you have already the most important trophy of  Jiu-Jistu.
What are your goals for Gracie Barra Montreal?
Further than just change knowledges, I do want to help the GB Montréal go more and more far, and also helping to make world champions. I know that with faith, determination, lots of training and will, we can always "Go Beyond". Wow, it starts with the letters GB. Isn't it a sign? That's the reason I am here for: Go Beyond.