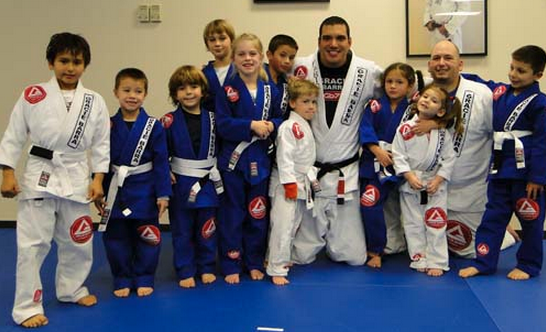 Professor Fabio Villela of Gracie Barra Cedar Park, Austin TX talks about Teaching Jiu-Jitsu to Kids and Running a Successful School
It seems the line "everything is big in Texas" stands true for Gracie Barra as well. With schools almost circling the greater part of Texas namely in San Antonio, Corpus Christi, South Lake and Austin (this is just to name a few).  Popular names in the league such as Professors  Draculino Magalhaes, Alexandre "Dande", Brandon Mullins, Ted Stickel, Tyler Bosard, Fabiana Borges,  (again, just to name a few), all dedicate much of their Jiu-Jitsu life in Texas.
Professor Fabio Villela is not an exemption. As the leader of Gracie Barra Cedar Park, Professor Fabio Villela works tireless with his students to keep the spirit of Jiu-Jitsu going (especially for the youngsters of Texas). There is not a shortage of great leaders for Texas, as Professor Fabio gives us as glimpse on how he plans for the upcoming year.
GB.com:  Can you give us a peek on how your school is going? Any thoughts on its performance and the number of people training in it? 

Prof.  Fabio: Our school is doing great. We have an amazing kids program, 80% of our students are kids. We always focus on trying to get the whole family and I have been doing Parents & Kids classes regularly.  We host family oriented parties as well.  This month we will do a Halloween Party. Last year, around 100 people attended our Halloween party.  In November, we will celebrate our 2-Year Anniversary and take other "Big Gracie Barra Cedar Park Group Picture".
GB.com: What are your plans for your school for the the last quarter of the year? Please also tell us how 2013 is looking for you.
Prof. Fabio: The end of the year is always a good time for us. We will have our 2-year Anniversary party and we always run a very good special for new students whose parents are looking for some activity for kids to do during the winter time. In 2013, we plan to open an after school program for our kids and new students, and also repeat our summer camp that was a success this previous summer. In 2012, we did great in tournaments. Our students have been making history as we always come back with 95% of our competitors receiving medals, and more than 70% of them are gold.
GB.com:  What are your thoughts about the direction Gracie Barra is taking as an organization?
Prof. Fabio: The Gracie Barra association has helped out school owners a lot.  With all the support and continually developing something to make our job easier, they ensure our school is strong and successful.
GB.com: I heard that you are preparing for the IBJJF  Masters & Seniors World Championship.
Prof. Fabio: It is great that the IBJJF organized a tournament just for Masters & Seniors. After 2 years of focusing 100% on my school, I thought about coming back to the circuit.  I spoke with Professor Draculino, from Gracie Barra Texas, and Professor Dande, from Gracie Barra South Austin, to help me out on my training. I came back to train hard, but an old injury affected my training. I have to let my lower back heal, and because of that, I will have to push my return forward.  If I am 100%, maybe World's No Gi. I miss the adrenaline so bad.
GB.com: A bit of history about the school. Tell us how the school started.
Prof. Fabio: Our school has a very interesting story: Back in California, I had lunch with Professor Marcio Feitosa and Master Carlos Gracie Jr. to decide what state would be good to grow the legacy and do the same work we did in Orange County. They asked me to choose any state I wanted. Originally, I picked a different state, but when I found out my professor, Professor Marcio Feitosa, was coming to Austin, I asked Master Carlos Gracie Jr. if I could join him. Master Carlos said yes and here I am running the Gracie Bara Cedar Park school for almost 2 years. I came to Austin to help Gracie Barra become stronger. I helped to build and teach few 1st classes at Gracie Barra North Austin, then I built my school.  My wife and I chose every little thing here.  After all the details in GB Cedar Park were finished, we helped to build Gracie Barra South Austin. I can call myself a Black Belt in building schools after building 3.  I learned a lot from my mistakes.
GB.com: Your students in TX are the most valuable part of your school. A short message of inspiration to them, if you don't mind.
Prof. Fabio: I'm very proud of my students. Every single guy and girl is very important, and a real motivator for myself.  They help me to be better over and over again in the things I most like to do in my life: teach them, make them great in jiu-jitsu and take them to tournaments to return with a full hand of gold medals. Thank you very much.
______________________________________________
Interested in Training in Cedar Park? Click on the Link to Learn More