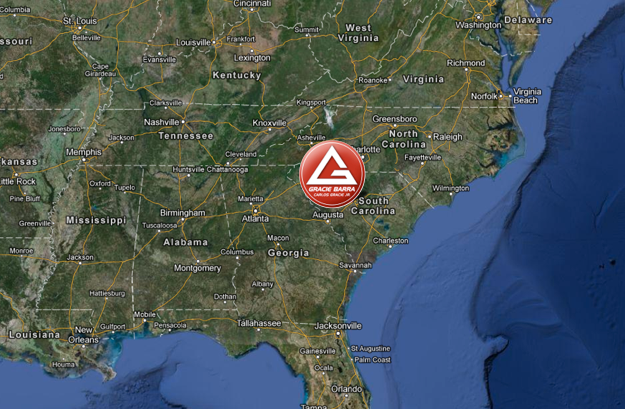 Gracie Barra Lexington is Here!
One more school has been chalked up, on our list of academies, that will help spread the word "Jiu-Jitsu for Everyone". South Carolina is in for a treat as a school opens in Lexington, which brings premium quality and world class instruction to its community. Gracie Barra Lexington is officially open!
"My greatest passion is being able to have a school that everyone can come to and call home. Training is second in line to the relationships that you build through Brazilian Jiu-Jitsu."           – Professor Adam Thomas
The franchise was signed on the 19th of September.
Leading the school is Professor Adam J. Thomas. Like the rest of us, his passion and trust in the art of Jiu-Jitsu made him pursue a full-time career in teaching and instructing. His love for Jiu-Jitsu was a slow-burn, but as his passion grew, so did his decision to make a career out of teaching and helping kids. Despite the rigorous preparations, we were able to get in touch with him and correspond through a series of emails to share his thoughts about his new school.
Ladies and gentlemen, Professor Adam Thomas:
GB.com: So professor, it seems that this is an exciting venture for you and for Gracie Barra, tell us your thoughts about it.
Prof Adam: I am very excited to be an official GB school. When I first stepped into my professor's school, I never could have imagined someday owning my own school. I am grateful for the opportunity that Gracie Barra has given me and am looking forward to a long healthy relationship.
GB.com: What made you choose Lexington?
Prof. Adam: I moved here with my wife after she graduated from college and I was able to transfer with my company as a sales manager to Columbia. And as I mentioned earlier, as my professor and I were looking to open a school in Columbia, we thought Lexington would be a more desirable location because we could get students from both areas.
GB.com: What are your plans for Gracie Barra Lexington?
Prof. Adam: The plan is to grow the school and to pass on the legacy and knowledge set forth by Master Carlos Gracie Jr .
GB.com: Tell us something about you and how you came about knowing Gracie Barra?
Prof. Adam: A good friend of mine told me that he was training Brazilian Jiu Jitsu and I should come train with him. When I walked into the GB school, I was terrified and I thought I was going to get beat up and abused, but it was the total opposite. Everyone was very friendly and showed me that BJJ is not just about fighting, it is about family, health, and an over all sense of one's well being.
GB.com: Tell us your greatest passion. Share with us your thoughts about teaching students.
Prof. Adam: My greatest passion is being able to have a school that everyone can come to and call home. Training is second in line to the relationships that you build through Brazilian Jiu Jitsu.
GB.com: Can you give us a timeline from the idea of putting up the school, to having the actual school?
Prof. Adam: In 2008, my instructor and I decided to open up a new location in Columbia SC. After looking at many locations, we decided on Lexington, in 2009, because of the great school systems and the growth of the area.
GB.com: What inspires you to teach?
Prof. Adam: The best thing I can say about teaching is when I show a new technique, and I see my student's eyes get big, because they never thought it was possible to do something so crazy. I can remember being the same way as a new student and wanting to learn all the moves I saw in the UFC, not knowing that there was so much more to BJJ than what was on T.V. I get excited to go to work everyday, which is something you cannot do with a normal 9-5!
GB.com: New school, new challenges. tell us what challenges you are expecting to face?
Prof. Adam: Well, I was lucky enough to have help getting started from my professor, Joshua Miller. He helped me run my school on a part-time split between the 2 of us, so that I could get to a point, where I could quit my full-time job after I received my brown belt. So after 2 and a half years, I took over the gym full-time with a solid student base. Now the only challenges as a conversion school, I think, will be learning how to market and advertise in order to grow the school.
GB.com: What value-added service can you give to the community of Lexington?
Prof. Adam: This area has had a lot of issues with BJJ schools opening and not being able to last, but now that I have partnered up with GB, I think it shows strength and a sense of longevity in the school.
GB.com: Tell us how Gracie Barra prepared you in handling your own school.
Prof. Adam: I have the best professor and have learned a lot from him as far as how to run classes, run a business, and how to treat the customer. I have also completed the GB instructor's certification course, which is a great tool for any school owner/instructor.
GB.com: How many instructors do you have lined up?
Prof. Adam: I am the only certified instructor at my school. However, I have 2 of my students taking the instructor's cert. class this October.
GB.com What do you in your spare time?
Prof. Adam: I spend as much time as I can with my wife and son. BJJ takes up a lot of my time, so that's really all I do with my little bit of free time. I also work part-time for the South Carolina athletic commission, working MMA shows, boxing match, and toughman contests some weekends.
_____
Find Gracie Barra Lexington South Carolina
_____________________________________________________
Thinking of enrolling your kids to Jiu-Jitsu? Worry no more! Read all about it!