GB Euro Training Camp [REGISTRATION CLOSED]
The GB Euro Training Camp 2014 will take place in Lisbon, Portugal beginning Sunday, January 19th and ending Wednesday, January 22nd at Estádio Universitário de Lisboa, Av. Professor Egas Moniz, 1600 – 190 LISBOA

Get Ready for the European Championship with Gracie Barra
Gracie Barra will be hosting an official Training Camp for the First time in Europe next month.
The Estima Brothers Braulio and Victor will lead the team's preparation along with many other renowned Gracie Barra Professors in Europe such as Max Carvalho, Lucio Rodrigues, Lucio Sergio and more . The team of instructors assembled to lead the camp is among one of the most capable and experienced in Jiu-Jitsu.
Two training sessions will be offered: White Belts, Blue Belts, and Purple Belts will train from 8.00a to 10.00am while Brown Belts and Black Belts will train from 10.00am to 12.00pm.
All camp participants are welcome to participate on the Gracie Barra Europe Instructors Meeting on Monday, January 27th after the tournament.
GB Euro Training Camp Costs and Early Registration Discount. 
There is an 100.00 Euros Registration fee to join the GB Euro Training Camp. This fee includes all four days of training. In Case you would like to register for single days, the registration is €30.00 per day.
All participants must register online by completing the form below and paying with credit card or Paypal. Keep in mind the space is limited to 150 participants.
Gracie Barra Athletes who had 1st or 2nd place on adult division for IBJJF or WPJJC tournaments on the past 12 months will have their registration covered by Gracie Barra (email support@graciebarra.com for the coupon code).
GB Europe Instructors Meeting
All Gracie Barra Instructors, Owners, and Athletes are invited to join the Gracie Barra Directors for a conversation to help shape the future of our team in Europe.  The GB Europe Instructors Meeting 2014 will take place on the morning of January 27th on a place to be disclosed soon.
Get a Free Official EQUIPE GB 2014 T-Shirt
All participants registering for all four days of the Gracie Barra Euro Training Camp 2014 will receive a free gift from GB Wear: the exclusive official EQUIPE GB 2014 T-shirt.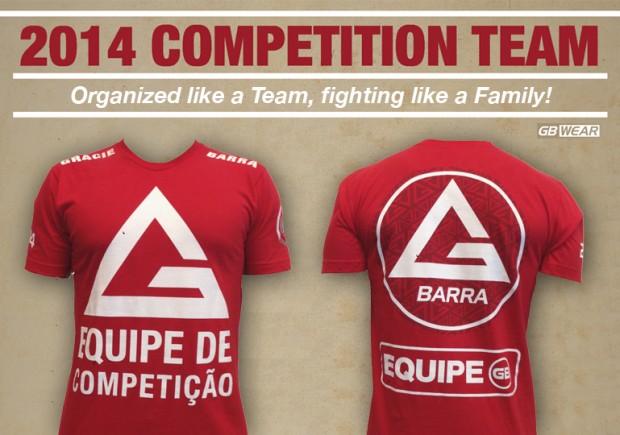 Hotel
There are many affordable hotels in the area where around the venue of the GB Euro Training Camp. We are currently identifying the best hotel deals and will soon place more information here.
Training Camp Dates/Times
Sunday, January 19th to Wednesday, January 22nd.
8.00am to 10.00am Training Session for White, Blue, Purple Belts
10.00am to 12.00pm Training Session for Brown and Black Belts
Training Routine
Coming soon.  
Address
Estádio Universitário de Lisboa, Av. Professor Egas Moniz, 1600 – 190 LISBOA