Taking Care of your Mind is Jiu-Jitsu: JIU-JITSU WITHOUT PREJUDICE
"Are you crazy? What kind of grappling fight is this?", "I do not get that close to another guy, man!", "This thing is crazy." Hearing these phrases from people who do not know jiu-jitsu is normal. Who has never heard them? The physical contact present in our sport often draws attention especially because we "grab" our opponents. The truth is that the gentle art – despite of being labeled as a "grab" fighting – is a sport that proves the effectiveness of immobilization and lever techniques.

This pre-judgment about our sport is common. Another quite common thing is people falling in love with that "grabbing fight" just after stepping on the mat for the very first time. What about a guy who does "Capoeira"? A guy from a totally different sport than jiu-jitsu finding a brand new passion… Yes, it is also possible (totally, LOL).
From the capoeira groups to the mats. It was this way that Frederico Zaganelli, through his brother "Chico", met the gentle art and removed at once that image of a "grabbing men" fight. "He took me to a jiu-jitsu school near our house. I already used to do Capoeira when I was 11, in school, in the fifth grade, and I had a kind of prejudice against the jiu-jitsu. I did not find that a cool way to fight with men grabbing themselves. Even so I decided to go there, at least to see. When I arrived at the dojo, I instantly realized that everything was completely different than I imagined. I decided to try and really enjoyed it," said Fred.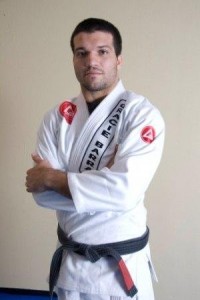 After the first contact, Fred's presence in classes became something frequent and what started like a kind of affection has become in a real passion, within and outside the didactic sphere.
The championships became part of his life, with wins and losses. Important titles defined the direction that jiu-jitsu would take this guy. What our warrior could not imagine is that even some of their tournament titles – like the championship in Brazilian weight and absolute no-gi (IBJJF), vice-world champion in the brown belt (IBJJF), 3rd place in the Brazilian 2014 (CBJJ) and 3rd place in the absolute at CompNet (GB Brazil) – would not be enough to overcome a very hard blow that life made him to deal with, as he told us: "The death of my grandmother Elisa hit me deeply. We were very close friends and unfortunately she had gone."
To keep walking without his grandma's support was tough. Many times, life seems to be unfair. The loss of a beloved relative hurts the heart and reaches the soul.  As hard as it can be, it's necessary to find a source to renew the forces and that's what Fred Zaganelli did. He found in the mat the driving force that made him raise his head and keep walking. "Without a doubt, jiu-jitsu helped me to overcome this sadness and move on."
Today, even with the scar of his beloved grandmother's death, Fred Zaganelli (33), black belt and student from Jefferson Moura (GB Rio de Janeiro – HQ), opened his own GB unity – Gracie Barra Vitória (Espírito Santo, Brazil) – and shows everyone that jiu-jitsu is not only a "grab-grab" physical fight. Jiu-Jitsu is an art that transforms simple men into super beings, exceeds the limit of techniques, and helps with the formation and strengthening of the warrior spirit.