GB Interview – Coach Maik Henneberg from GB Wolfsburg, Germany.
This week Gracie Barra Blog brings you an interview with Coach Maik Henneberg who has recently opened a new Gracie Barra academy in Wolfsburg, Germany.
"Train hard and keep believing – technique wins!"
GB: Can you tell the readers at Gracie Barra a little about your background?
Where did you grow up and how did you get started in brazilian jiu-jitsu?
Born in 1976, I started with classic Ju Jutsu at the age of 13 years in my hometown Aschersleben.
Among other techniques, I later practiced Wing Tsun, always focusing on the idea to learn the best possible self-defense. Yet in fact, statistically speaking, a large proportion of disputes are carried out on the ground. When I moved to Wolfsburg for job-related reasons, I then studied first techniques in BJJ with Wolfgang Strohschein and discovered my enthusiasm for it.
GB: Who have been the biggest influences on your jiu-jitsu and what did you learn from each of your professors?
My greatest inspiration and influence is Rodrigo Fajardo. He presented me my blue belt during a holiday in Curitiba after I had trained for 3 weeks in one of his schools. It really fascinated me that he practically never talked about his huge successes, what a modest personality and a truly great role model!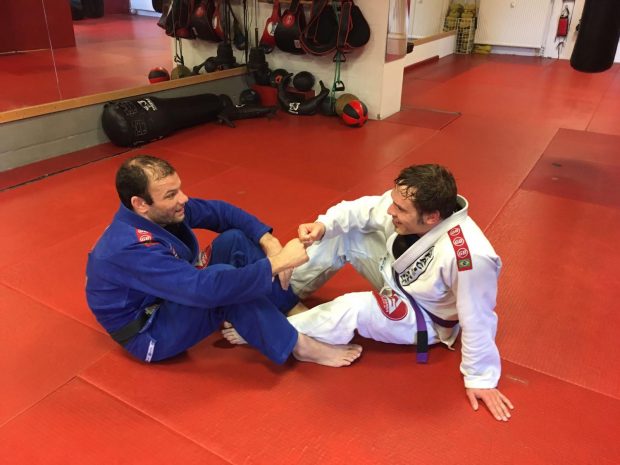 GB: How did training Jiu-jitsu change your life?
I have to admit that at age 40, physically, I feel fitter than at age 30 without BJJ, even though I have always done sports regularly.
GB: What do you try to communicate to your students about the benefits of training Jiu-Jitsu?
BJJ has many positive aspects, on the one hand, of course, the fact that you learn to brace yourself for a case of emergency. Also, exercising with all its benefits such as power, endurance, flexibility, coordination.
But what most people do not expect until they learn is that BJJ strengthens the team spirit, it teaches respect and fairness which has a positive effect on the observance of rules, particularly on children.
GB: What is the most important life lesson you have learned from Jiu-Jitsu?
When your opponent blocks one way, go the other way around. Do not waste power by running into walls.  This can be applied in many ways to everyday situations.
GB: You have just opened a new Gracie Barra academy in Wolfsburg / Germany.
Where is your Gracie Barra school located? Please tell us about your new facility.
My school is in Wolfsburg / Germany, we train in a studio, where boxing and thaiboxing is practised as well. The so provided equipment, such as sandbags, is just like made for a Barra Fit course!
GB:  Can you tell us about the exciting things you have planned at the academy?
What programs do you have in the academy for different types of students?
We start with priority on GB1/ GB2 and No-Gi, as many students already have longer MMA training experience and want to improve their ground techniques.

GB: Starting brazilian jiu-jitsu classes can be a little intimidating for many people.
Can you share a few tips for new students to bjj?
Of course one has to be open for new experiences. Only BJJ at Gracie Barra offers something I have not experienced in any other martial arts yet. The training itself is pure technique training, no one is pressed to do sparring. The fact that you are not allowed to sparr before gaining 3 stripes shows that safety and welfare of students is paramount. If a student wants to enter competitions, he is given the opportunity to start here in his own age-/ weight- and belt class!Just imagine one starts with Judo at age 40 and goes straight into a tournament. He would likely be ridiculed on the mat by 25-year-olds black belts on the mat.
GB: If you can give a single piece of advice for bjj students who want to improve their games, what would that advice be?
Train hard and keep believing – technique wins!
on Gracie Barra : 5 Important Questions to Ask When Learning a New Move In Class
Credits: Mark Mullen 
Gracie Barra Black belt based in Saigon, Vietnam
Twitter: @MarkMullenBJJ