Mario Deveault and Dave Rothwell building the GB army of Shuswap and Vernon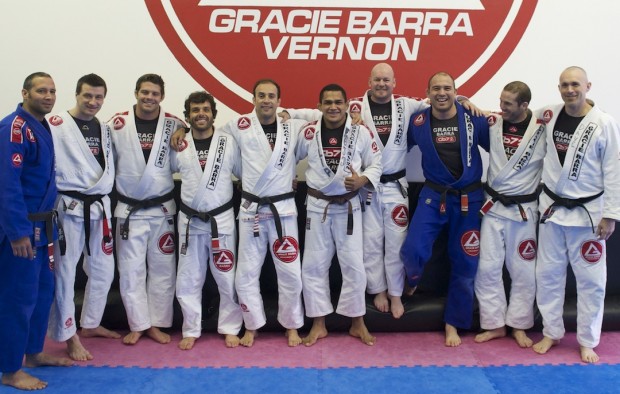 So tell us a little about your background? And How did you get started in Jiu Jitsu?
Deveault: I started Jiu Jitsu in 1998 when I had to quit playing hockey, due to financial reasons. Without an outlet for physical activity, I soon became restless and found a place that offered Jeet Kune Do and Jiu Jitsu, which wasn't as expensive as hockey.After my first class of Jiu Jitsu I knew right then that I had found a great sport and martial art, and that it was something that I wanted to teach someday. I went home to my wife, Margot, who had just started her first of 5 years of university for her kinesiology and teaching degrees, and told her that Jiu Jitsu would be my education for the next 5 years and that I would train and learn as much as I could, and then when she graduated we would move from the city and she would get a teaching job and I would start a Jiu Jitsu school. 5 years later we did just that in the Shuswap area! Our new house had a big shop on it that I quickly converted into my school, and after a couple of years we renovated the building and doubled the size of the club. In order to give back to a large portion of my students who traveled 50km from Vernon to Grindrod each class (and our plans with Dave to open up a GB school in Vernon), we rented a place in Vernon, so that we were training in two places, so that everyone had a chance to train closer to home at least part of the week. With the places we rented from our schedule was limited and I knew that we needed our own place in Vernon to maximize the schedule and offer as much as we could without being limited (we needed a home). Vernon also has a greater population there than in Grindrod to draw from, and is a good place to keep on growing. After conversations with Dave Rothwell, (my long time friend and training partner), we agreed he would move up to teach and it would be great to open up a Gracie Barra school in Vernon in conjunction with my current GB affiliate school – Gracie Barra Vancouver under Tim Shears. Shortly after, my wife and I purchased a commercial property that was perfect for a new club (as a mortgage payment was cheaper then renting), and we worked hard to do everything to make it work, and our school continued to grow. Dave eventually moved up and we began GB Vernon with the desire to become a full GB school!
Rothwell: I was born and raised in Vancouver BC. I had thought seriously about becoming a police officer before I happened, by total chance, to find a blue belt who was teaching Jiu Jitsu out of his garage in December of 1996. I had played team sports like football my whole life but was fascinated by this individual sport that was supported by a team. I trained with that team until 2002 and then was teamless for approx a year. I trained with Tim Shears until we were lucky enough to have Professors Marcio Feitosa and Marco Joca come to the school which is now Gracie Barra Vancouver. It took 20 minutes on the mats with Professor Marcio for me to realize that I would be with Gracie Barra for life. In 1998 Mario Deveault started training Jiu Jitsu at the club I first started at and we became friends and training partners right away. We often spoke of moving from the city to the interior of BC to open a school. It is great that this is now a reality.
What brought you out to Shuswap?
Deveault: Dave and I once drove from Vancouver to go to a Jiu Jitsu tourney in Calgary when we were blue belts and I really liked the Salmon Arm area as we passed through. Then, when I drove through Salmon Arm again with my wife the same year, we fell in love with the place with its lush green mountains and beautiful lakes and outdoor lifestyle, and I knew this would be the place for us when she was finished university. So, she found a teaching post here, and I started my club!
Rothwell: The Shuswap is still one of those untouched gems in the interior of BC that is surrounded by lakes and beautiful mountains: great skiing in the winter and very hot summers. There is no better place than to sit back and semi-retire and enjoy a Jiu Jitsu lifestyle.
How far is Vernon from Shuswap?
Deveault: Vernon is about 50km (40 minutes drive) from my home in Grindrod where I converted a outdoor shop to a Jiu Jitsu studio.
What was it that made you want to open up a Gracie Barra school?
Deveault: I was impressed with the humble attitudes of GB coaches and students, the close team concept and the professionalism. I did not want to run a "thug school", which GB is not, thus making it a perfect fit.
How many students do you guys have at your schools?
Rothwell: Our GB Vernon/Salmon Arm clubs have between 80-100 adults and 40-50 kids training on a regular basis.
Besides your schools how far away is the closest Gracie Barra school?
Deveault: Our friend (Jordan Reichenbach) in Kelowna now owns a GB school about 40 km (30 minutes drive) from Vernon.
What struggles do you have teaching all the way out there?
Deveault: The only struggle is that we don't have a large population to draw from like in a major city.
Other than that, I feel very blessed to live up here and to be able to run a quality school that caters to everyone!
Rothwell: We are very happy with the growth we've have had in an area with such a relatively small population. Becoming a premium school recently only adds to our current programs. Also we have a new location in Salmon Arm that we feel will give us much more exposure.
What are your goals for the future?
Rothwell: I think that is an easy one to answer, to follow Master Carlos Gracie Jr.'s idea about spreading Jiu Jitsu around the world by putting a Gracie Barra school in every city, to start by continuing to make our team bigger in the Vernon and Salmon arm area and to continue with some of the smaller GB schools that are in even smaller communities in our area of Canada to grow and into many others that have not even started yet.
Devault: Our Goals are simple, bring Gracie Barra quality to the Shuswap/Okanagan area (all surounding areas where we live), create quality coaches, and change lives!