Bruno Fernandes: Jiu Jitsu's Renaissance Man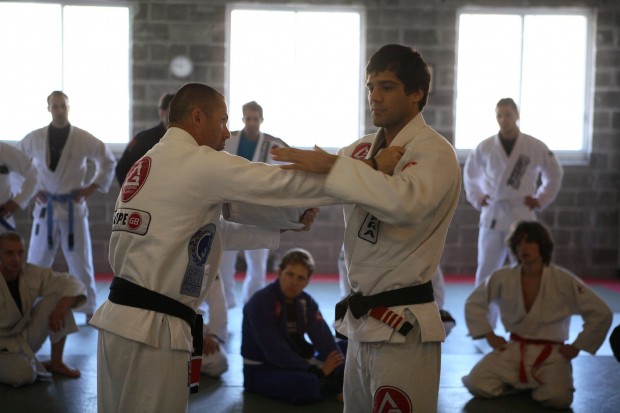 Bruno Fernandes is a yardstick of excellence. He is the head instructor at Gracie Barra Montreal, is the Gracie Barra regional director for East Canada, has a PhD, is an Assistant Professor of one of the most prestigious medical schools in Canada (Mcgill University), speaks four languages, coaches UFC Welterweight Champion George St. Pierre, and still finds time to travel the world to surf. He is a great example for students and Instructor's alike on how to manage the Jiu Jitsu lifestyle. Try to pick up some life tips from one Gracie Barra's finest.
How did you get involved with Jiu Jitsu?
I was 11 years old when I started. I was introduced to Jiu Jitsu by some of my father's friends who were already black belts from Carlson Gracie. He brought me to the old school location in Copacabana and I was ready to start after I saw the class. I was not really sure what I was getting myself into but I enjoyed it from the very beginning.
You started with Carlson Gracie but switched to Gracie Barra. Why was
that? What do you love about Gracie Barra?
I trained at Carlson from 11 until I was 16, right after I got my blue belt. We had a strong team of kids, and the training was unbelievably hard. I have  nothing but good memories of that time and all my previous training partners are still good friends. I switched because my family moved to Barra and it was impossible for me to commute daily to Copacabana. Conveniently, my new home was just 2 blocks away form the Gracie Barra HQ, so it would not make any sense train anywhere else. The funny thing was that Carlson Gracie and Gracie Barra were the two strongest teams at that time and the rivalry was naturally intense. Carlson freaked out a bit when I told him where I was going to train but he understood that it was the best for me. I will never forget how
nervous I was when I had to give him the news. Whoever knew him will know what I mean. The thing I loved the most about those times training at Gracie Barra is that we used to do everything together, and not only train Jiu Jitsu. We would go to the beach, surf, party, travel, always with the whole group. The
gym was a meeting point, a place you could go and see all your best friends at the same time, every day. Only now do I realize how lucky we were to have such opportunity.
What brought you to Canada?
In 2005, after I finished my residency in Ophthalmology, I enrolled in a PhD program that had an agreement with McGill University, which is one of the top 5 universities in the world. The original plan was to come to Montreal to do the necessary research for my thesis and go back to Rio and start to practice. But all the plans changed when I was invited to stay. I did a few more years of training and in 2009 I was appointed Assistant Professor for the departments of Ophthalmology and Pathology which was quite an honor. At that moment I realized that Montreal would be my home and opening a Gracie Barra school here was a natural step.
Tell us about you accomplishments both in Jiu Jitsu competition as well as
your accomplishments academically.
I always loved to compete. I could not miss a single tournament, which could be the Worlds or just a local tournament in our neighborhood. I enjoyed the idea of testing myself and it was the way I found to keep focused and to train harder. I won 5 World titles, a few Pan Ams,
Brazilian Nationals and so on. The tournament that I use to like the most was the Team Nationals. I was part of the black belt heavyweight team a few times when I was still a brown belt (and only 19 years old); To have been on a team with other GB legends by my side is something that I am very proud of. When I moved to Canada I had to focus on my career so I stopped competing. I earned my PhD degree, did 2 post-dost oral fellowships, and in 2009 was appointed Assistant Professor. Even though I am a trained ophthalmologist, I currently work as a researcher. We manage a busy lab at McGill University with close to 20 students at different levels of their careers. I have the opportunity to travel regularly to meetings and publish papers in scientific journals. Another good thing about being a researcher is that my schedule is quite flexible, which allows me to spend some of my time on the mats.
Tell us about Gracie Barra's growth in Canada? How is it doing up there? Is
Jiu Jitsu becoming a part of the culture?
The number of Gracie Barra schools in Canada is still quite small when compared to the US. However, this scenario is changing rapidly as the first generation of black belts is starting to generate seeds. We already have schools in every major city of the country and we expect to double it in a few years. When I arrived in 2005, very few people would practice the traditional Jiu Jitsu, with the Gi and everything. Of course everyone knew what it was and MMA was already popular but the culture and the BJJ lifestyle was unknown to most people. The idea that fighters had of Jiu Jitsu was limited to just a way to apply some submissions and control an opponent on the ground. But luckily, Gracie Barra is well represented here so slowly we are letting our students understand that Jiu Jitsu can have a much greater influence in their lives.
You are known for your exceptional time management skills. You have a M.D.
and PhD, you teach at one of Canada's most prestigious medical institutions,
and you still find time to train and teach at Gracie Barra Montreal as well as Coach George St. Pierre? What drives you do all of these things?
I try not to waste my time with things that do not matter. For example, I don't watch TV which takes an absurd amount of time from everyone. Another thing that saves me a lot of time is to make decisions quickly, and that goes for every aspect of my life. Even a bad decision is better than procrastinating, because you end up learning from it and moving on with your life. Last but not least, I am not afraid of failing, so I take up any challenge or opportunity that I come across. I must also admit that I am surrounded by a lot of talented and skilled friends that help me a great deal, so I could not achieve half of the things I did without them.
Do you ever find yourself overwhelmed by your responsibilities? If so how do
you manage dealing with the stress? What do you tell yourself?
I do. Sometimes I assume too many responsibilities all hell breaks loose! But I learned something a while ago that i always tell myself during these times: the only way to be sure that you are moving forward is to face challenges and overcome obstacles in life. So when I am really stressed, I know that I need to go through that to become a better person and the future holds something good for me.
Tell us about working with George St. Pierre. What is it that sets him apart from everyone else? What character traits do you share that you believe is the source behind both of your success?
Discipline. In that regard George puts me even me to shame. I don't think people understand what an athlete he is. He is able to endure an intensity of training like no other athlete could, in any sport. And he could only get to this point after years of conditioning his body and improving his skills. He is able to repeat the same technique for hours, until it is properly executed. I always use him as an example when I see my white belts stop practicing a new move after just a few times.
You are an avid surfer. I am sure there are not a lot of waves in Canada? What do you do for fun when you do have free time?
Believe it or not there is a wave 5 minutes away from the school! Truth be told it is static river wave and not a "real" wave but it still pretty fun to ride. I also snowboard a lot and travel to surf as much as I can. The Beach lifestyle of Rio is the thing I miss the most in Montreal, no doubt about it.
What is one of your best memories from Gracie Barra?
There are so many that it is unfair to pick one but let's see. It would be the training camp before a super fight event at Copacabana beach, right after New Year's. While everyone had traveled for the holidays, we were there training everyday. I was the youngest of the selected team so the training was brutal. We would do three 5 minute rounds without rest, always with a fresh partner. I got beat up consistently but all the effort paid off as I won the fight. It was my first fight as a brown belt and I was faced with that year's absolute national champion. I fought in front of a hug crowd and the whole team was there cheering for us. The team made me feel like they were on the mat with me, so nothing could go wrong.
Who are the people who have had the biggest influence in developing who you are both on and off the mats? How did they help you become the man you are today?
My parents taught me to value things that matter in life, and not money and other material things. Besides them, I would say that my close friends had a lot of influence on me. I admire them a lot a and try to learn as much I as can. Additionally, I try to see the qualities of successful people in any field, to get some insights that i could use in my own life.
What are your future goals personally (both on and off the mats)as well as for your students and your school?
My focus now is 100% on the school and growing the GB community in Canada. My goal as a teacher is to have one world champion coming out of our school, but I know that in order to achieve that, I have a long road ahead of me. I am glad that my students are also committed to help us build a strong team, so I am confident that it will be just a matter of time.
What advice would you give a Gracie Barra student that is getting frustrated on his or her journey to the black belt?
The journey to the black belt is long and it gets frustrating if you don't have some fun along the way. It is not a matter of how hard you try, but how long you will be able to persist. Make Jiu Jitsu part of your life and you will achieve the highest rank without even noticing it. The only thing that changes when you get the black belt is that you stop caring about it, so adopt that mindset right now, regardless of which belt you hold.
The only thing that changes when you get the black belt is that you stop caring about it.
How about school owners who are trying to manage their own Gracie Barra?
Everyone that has recently become a school owner knows that running a Gracie Barra school is very rewarding when you see the positive impact that you make in your students' lives. Despite all the stress, it is supposed to bring a lot of joy to your life as well. Try to identify your sources of stress and correct or eliminate them. This is a continuous process but essential if you want your team to grow and last many years. Try to see your school as something that needs constant care and attention and you and your students will be very pleased with the results.
Bruno Fernandes Highlight video

Professor Bruno discussing the Gracie Barra Head Quarters first competition training camp