Gracie Barra Kids : Part 2
The Gracie Barra kid's jiu-jitsu programs can positively impact your people's lives. Today's children are faced with many challenges in life from bullying, to lack of proper role models to unhealthy lifestyle.
This week we feature the 2nd of a 2 part interview with 2 Gracie Barra Black belt professors who run schools with successful children's martial arts programs: Professor Fabio Villela and Professor Felipe Guedes share their knowledge and experience in running successful children's jiu-jitsu classes.
"The Gracie Barra Program Structure While for adults the defining criteria for class separation is students' level, with children it is age, than level. In other words, at Gracie Barra we first separate students by age, then by level. The reasons behind this are as follows: The difference in learning needs for children of different ages is more prevalent than between children with different levels of experience; It is easier to accommodate children from different levels but similar ages than children with same level but different ages." ICP5
Q: Can you give parents a brief overview / description of how the classes are structured?
(How long, what types of exercise, instruction in bully prevention, etc.)
Prof. Fabio Villela: Here at our school we always encourage kids to ask questions, talk and develop self-esteem. We start our class asking "How are they doing today?", "Did you get in trouble?" if anybody got in trouble at school or with parents we try to teach them stand up for themselves and share all and every problem with us. Our class has few steps:
1- Ask them about their day
2- Warm up
3- Self-defense technique
4- Jiu-jitsu  technique
5- Talk about BJJ life style
Class is 50 minutes long
Prof. Felipe Guedes: The classes are first divides by age groups (3 to 6 years old, 7 to 9 years old, 10 to 12 years old, and teens). We also offer advanced classes and competition team classes for the students who have been training for longer.
The average regular class last 50 minutes and the kids train twice a week, they also have the opportunity to train an extra day on Saturday at the Parents & Kids classes. They learn, self defense, take down and ground techniques, making their jiu-jitsu game well rounded.
In each class they do warm ups, physical drills, two techniques per day, sparring and some classes games as well. Every class ended with a message of the week.
** "Tiny Champs – 30 minutes
Little Champs 1 & 2 – 50 minutes
Juniors, Teens, and Advanced – 60 minutes" ICP5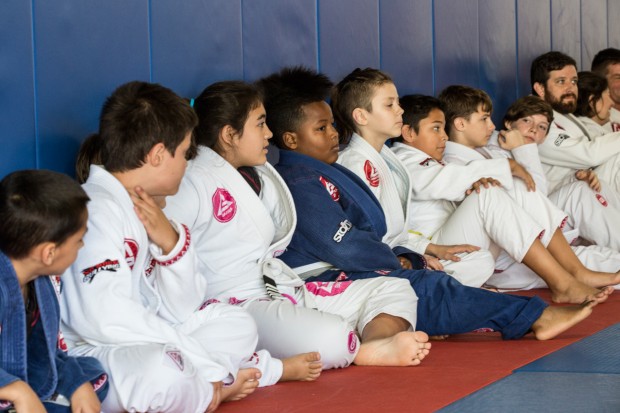 Q: Some parents may be concerned that jiu-jitsu carries the potential for injury.
How does Gracie Barra ensure a "safety first" experience in the kids programs?
Prof. Felipe Guedes: Everything that we do has safety as our primary concern. Honestly the kids rarely get hurt, they are very good with each other, respecting the rules, being very flexible, and understanding each others limits.
A great advantage of our jiu-jitsu training is that the kids won't train any full striking technique with each other, as a matter fact most of the times when they are sparring with each other is looks like a controlled wrestling match.
Jiu-Jitsu is the gentle art, this is perhaps of the biggest advantages we have from other martial arts, is that our training is 100% real and they kids are training with each other, but when we get into an uncomfortable position they only thing we need to do it to tap our training partner and start over again. Kids below 7 years old are not allowed to use submissions, so they are training controlling positions and escapes.
You just need to watch a class and see that by the big smiles on their faces they are having a lot of fun while learning. The student ratio is also very important and our schools try to have no more than 5 students per instructor in class.
The curriculum we use at our classes is also a key component to safety, our curriculum was developed by Master Carlos Gracie Jr. and dozens of the best Black Belts teachers at Gracie Barra, picking the techniques and drills that are appropriate for their stage of development for each class.
And on top of all of that, the environment of mutual support at any Gracie Barra school is very inspiring, where every student is taught that the most important thing is not how many people you can beat, but how many people you can help.
Prof. Fabio Villela: Here at my school we split them by age and skill level.
I don't teach any submissions to little kids, we like to help develop coordination. For bigger kids, we always teach them when they should tap and very important they understand TAP = LEARN and tapping is not losing! Kids like to have fun and learn we need to teach them Jiu-jitsu is very fun but can hurt.
* "It is unsafe to teach submission to children under five years old." PCI5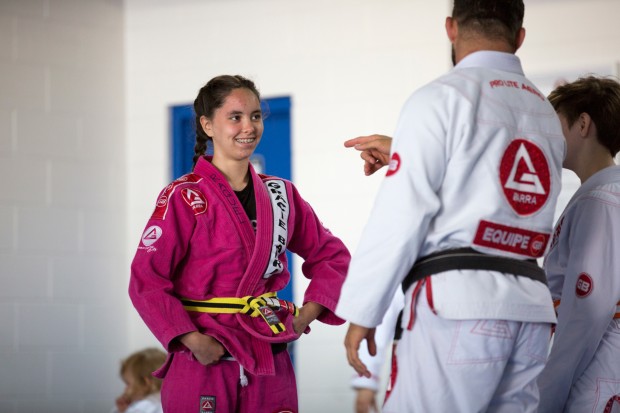 Q: A common question from parents is "At what age should my child start training jiu-jitsu?"
Prof. Fabio Villela: We have our Tiny champs class is for kids potty train, as soon they get off diapers!
Prof. Felipe Guedes: Most of the Gracie Barra Schools are open for 3 years old to start training Jiu Jitsu, at a class that is for 3 to 4 years old. Every child is different, and they are all welcome to come and try it, at that age 6 months is a big difference, so if the child is not ready the parents just need to try again in a few months.
But generally at 3 years old, the child does not wear diapers anymore and can communicate with others.
Remember that at this age the benefits that most parents are looking forward to provide to their kids are, coordination, balance, control, interacting with other kids, listening skills, responding to commands, eye contact, fun activity, exercising, etc. Also have in mind that kids don't have to be "good" to come to Jiu-jitsu, they come to Jiu-Jitsu so they become "good".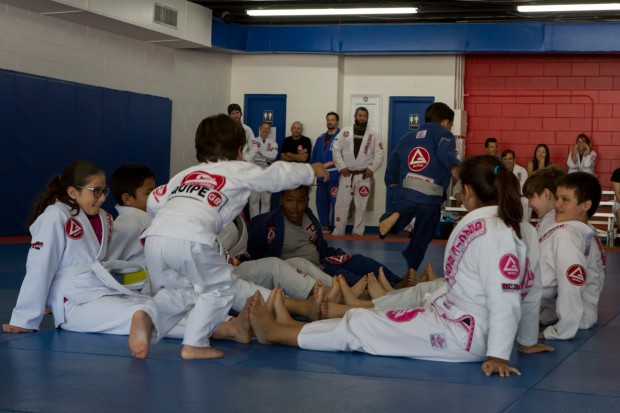 Q: What advice do you have for parents who are thinking of starting their children in jiu-jitsu classes?
Prof. Felipe Guedes: Please don't think twice! Give your child a chance! They will thank you for the rest of their life's!Call the GB school near you and schedule a class, they can come and try a class for a couple of times and then make it a better educated decision on what we have to offer. The professors want to understand how Jiu-Jitsu can help your child and work from there.
If your child is super shy, you can also bring him/her to the school and watch a class from the sidelines first. Have fun!!!
Prof. Fabio Villela: They should do it too! i
It's amazing to see parents and kids under the same environment, sharing the same passion and Jiu-jitsu became their favorite subject at dinner table. Make sure they follow our Training Etiquette and Parents code of conduct.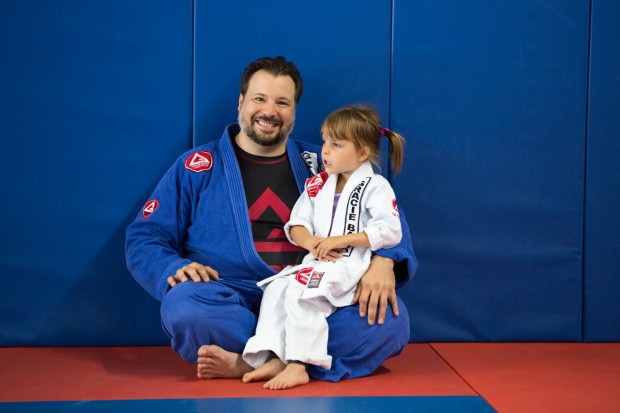 Q: How can a parent get their child started and enrolled in jiu-jitsu classes at Gracie Barra?
What is the first step?
Prof. Fabio Villela: The 1st step is contact our school and schedule their class. We don't accept more than 2 kids to try the class at same time. We would like to keep our correct ratio of coach / students and give the best amount of attention possible to everyone.
Prof. Felipe Guedes: First step is to search what is the nearest Gracie Barra school from where they live, then call the school to schedule a free intro class. The Program Director for the location will explain to you the option on the schedule for your child, and then the fun will start!
My First Jiu Jitsu Class
https://www.youtube.com/watch?v=KQ_Cagm1Xd8