GB Interview: Bruno Fernandes
Grace Barra 4th degree black belt Professor Bruno Fernandes is the head of Gracie Barra Montreal, a World Champion and notably known as the instructor who awarded the UFC Champion his blackbelt in brazilian jiu-jitsu.

In addition to being one of the most sought after instructors, Bruno is also both a doctor and professor of opthamology at Mcgill University, an example to all of the students that one can achieve high levels in both bjj and other areas of one's life.
SITE: http://www.gbmontreal.ca
Facebook: https://www.facebook.com/gbmontreal[LINK]
GB Blog caught up with Bruno in between snowboarding in the hills of Canada and teaching bjj at his successful academy to do a quick interview.
1) Can you tell the readers at Gracie Barra a little about your background? Where did you grow up and how did you get started in brazilian jiu-jitsu?
R: I was born and raised in Rio de Janeiro, Brazil. I am lucky to have parents that introduced me to sports as early as I could walk. I was already swimming competitively at 3 years old. By the age of 11, I started JJ. It wasn't long until I decided to drop swimming and focus on JJ instead.
The period that I trained at GB HQ was probably one of my happiest. I lived literally two blocks away from the school, and a lot of my friends were living nearby as well. We would train, eat, party, surf, travel, do pretty much everything together. The bond we have created is so strong that it endures despites the fact that we are now spread out all over the word.
2) Who have been the biggest influences on your jiu-jitsu and what did you learn from each of your professors?
R: God, there are so many. Without any disrespect for fighters from other teams, but I have been mostly influenced by members of the Gracie Barra Association. Just to name a few: the approach to competition by Marcio Feitosa, Soca's guard pass, Roleta's notion of leverage and his crazy sweeps, Nino's omoplatas, Gordo's half guard, Renzo's guillotine, Tinguinha's spider guard, Draculino's teaching style. I could go on and on… I feel so blessed to have been able to share the mats with so many stars and be treated as equal, even though I was still just a young blue belt. I do not recall anybody holding back on knowledge and this is the vibe I try to replicate at my school. What we know does not belong to us and it is our duty to pass it forward.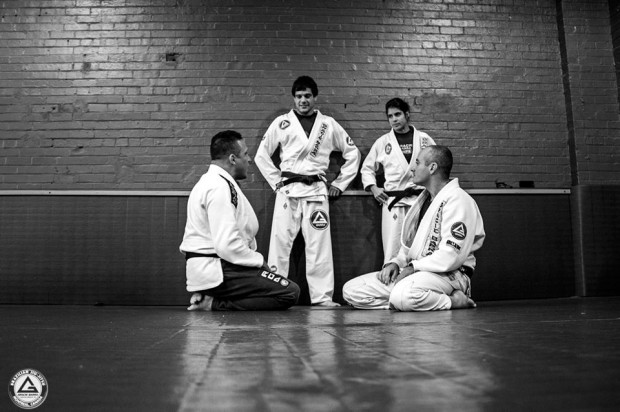 3) You post a lot of food photos on your Facebook. Can you talk a little about your nutritional philosophy.
R: I could not stress more the importance of nutrition for health. Eating can bring you in or out of shape quicker than any other change in your lifestyle. With the plentitude of diets and fads out there, eating become so confusing and the information in the media is flat out misleading. It is ironic that we now need to learn how to eat, instead of just following our instincts.
Just so you think about it, our brains have been wired through evolution to crave fat, salt, and sugar. Three things that we can't live without and were once hard to come across. However, now there is so much of it everywhere that we have to consciously avoid it! No wonder it is so hard to be disciplined about it; we are fighting our own instincts.
Instead of following any diet, I try to live by a few simple rules: Understand you bodily needs, eat less and avoid crap. It is simple math after all. Eat more than you need and you gain weight, eat less and you loose weight. Keep it simple.
4) Can you talk about your philosophy of Brazilian jiu-jitsu, training and life?
R: Always forward. Any day is an opportunity for you to get better, every struggle is a chance for you to learn something and improve yourself. In life and on the mats, I am an eternal student, so I don't mind making mistakes and learning from them.
My style of teaching is a two-way street, where I share what I know but I am also open to what the students bring to class. My typical student is a Jiu Jitsu nerd that studies it deeply and is always on the hunt for new things. It is amazing the amount of knowledge freely available nowadays, so it would be foolish of me to ignore what they can contribute.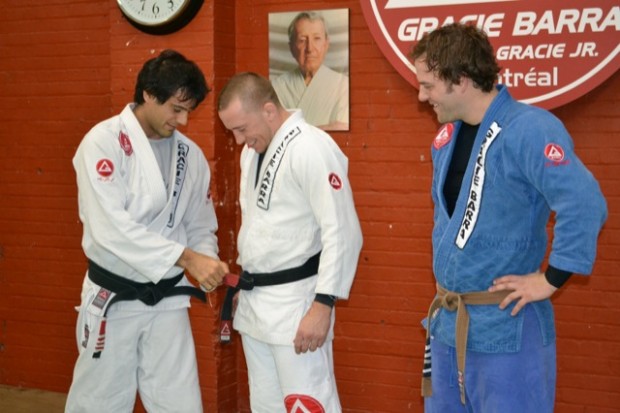 5) What do you do with yourself outside of the Bjj academy? Can you tell us something interesting about yourself that most Gracie Barra readers would not know?
R: My work for the school does not end when I leave the mats. I can be managing the business side of it, preparing for my next class, writing up some article to share on our social media vehicles and so on. When I have time for myself I like doing yoga, snowboarding, jogging or cruising with my longboard, weather permitting. I love Montreal so I try to spend the day outside working at cafes or trying new restaurants. There is no shortage of either around here.
When I have time, I travel to surf. Surfing is the thing I miss the most living in Montreal, so I take any opportunity I have to go chase some waves around the globe.
6) Tell us about the perfect day in the jiu-jitsu lifestyle of Bruno Fernandes
R: waking up on my own terms (no alarm clock) ; some cardio by the morning; brunch at a local joint drinking good coffee, a bit of work to keep my mind sharp; training at night; then dinner out with friends.
Train/eat/play/sleep/repeat, this is a perfect day for me 😉
Credits: Mark Mullen
Gracie Barra Black belt based in Taipei, Taiwan
Twitter: @MarkMullenBJJ