GB Feature School : Prof. Max Goldberg – Gracie Barra in Flagstaff, Arizona
This week at Gracie Barra we feature an interview with GB Prof. Max Goldberg of the new Gracie Barra of Flagstaff, Arizona
"You have just found the greatest thing in the world that will change your life forever."
Prof. Max Goldberg
GB: Can you tell the readers at Gracie Barra a little about your background?
Where did you grow up and how did you get started in Brazilian jiu-jitsu?
Prof. Max Goldberg: I grew up on the south side of Chicago. I later moved to Arizona where I attended Arizona State University and earned a Bachelors and science and my Masters from the school of Applied Science and Engineering.
I first experienced Brazilian Jiu Jitsu after watching Royce win the UFC.
I immediately signed up for BJJ classes (there were not many options for schools back then) and  earned my blue belt in 1998.   At that point in my life I decided to attend law school, Jiu Jitsu helped me the focus and discipline and determination that was needed to attend law school.
I was accepted to several laws schools all over the country but I choose to attend Stetson University College of Law in 1999 after visiting and training with professor Eduardo de Lima at Gracie Barra Clearwater, Florida. Yes I chose the law school I wanted to attend based on the Jiu jitsu school in that area, I knew i had to train with Eduardo.
I practiced law for 10 years after graduating.  I practiced criminal and family law and during at my own law office.  Jiu Jitsu was always my outlet and a stress reliever for me.
After, earning my black belt from Professor Eduardo de Lima I had a dream of retiring from law and opening my own Jiu jitsu school where I could share my passion for the sport and lifestyle with others.   I enjoy competing and coach my team members who compete.  I am a 3 time Pan medalist.  I am so proud of my 3 children who also practice and compete in this sport.  My son Max Goldberg II, Brown belt is one of the instructors at my school and my younger son and daughter also train.  I went from working a stress job as an attorney to being able to train with my kids EVERYDAY! How lucky am I.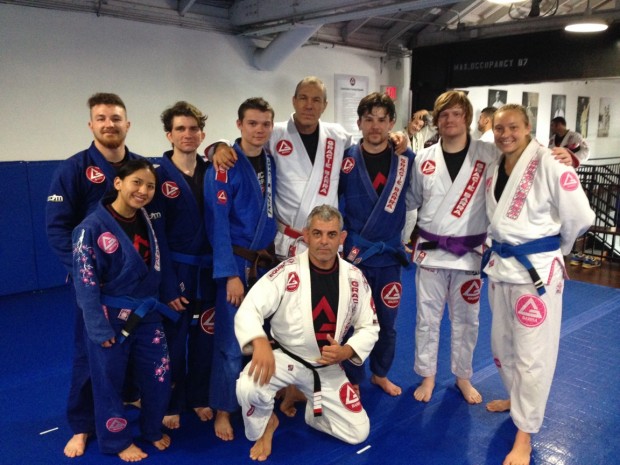 GB: If you can give a single piece of advice for bjj students who want to improve their games, what would that advice be?
Prof. Max Goldberg : My single piece of advice for these students would be to be aware that ups and downs are part of jiu-jitsu just as they are a part of life. Keeping your head up and working hard during these difficult times can improve your game dramatically.
GB: Starting Brazilian jiu-jitsu classes can be a little intimidating for many people. Can you share a few tips for new students to bjj?
Prof. Max Goldberg:  It is important for People starting Brazillian jiujitsu  to realize that everyone even the Instructor was once in their shoes as a beginner.  I tell them there is nothing to be intimidated of. You have just found the greatest thing in the world that will change your life forever. From here on out nothing will intimidate you again now that you have found jujitsu.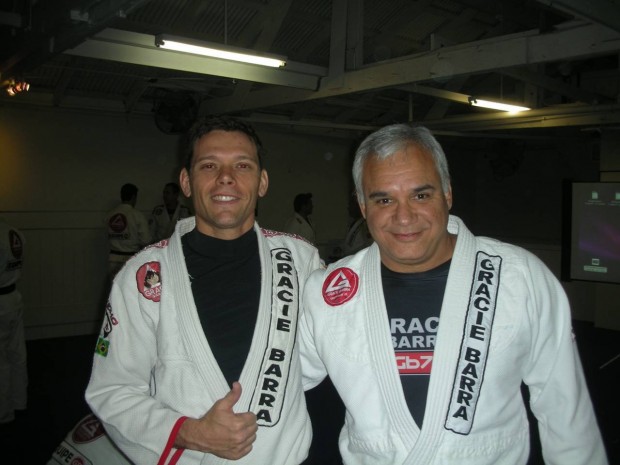 GB: What programs do you have in the academy for different types of students?
Prof. Max Goldberg: We have a beginner program and advanced classes. GB Flagstaff  offers a amazing self-defense program/anti bully kids program. We have a competition program for those team members looking to compete.  We also offer a striking program.  We offer classes 7 days a week!
Northern Arizona University is just blocks from my academy and I have worked with the University to offer a credited class to NAU students that teaches them the basics of Jiu jitsu. This is a great way to spread the message to young student about the greatness of Jiu jitsu.  This is one of my favorite classes and is typically for those who do not have any experience at all.
GB: Can you tell us about the exciting things you have planned at the academy?
Prof. Max Goldberg: We are at 8000 feet  altitude, in one of most beautiful places in the US. We are excited to bring more of our Gracie Barra family experience this amazing place. You can find us in the July 4th parade in Flagstaff and our opening date is scheduled for July 9, 2016!
Also we run the school as a father son team! I am so lucky my son, also name Max (know as lil Max, 26 years) is an instructor and IBJJF certified Brown belt.
I am so proud of my 3 children who also practice and compete in this sport. My son Max Goldberg II (Lil Max), Brown belt is one of the instructors at my school and my younger son and daughter also train. We have many different programs to offer for adults and children! Jiu Jitsu for EVERYONE!
GB: You have just opened a new Gracie Barra academy in Flagstaff, Arizona.
Where is Gracie Barra Flagstaff located? Please tell us about your new facility.
Prof. Max Goldberg: Address: GB Flagstaff –  24 S Mikes Pike St, We are located in beautiful downtown Flagstaff Arizona. We are in walking distance of Northern Arizona University.
Most people don't realize but Flagstaff unlike the rest of Arizona is Located in the largest contiguous Ponderosa pine forest in the world, with mild winters and cool temperatures even in the summer.
We are just 80 miles away from the Grand Canyon and 40 miles from Meteor Crater. We are also close to seven National Parks and Monuments.
GB: What is the most important life lesson you have learned from Jiu-Jitsu?
Prof. Max Goldberg: Anybody can pick their dream and with hard work make it come true all I need is a gi and a way to get to jiuj itsu.
GB: What do you try to communicate to your students about the benefits of training Jiu-Jitsu?
Prof. Max Goldberg:  Jiu Jitsu improves  your mind, your body, your diet and your life. You are not just learning a skill you have the oppourtunity to experience the jiu jitsu life style that includes health, happiness and confidence.
My passion is to teach my students not only good Jiu jitsu technique but a healthier way of life mentally and physically.
BJJ is about self-improvement and for everyone that looks different. Jiu-Jitsu is a vehicle to help individuals achieve their goals in any aspect of their life.
GB: How did training Jiu-jitsu change your life?
Prof. Max Goldberg: I was a lawyer, working 80 hour weeks, I did not have any regard to my health and happiness. The jiu jitsu lifestyle saved my life.
GB: Who have been the biggest influences on your jiu-jitsu and what did you learn from each of your professors?
Prof. Max Goldberg: Eduardo De Lima is my master.  I learned everything from him and thank him for everything.