GB Encinitas celebrates holidays with new black belts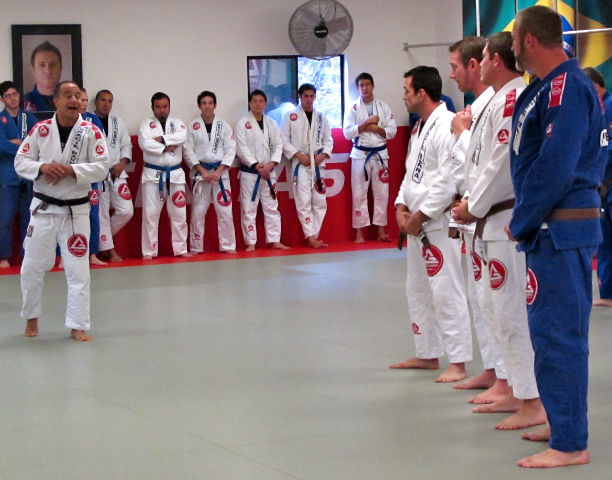 Recently, Gracie Barra Encinitas had something to celebrate and be thankful for: 16 students being promoted to new belts – a quarter of those promoted to black belt.
Professor Rafael Ramos, 2nd degree black belt and head instructor of GBE says he and his partner, 5th degree black belt Professor Nelson Monteiro, know that receiving a black belt is a big achievement, so they had to do something special for their students. "It's just like getting your degree at a university," Professor Ramos said to reporter Deb Blyth, "But it's from the GB University. These guys put so much time into their training, and into becoming better people through Jiu-Jitsu, we had to make a big deal of it."
The four students receiving their black belts were: Kent McIntyre, Brad Grubaugh, Sean Conley, and GBE's Program Director Brian Franklin. "They are disciplined, hard working, honest, they have great technique, and most importantly, they are always willing to help their fellow man in Jiu-Jitsu," Professor Ramos says.
Kent McIntyre, a Doctor of Psychology, says Jiu-Jitsu has been the longest endeavor he's had in his life. He's trained in the sport longer than it took him to get his doctorate, be married or have kids. "It's close, but Jiu-Jitsu is the longest commitment I've had," he says, "Nothing in my life has taken this much time. When I go away, it's always there to come back to. I'm so happy to have gotten my black belt from Master Nelson and GB."  
The philosophical, intellectual of the group, Sean Conley, was very excited to receive his black belt. Sean has been training in Jiu-Jitsu for 11 years. As a former teacher and football coach, he understands the concept of hard work, effort, and commitment, and he gets what it takes to follow through on all of those things. Getting his black belt in Jiu-Jitsu was a monumental experience for him. "Jiu-Jitsu has taught me how to communicate more effectively," he says, "I've taken the GB Instructor's Program twice. I have a master's degree in Humanities and an undergrad in English. I'm credentialed in New York and California and yet, one of the best things I've ever gone through is the GB Instructor's Program. It means more than an academic degree to me."