GB Warriors: André Almeida
From generation to generation we follow strong and united always seeking to keep our legacy alive. Previous generations helping future generations to go in search of their dreams and to fulfill goals, thus creating a virtuous and sustainable cycle. 
The GB team has always been and will always be marked by mutual support among its members. In GB we cheer and vibrate with all the energy we have and GB blood pulses in our veins every time our athletes enter the arenas of jiu-jitsu around the world.
All athletes and members of Gracie Barra know the incalculable benefits that BJJ competitions and our philosophy bring to the lives of practitioners of the gentle art. This is the reason why we always seek to bring friends and family onto the mat, so that they can experience and enjoy these benefits.
With the Almeida brothers it was no different. Ricardo Almeida and Flavio Almeida always supported and encouraged the younger brother André Almeida to train and compete. For some years André trained, studied law and became a lawyer. Soon after graduation André had to make a choice: follow the lawyer's career or venture into an athletic career…
GB blood and Andre's athlete veins throbbed strongest and he made his choice. And from what we can see he nailed it. The GB purple belt has been exceeding in every competition and leading the team of new generations of athletes to follow, with a great quality of Jiu-Jitsu and representing the Red Shield with amazing vigor and determination.
Check out the following interview we did with our warrior.
Gracie Barra: Coach Andre, can you tell us a little about how you got started in jiu-jitsu and where your home academy is? Which of your professors has been the biggest influence on your jiu-jitsu?
Andre Almeida: I am 24 years old and have been practicing Jiu-Jitsu since I was 13 years old. My mother never really wanted me to start Jiu-Jitsu and like 90% of the kids in Brazil I always was really into soccer.  But I was also greatly influenced by my older brothers (Ricardo and Flavio Almeida) who always used to take me to their tournaments and to their training in Gracie Barra.
One day I was jumped by a bunch of older kids because of a girl back in Brazil and my older brothers (both already living in United States) called their friends and training partners at Gracie Barra to help me out.
After that I knew that I wanted to join that team, so I started training Jiu-Jitsu. I have trained mostly under Professor Lagarto (Former Brazil's HQ professor) and most recently under Professor Jeferson Moura at the Gracie Barra Headquarters back in Rio de Janeiro, Brazil.
I believe that my Jiu-Jitsu has the influence of Professors Lagarto and Jeferson Moura, but the major traces are definitely from my brothers Ricardo and Flavio Almeida.
Gracie Barra: You are currently in GB Scottsdale preparing for the 2016 World Championships. What is your training like to be ready to compete in a high level event? What does a typical training week look like for you? (ex. training rounds, conditioning, diet etc.)
Andre Almeida: My preparation is no mystery, I just work hard.  I work out at the gym from Monday through Saturday. On these days I work on strength, conditioning and explosive training.  I practice drills with specific training twice a day and train once a day from Monday through Saturday.
My Sundays are normally off to give some time for the body to recover from the week and store energy to start Monday strong.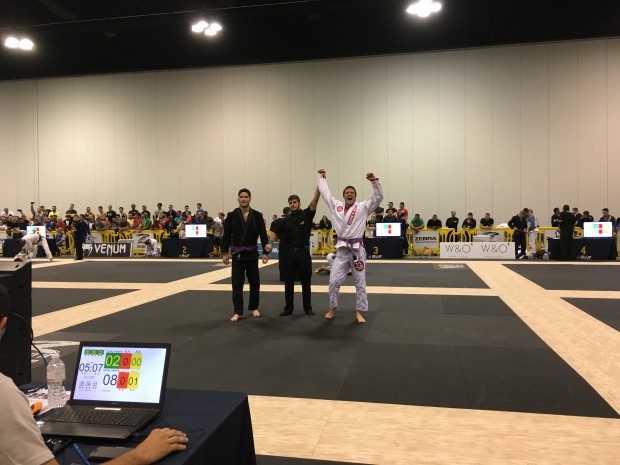 Gracie Barra: What is your mindset before a major competition? Do you prepare a specific strategy or game for a major competition?
Andre Almeida: My strategy is always the same. I always try to put my opponent out of his comfort zone.  If I know that my opponent likes to pull guard I try to pull first, and if I know that he likes to play on top I try to take him down so that I can play top. I have no preferences on playing guard or top so I always try to position myself in the scenario that is worse for my opponent.
Gracie Barra: Can you tell us about some of the Championships that you have competed in in the past and some of your victories? What is your philosophy about winning and losing in the tournaments? What inspires you to train so hard to compete?
Andre Almeida : This year alone, I have fought in Pan Jiu-Jitsu IBJJF – 3rd place, Atlanta BJJ Pro IBJJF – 1st place, New York Spring International Open Jiu-Jitsu IBJJF – 1st place, New York Spring International Open Jiu-Jitsu No-Gi IBJJF – 1st place, Las Vegas International Open Jiu-Jitsu IBJJF – 3rd place, San Jose International Open Jiu-Jitsu IBJJF – 3rd place, San Jose International Open Jiu-Jitsu Open Class IBJJF – 3rd place, San Jose International Open Jiu-Jitsu No-Gi IBJJF – 2nd place, 11th Arizona International Jiu-Jitsu Open – 1st place, NABJJF Silver State International Jiu Jitsu Open – 1st place, and NABJJF Silver State International Jiu Jitsu Open No-Gi – 1st place.
Like everyone I always want to win, but more than that I always believe I'm going to win. I get really frustrated when I lose a match that I know I could have won.
There are some matches that you can easily see the mistakes that you did, the positions that you lost and the opportunities that you missed, and that really pisses me off!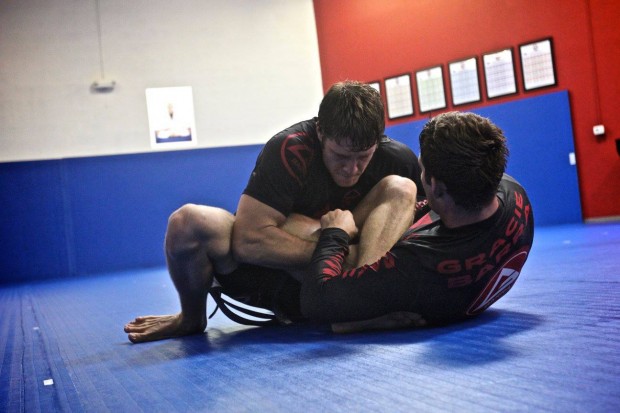 Besides that, if I lose because my opponent did a great job on simply blocking my attacks and was able to overcome my defenses, I try not be mad and learn from my weakness to come back stronger.
For years of my life I stayed full days in the library studying for uncountable hours, and I believe that gave me a profound notion of discipline, and with good disciple almost anything is possible.
About the inspiration to train so hard to be able to reach a competitive level, the only thing I can say is that you have got to love the path, not the end.
On my life I have always tried to love, or learn to love, the path.
When I say that I work out from Monday through Saturday some may think of this as unbearable, but I think I am lucky to have the time to be able to work out 6 days a week.
Of course some days are rough, but life is like that with everything.Some days you just have to push through, but the majority of the days I'm tremendously grateful.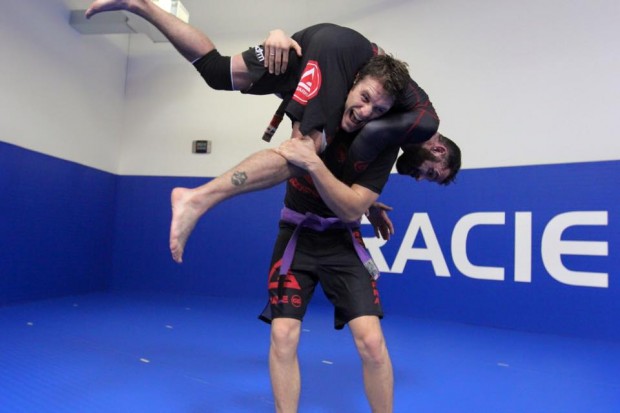 Gracie Barra: Can you give some advice to Gracie Barra students who like to compete? Many students deal with stress before the competition and ask for advice on how to overcome the nerves. What was the most helpful advice that either of your brothers Ricardo or Flavio told you about competing?
Andre Almeida : If I could give one piece of advice it would be go forward! The benefits of you registering for a competition are uncountable – winning or losing you will already have a great take away from it.  You will always feel nerves, it's not a friendly game, it's fighting, you will feel stressed.  What can help is to start on smaller tournaments to get used to the nerves, start getting used to the tension and then go climbing up the ladder little by little. The best advice that I have gotten from my brothers was really simple, give your best and then you will be comfortable by knowing that you did all you could do.
They always supported me 100% and gave me all the tools necessary for me to perform at my highest level.
Gracie Barra: What are your goals and dreams in jiu-jitsu? Are you planning to come to the USA permanently or continuing to live in Brazil?
Andre Almeida: My main goal is to be a Black Belt World Champion!  I haven't thought about moving permanently to the USA, but that's an option.  As for today I want to be wherever I can have the best Jiu-Jitsu training. It doesn't matter whether it's in the USA or Brazil.