Nao Takigawa The Japanese GB Temple
Your responsibility is to discover your calling in life and dedicate yourself to it . Buddha
Even today it is incredible Gracie Barra continues growing stronger and growing worldwide. Journeys such as the one we've embarked on take time, hard work, dedication, wisdom and perseverance. The art of knowing how to choose the right people at the right time, delivering people the right mission is a challenge. Marcio travelled to Japan and ran into Nao, who had visited Brazil and by luck or fate met with Jiu Jitsu's Master Carlos Gracie Jr.
What was the result of all this ? The 'Jiu Jitsu for everyone' campaign has been very well represented in Japan in the face of Nao. We follow the development and establishment of GB's presence and representation in Japan with  Nao Takigawa.
Professor Marcio Feitosa was sent to Japan in 1997 by Master Carlos Gracie Jr. to spend a season in the land of the rising sun, spreading the philosophy of Gracie Barra. Marcio and Nao met in Tokyo and quickly became friends as they were united by a common passion for Jiu Jitsu.
Marcio invited Nao to come visit him in Brazil , staying at his home and personally meet Master Carlos Gracie Jr. to witness the first Gracie Barra school founded in 1986 in the city of Rio de Janeiro.
Professor Nao Takigawa came to Brazil for the first time in April 1998 and remained there, training for 30 days. The experience did not live up to his expectations and he returned for a second time in November that same year, staying for 4 months the second time.
Nao returned to Japan  with a plan in his mind. Having lived in Brazil as well as trained in the Gracie Barra school in Rio de Janeiro with Master Carlos Gracie Jr. he decided to bring back to Japan the GB legacy and represent and expand Brazilian Jiu Jitsu.
The family of Prof. Nao Takigawa descended from samurai and over time some of these warriors became Buddhist monks. Nao grew up in a temple in Kaibara, where his father was responsible for the practice of Buddhist philosophy in the region. As Buddhist monks have a long history of warriors their philosophy greatly influenced martial arts throughout the centuries. Perhaps that past influenced the decision of Prof. Nao in some way. Surely, the study of Buddhism contributed to his willpower and discipline necessary to move to a new country in pursuit of his dream and calling in life.
In October 1999, Professor Nao Takigawa landed on Brazilian soil determined to fight his way to the desired black belt . His friend Marcio Feitosa made ​​the necessary connections for Nao to get settled in an apartment close to the Gracie Barra HQ school, where Master Carlos Gracie Jr. taught. The apartment was located on a popular beach in front of the breakwater in Barra da Tijuca.
In August 2004 Master Carlos Gracie Jr. awarded Nao the long awaited black belt. His graduations was truly a milestone in his life.
In February 2005 Prof. Nao Takigawa returned to Japan, determined to open a Gracie Barra school and to pass on the teachings of Master Carlos Gracie Jr.  or as we like to say: 'He was willing to keep the legacy alive'. Nao took back with him not only a black belt but also a wife – Adriana, whom he met in Brazil. They are together till this very day and have 2 sons Gyo and Hiro. The couple lives in the sleepy town of Kobe, near Tokyo, where his Gracie Barra school, founded in March 2005 also is.
To learn more about Gracie Barra Japan and the work of Professor Nao Takigawa click here.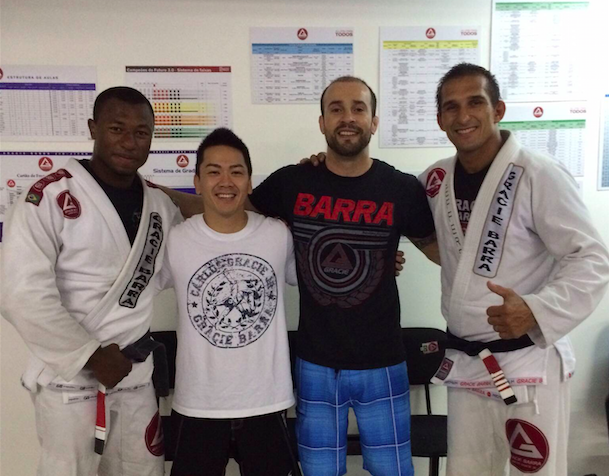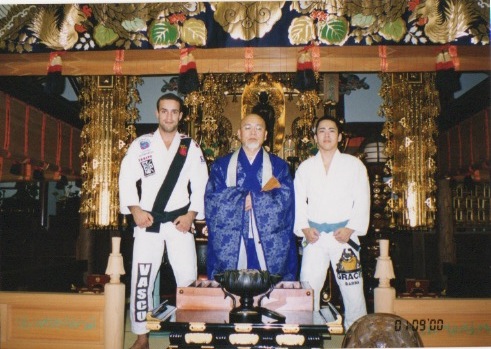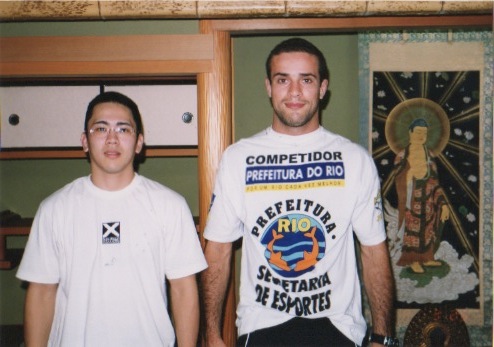 Nao demonstrating a position in GB HQ in Rio de Janeiro: