Eating well is Jiu-Jitsu: The Power of Berries and Red Fruits
Tasty, attractive and filled with nutrients, the red fruits bring numerous benefits to our health. In today's "Eating Well is Jiu-Jitsu" you will better understand the properties and powers of these fruits…

Watermelon, cherry, strawberry, raspberry, blackberry and many other varieties belong to the groups of red fruits and/or berries. Any kind of fruit provides important health benefits because they are high in vitamins, minerals and fiber. Moreover, the berries and red fruits stand out because, besides these nutrients, they have antioxidant power. They provide few calories and offer bioactive compounds, which are substances that contribute to our health and prevent diseases. These compounds are responsible for giving that red color to these fruits. They may act in lowering cholesterol, strengthening the immune system and preventing cardiovascular diseases.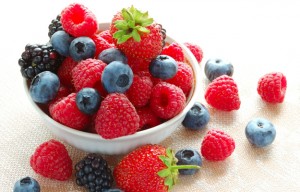 Here are some red fruits and their properties:
– Strawberry: The strawberry is a source of vitamin C, phenolic compounds and others. Research relates the intake of strawberries with reducing levels of bad cholesterol (LDL). The organic version is more appropriate, since strawberries are one of the most pesticide-contaminated foods.
– Apple: It's source of soluble fiber – the pectin – which assists with good intestinal health. This fruit also contains malic acid, which contributes to the vitamin C absorption in the body and stimulates the brain functions.
– Persimmon: Just like the apple, it also has high fiber content, besides being a source of phosphorus, calcium and beta-carotene, which has antioxidant function, fighting free radicals.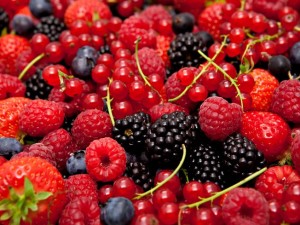 – Watermelon: Has loads of water, which makes it an excellent diuretic. It fights the free radicals action thanks to two substances: glutathione and lycopene. Its composition also offers phosphorus, iron, calcium and vitamin B.
– Cherry: Such fruit provides protection against cardiovascular diseases due to the amount of flavonoids present on it. It is also a source of vitamins A and C, as well as soluble fiber.
– Blueberry: Tannins and anthocyanin are substances brought by this little berry, which have been linked to the age-related cognitive decline prevention and anti-cancer effects.
In the next blog's post, we will bring you delicious recipes for better enjoying all the benefits of these fruits that are real preciousness.  
This article has only an informative purpose and is not intended to replace professional guidance. The use of vitamins and supplements can offer you great results, but before using any product, we strongly recommend that you visit a Nutritionist, Doctor or another specialist for analysis and follow-up.
Note: Illustrative Pictures – Source: Google
Source (in Portuguese): Vila M