Eating Well is Jiu-Jitsu: Healthy Christmas
And let's begin the preparations for one of the most desired periods of the year: Christmas. Jingle Bell, Jingle Bell, time for a great healthy Christmas dinner. If we have the option to make beneficial choices, why not?  Besides, nothing is better than waking up the next day without a guilty conscience, right?

Check out the following three very light and healthy replacements for a Christmas dinner. 
1) Replace the traditional Christmas 'salpicao' for lighter and nutritious salads 
The Christmas salpicao is usually made with mayonnaise and other fatty ingredients. Replace it with nutritious salads and your dinner will become more functional and healthy.
Christmas cheese sauce salad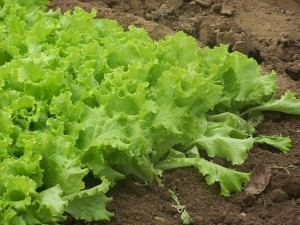 Ingredients
1 plate of iceberg lettuce
1 plate of arugula
3 tablespoons of lactose-free cottage cheese
5 cherry tomatoes
2 tablespoons of brown/whole croutons
2 fillets (100g each) of shredded chicken breast OR 1 can solid tuna in water
Preparation:
Prepare the shredded chicken (or tuna) without adding oil and set aside. In a salad bowl, combine lettuce, arugula, tomatoes, and the shredded chicken or tuna. On the top, pour the hot cottage cheese (lactose-free), and then the croutons.
2) Replace the traditional breadcrumbs mix (Brazilian 'Farofa') with quinoa or amaranth
The traditional Christmas 'farofas' are made with bacon, sausage and other foods that are harmful to health. Meanwhile, the quinoa and amaranth are foods that, in addition to being sources of fiber, can be consumed by celiac people, since they do not contain gluten.
Quinoa and amaranth farofa (light)
Ingredients: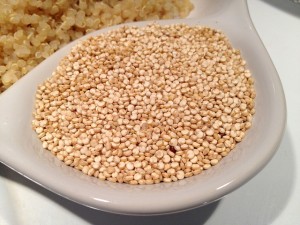 2 cups of amaranth flakes
1 cup of quinoa flakes
1/2 onion, chopped
1 garlic clove, minced
1/2 cup of finely chopped parsley
2 tablespoons of chopped chives
1 teaspoon of olive oil
1 pinch of pepper
1 teaspoon of mustard seed
Preparation:
Sauté the onion, garlic, parsley and chives in olive oil. Mix amaranth and quinoa with the pepper and the mustard seed. Mix all ingredients until golden brown.
3) Replace the traditional "Greek-style rice" for a more nutritious option. 
Opting for healthier recipes, you will add the dish a higher nutritional value and will make your dinner much more functional.
Christmas Rice
Image from: www.berkeleywellness.com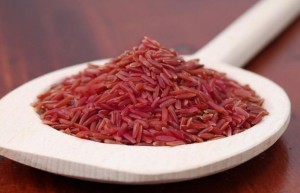 Ingredients:
6 cups of filtered water
1 garlic clove
3 cups of red rice
½ onion
1 chopped tomato
½ green bell pepper
½ red bell pepper
1 cup of chopped cabbage
4 tablespoons of nonfat yogurt
4 tablespoons of quark cheese
2 teaspoon of salt
2 tablespoons of chopped parsley
Preparation:
Sauté the onion in a cup of water. Add the rice and sauté as well. Add the water, salt and mix. Cover the pot and simmer for about 20 minutes. When the rice has finished cooking, add the other ingredients.
Did you like it? Share it with your friends! =)
This article has only an informative purpose and has no intention to replace a professional guidance. The use of vitamins and supplements can offer you great results, but before using any product, we strongly recommend you to visit a Nutritionist, Doctor or another specialist for an analysis and follow-up.
Source (in Portuguese): ClicRBS
Illustrative Images