GB Competition Training Camp March 2013
Monday March 4, 2013 – Monday March 18, 2013
14988 Sand Canyon Avenue
Map and Directions | Register
Description: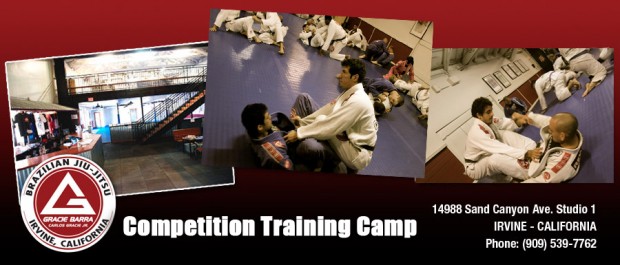 Get Ready for the 2013 Pan Jiu-Jitsu Championship
The Gracie Barra Competition Network is joining forces with the Gracie Barra Headquarters to host a special training camp with the worldwide renowned Jiu-Jitsu Professor Ze Radiola. The training camp will support Gracie Barra athletes preparing for the upcoming Pan Jiu-Jitsu Championship.
Training
The training will take place from March 4th-18th from 9am-11 am (Blue & Purple Belts) and 11am-1pm (Brown & Black Belts).
The requirements are:
You completed the online form and were guaranteed a spot in the camp
Punctuality
Use of the official Gracie Barra uniform
It's easy to register and costs only $103.00 for early registration
All participants must register online by completing the form below and paying with credit card or paypal account. Keep in mind the space is limited to 100 participants
and deadline for registration is March 2nd.
Training Camp Cost
To join the camp, participants must pay the registration fee of $147.00 or benefit from an early 30% registration discount by registering by February 25th.
Gracie Barra Certified Belts are eligible for a complimentary ticket as well as GB Competitors who have placed 1st, 2nd, 3rd on the adult division of Worlds, Pan-Ams, Abu Dhabi Pro, European or Brazilian Nationals . If you would like to claim your complimentary ticket please E-mail: events@graciebarra.com
Transportation, lodging, and useful addresses
Transportation
It is not easy to use public transportation in Southern California and we recommend that visitors rent a car for transportation. You can rent the car at the airport. More information and prices on the website: www.enterprise.com
Hotel
We recommend the La Quinta Inn & Suites Irvine Spectrum located at 14972 Sand Canyon Ave, Irvine, CA. Phone (949) 551-0909. Website http://www.lq.com.
This hotel is located on a walking distance from the Gracie Barra Head Quarters where the training will happen.  Usually four athletes share a room and can be well accommodated.
Useful addresses
Here are some useful addresses from places used by our athletes in previous training camps:
For restaurants and snacks: Irvine Center. located at: 6580 Irvine Center Drive, Irvine, CA. Distance from the GB HQ: approximately 1 mile.
For restaurants, pharmacy, market, and gym: Woodbury towncenter located at 6200 – 6460 Irvine Boulevard, Irvine, CA 92620. Distance from the GB HQ: approximately 5 miles.
Supplement store and restaurants: Shopping Irvine Spectrum located at 71 Fortune Drive, Irvine, CA 92618. Distance from the GB HQ: approximately 5 miles.
Rules
On the mats
All Attendees must know and respect the GB Dojo Etiquette.
Note: Only athletes wearing the GB official uniform will be aloud on the mats.
Gb Hq premises
As a courtesy to the Gracie Barra Head Quarter's students and instructors we ask that athletes participating in the camp to avoid attending classes and circulating in the school premises during peak hours between 3 pm and 8 pm. Last year we had problems of over capacity in the classrooms and locker rooms.
Luggage and valuables
Leave your luggage and valuables in the hotel room. We will not have space for storage and we are not responsible for lost or stolen valuables.
Punctuality
There will be a tolerance for a 15 minute delay. After this period the athlete will not be aloud on the mats.
 GB Competition Shirt & Wrist Band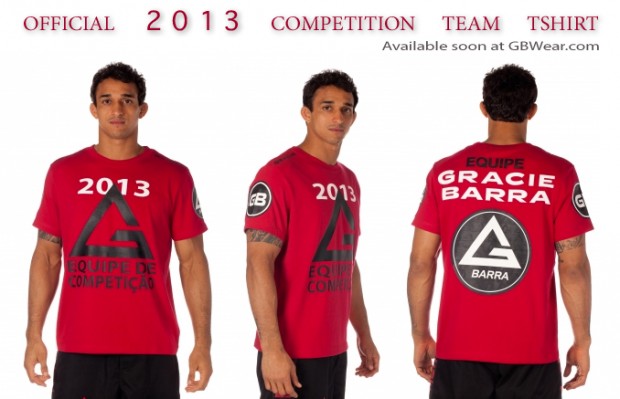 Participants will also receive an Official GB Competition Team Shirt 2013 and GB Camp 2013 Red Wrist Band for registering.
Take a minute to register below!
If you have any questions, please email events@graciebarra.com