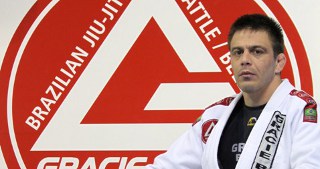 Gracie Barra Seattle Professor Rodrigo Lopes is one of the main black belts leading the way in the growth of Jiu Jitsu in Washington State. Having recently switched to the Premium Schools system Professor Rodrigo is working hard to make sure that his school's are living up to their full potential. Check out this interview where he explains how the growth of the Gracie Barra franchise system is going in Washington.
Tell us about your back ground and how you got into Jiu Jitsu?
I started Jiu Jitsu in 1992 back in Brazil before that I played soccer and surfed. Once I found Jiu Jitsu, I realized this was my calling.
How did he you end up in Seattle?
I came to Seattle in 1996. Initially to visit a friend and then a few weeks later I ended up working as a Jiu Jitsu instructor.
What is the history of Gracie Barra Seattle?
Gracie Barra Seattle was founded in 2005, since then it has become one of the biggest Jiu Jitsu schools in the state of Washington.
How many schools are there in Washington?
Currently we have 6 Gracie Barra schools in Washington and we continue to grow. I believe that because of the Gracie Barra's teaching methods and standards this will be an easy goal to achieve.
Who are some of the people helping you out?
I have a very good team helping me to develop the very best schools in Washington. People like Professor Carlos Sievert, Jessie Ruth, Lyndsey Johnson, Doug Zimmerman, Dave Penn, Casey King, Kevin Smith, Shawn Joseph, Brian Ford and Coaches Brock Doyle, Jamie Laflen, Angela Hernandez, Casey Stentz, Bree Davis the list could go on and on.
What is the biggest strength of the team there?
Our attitude, positive environment and energy allow us to have not only the best students on the mats but also outside the mats.
Are there any major competition accomplishments for your team?
Yes, we currently are the school with most wins at our local Revolution tournaments which has on average of over 500 competitors.   The highest accomplishment we have received would be that we are considered the number one Jiu Jitsu school in Washington.
Is Jiu Jitsu popular in Washington?
Yes, but there is still room for growth in the surrounding areas. What people don't realize is that Jiu Jitsu is for everyone.
What is the biggest challenge for 2012?
Our biggest challenge for 2012 is to stay focused and continue to expand our schools. Maintaining the quality and expectations is our priority.
Check out this Interview with Professor Rodrigo with a technique as well