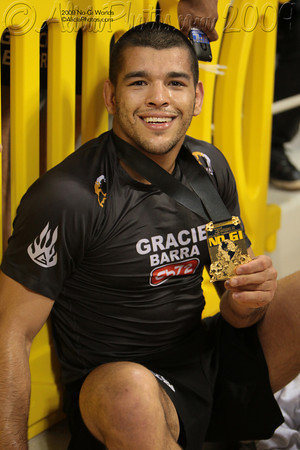 Professor Roberto Talks About Competing, Running 3 Schools at a Time, the ICP4 and Focus
At first glance, Professor Roberto "Tussa" Alencar may have had it all figured out; a successful career in Brazilian Jiu-Jitsu, a successful school in New Mexico, topped with the drive to grow Gracie Barra Jiu-Jitsu in the area. Well, it turns out that he does have it figured out. Having trained in Jiu-Jitsu for more than 17 years, he has proven time and time and again that persistence equates to winning.
Aside from the 3-time world No Gi Champion, his latest exploits include topping the recently held 2012 world masters and seniors. He brought home the bacon by defeating the world's best of the best in the division.
We were lucky enough to get a hold of him, despite his busy competition schedule. To date, he zealously runs three schools for Gracie Barra New Mexico and devotes his time in developing Jiu-Jitsu fighters of all ages.
GB.com: Tell us about your role as the regional leader for New Mexico
Prof. Roberto: I am really grateful to have this opportunity to spread  the word of Gracie Barra Brazilian Jiu-Jitsu inside the community of New Mexico. My role as a regional leader is a big challenge for me. I am aligning all of the schools that are transitioning to Gracie Barra Premium/Official schools. I hope to ensure that all GB schools in New Mexico are working on the same page. Also, I am really focusing on opening more opportunities for my senior students; get them more teaching experience, which will prepare them to someday open their own school. This means were are growing and expanding in New Mexico.
 I believe what keeps me focused is the desire to be the best teacher, competitor, leader, school owner and person that I can be.
GB.com: GB Mexico is growing. Let's talk more about its growth.
Prof. Roberto: I have been living in New Mexico for 6 years. After a while, you can start to see the results of the hard work that has been put in over the 6 years. I am really proud of my team and I couldn't have done it without their support. Additionally, I have to thank the support of the system Gracie Barra has put in place. I strive to implement the GB Philosophy as it was designed to be delivered. I can see from my own experience that the rapid growth seen here in NM has a direct relation with it and the GB Philosophy and the efforts behind it.
GB.com: The ICP4 is one of the trending topics in Gracie Barra. We 'd like to know your thoughts about it.
Prof. Roberto: The ICP gets better with each phase and each version. I am really excited and looking forward to the next one. I support the ICP4 100% I believe the ICP4 is very important for the staff. All of my staff from the three schools are going to attend the ICP4.
GB.com: So far, 2012 has been a great year for Gracie Barra. What are your plans for 2013?
Prof. Roberto: It has been a great year for my team, and I anticipate more good years to come. The plan for next year is to continue my journey here in NM. I am still competing major tournaments. Also, on a personal note, I am getting married next year!
GB.com: Congratulations then! Tell us, what keeps you focused and motivated.
Prof. Robert:  I believe what keeps me focused is the desire to be the best teacher, competitor, leader, school owner and person that I can be. You are the role model in which all of the students look up to. When I am not focused, they are not focused  I strive everyday to lead by example by putting my best foot forward. The motivation,I get from my students. To see them changing their lives for the better good, to hear positive feedback from them after a great training session. And hopefully, promoting them to black belt someday.
GB.com: Share with us the GB atmosphere in NM. What is special about New Mexico?
Prof. Robert: Here in NM, we are all family, and we are living the life-style BJJ provides. The people here love martial arts. BJJ is getting to be well-known since I have been here. The passion of BJJ Is what keeps us and our students on the mat. Our schools are open 7 days a week, 365 days in a year.
Created with flickr slideshow.
____________
disclaimar: Gracie Barra does not own any of the photos appearing in the slideshow. Photo courtesy of GrappleTv. Visit their facebook page:
Grapple TV's Facebook Page