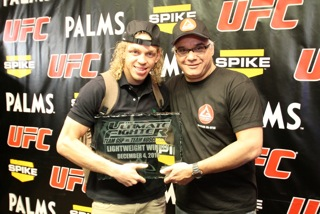 With over 35 years of training with the Gracie family, Marcio Simas is considered by many to be one of the top Brazilian Jiu-Jitsu instructors in the Southeastern United States. He is the only jiu-jitsu teacher in Florida who studied under the legendary Rolls Gracie (who is regarded as the best jiu-jitsu fighter in the history of the Gracie family). Marcio received both his blue belt and his purple belt at Rolls' Copacabana school in Rio de Janeiro. When his family moved to the outer suburb of Rio de Janeiro, known as Barra de Tijuca, Marcio was able to reunite with his old friend Carlos Gracie Jr. When Rolls passed away Carlos Gracie Jr. was unanimously voted by the students to take over the teaching. Soon after, Carlos started his own School Barra da Tijuca where he founded the original Gracie Barra school. Marcio was awarded his black belt by Carlos Gracie Jr. and he has been teaching in Orlando for the past 10 years. He is proud to be representing Carlos Gracie Jr. at Gracie Barra Orlando.
Tell us a little about your background.
I am 6th degree black belt and I trained Jiu Jitsu from Rolls Gracie and Carlos Gracie Jr. I've been in Jiu Jitsu for 35 years now.
What convinced you to start training Jiu Jitsu?
A friend called Lacerda took me to the Gracie school where Rolls and some other members of the Gracie family were training and I fell in love with art that day. Besides that I witnessed Reyson Gracie successfully defend himself against a bigger guy  at Copacabana Beach. I was very impressed, I was only 13 years old when I saw that and then I said to myself I have to join that school, but only when I was seventeen close to eighteen did I had the money to start practicing Jiu-Jitsu.
You trained under Rolls Gracie. What was your best memory from that experience?
My best memory of Rolls is that he could perform any technique of Jiu Jitsu during sparring. He would teach and make believe that it would work against anyone.
What was something that was important that he taught you?
One thing that I learned from Rolls and I consider to be one of the most important lessons he taught me is to have self confidence and believe in myself. One thing that he told me once is that everyone trains hard and if you do everything right you can defeat anybody, including him.
What made you decide to move to Florida?
I came to Florida because the weather was very similar to Rio de Janeiro and very close to Brazil. I could travel back and forth anytime.
When did you open your school?
I open my first school in 1994.
Your the founder and president of the Florida Federation of Brazilian Jiu-Jitsu. Tell us a little about your work with that.
I decide to promote jiujitsu in Florida as much as possible and also organize it. I ask Carlos the authorization to run the Florida Federation and also I helped him to make The Pan American tournament even bigger by bringing it to Orlando in Florida. We together promoted the tournament from 1999 thru 2002. The first one was held in Miami and rest in Orlando. After that Jiu Jitsu exploded in Florida increasing the attention to Florida and made possible to other schools open for Jiu Jitsu all over Florida.
How long has Jonathan Brookins been training with you?
He has been training I believe for around 3 years.
How did he evolve both as a fighter and a person on TUF?
He saw that he needed to improve his ground game and since then he has been focusing on Jiu Jitsu more and more.
What makes Jonathan so unique both as a person and a fighter?
He is unique because he is very given and sincere.
How do you manage to find a balance between training a UFC star while accommodating the average person who just wants to train for self defense or recreational purposes?
To accommodate different needs of all our members we follow the Gracie Barra curriculum that you can use to achieve different goals. We break down the curriculum Fundamentals, Advanced, Competition, and MMA. This way anyone can start in Jiu Jitsu and achieve their goals. It can be used just to lose weigh while you learn self defense or became a professional fighter in the UFC.
Who are some of the people you have helping you out?
I have several instructors helping me, among them are Professor Gustavo "Gutty" Muggiati and Raphael Simpson who use to train Mauricio Shogun Rua in Curitiba, Brazil.
Is Jiu Jitsu growing in Florida?
Jiu-Jitsu is very big in Florida. I believe after California it is the second state to have more Jiu Jitsu schools.
What is your goal?
My goal is whatever my students goal is. Whatever they need, I make effort to help them to achieve it.