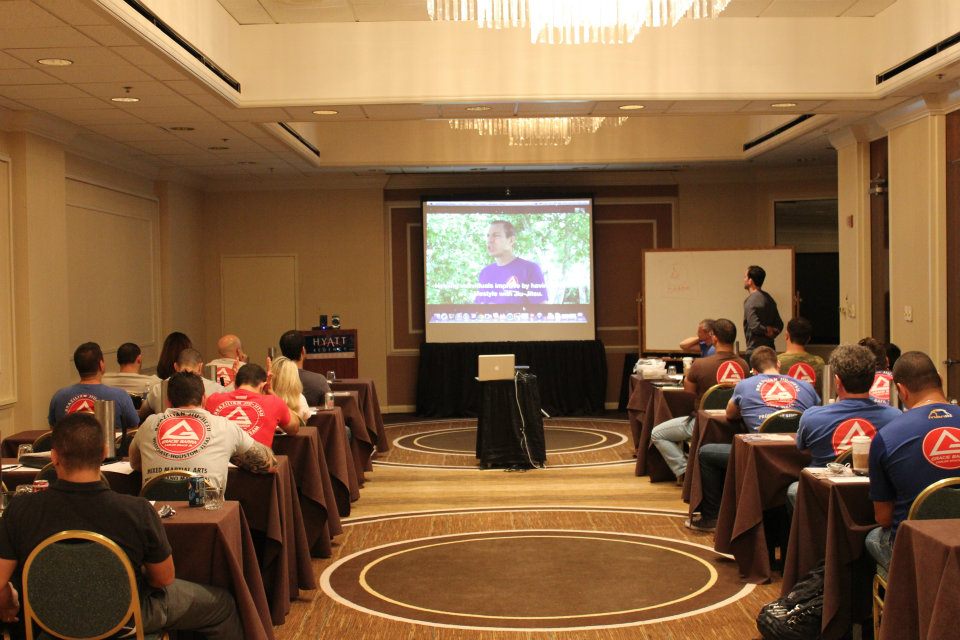 Picture from the GB Regional Conference – Houston, TX
Regional Conference Promoting Jiu-Jitsu for Everyone to all GB Schools
Gracie Barra Association is working hard on the Jiu-Jitsu for Everyone Project. After a very successful conference in Houston, TX where all of our 16 schools were represented, GBA is now focusing on Orlando and Orange County.
We had an amazing experience in Houston. For the first time ever, we had a chance to meet with all the key people who are running the GB schools in the area to discuss the details of Master Carlos' plan to have one school in each city worldwide. The feedback we received could not have been any better and now it is time to focus on Florida and California.

Said Professor Marcio Feitosa after the GB Conference in Houston, TX.
The Florida conference is schedule to happen on Monday, May 21st in Orlando. All school owners from the state of Florida and other states are welcome to attend. The event will happen after a set of seminars with at Florida schools and Master Carlos Gracie Jr. himself will be attending.
The Regional Conferences will be the main platform for GB to convey Master Carlos Gracie Jr.'s vision. We made history in Houston and got to the end of the conference with this amazing vibe of support and enthusiasm coming from all attendees. We are all aligned and tuned on the direction Gracie Barra is taking and what we need to do as a team to continue to lead the way in promoting Jiu-Jitsu for everyone.

Said Professor Flavio Almeida on a report after the Houston Conference.
The largest and probably most important of the regional conference will be in Irvine, California, one day after the Worlds Championships (Monday, June 4th, 2011). GBA wants to capitalize from having a lot of our athletes and instructors in town and invite them to stay one more day to attend the event.
Registration for both conferences is already open and can be done on the links below.
To Register at the Orange County Conference, Click Here
To register for the Orlando Conference, Click Here