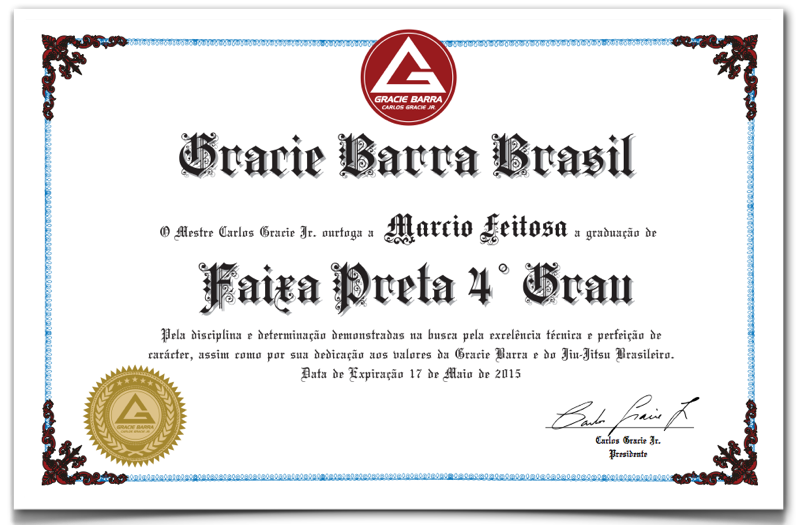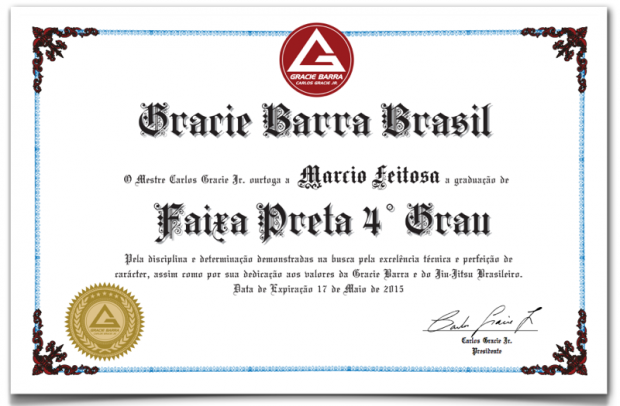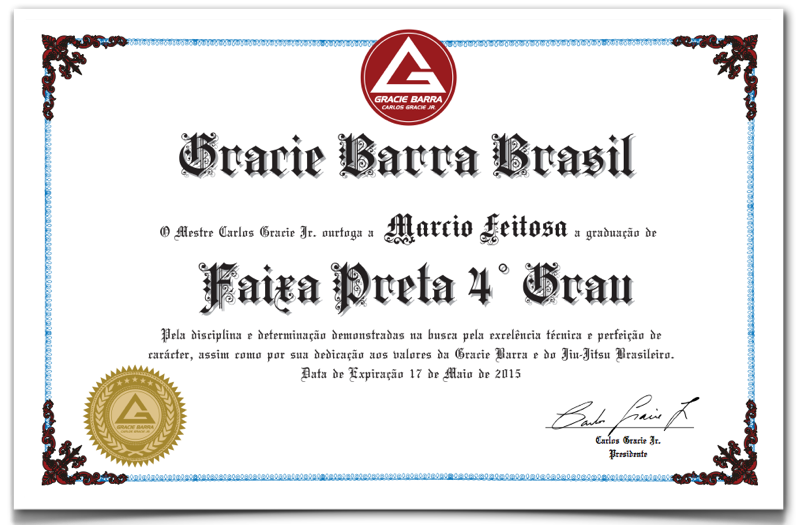 Gracie Barra Association Started this Week the Certification of Jiu-Jitsu Black belts All Over the World
Have you seen the above image on Facebook and Twitter over the past few days? They are popping up all over the place as Gracie Barra instructors and athletes proudly share on their social media channels their Gracie Barra Black Belt Certificates.
This week, our association is rolling out  a very important piece of the JJ for Everyone Project. What is called the Gracie Barra Black Belt Certification Program,  will certify thousands of instructors and athletes all over the world for their achievements, efforts and dedication in promoting the BJJ and Gracie Barra.
"Pela disciplina e determinação demonstradas na busca pela excelência técnica e perfeição de carácter, assim como por sua dedicação aos valores da Gracie Barra e do Jiu-itsu Brasileiro".
To receive a Black Belt certificate, the individual must complete the Application Form and meet the qualification criteria: 1) be part of a GB School, 2) be an active JJ instructor or student, 3) meet the time requirements from the Jiu-Jitsu belt system, 4) be able to confirm that information via another GB instructor responsible for his or her training and development in Brazilian Jiu-Jitsu.
We are really excited to finally have the Black Belt Certification Program in place. We have hundreds of instructors all over the world working really hard to promote Jiu-Jitsu and Gracie Barra. However, because we are so spread out, they cannot be on the same mats with Master Carlos Gracie Jr. to be promoted and recognized for their efforts.

This new program will ensure they not only receive their certifications and continue to be promoted, but will allow us to have them on our database and stay in touch. Our communication is key so we can continue to  promote the best teaching methods and tools developed by Master Carlos and his GB Association.

Says Professor Marcio Feitosa, Executive Director of Gracie Barra Brasil
The Gracie Barra Black Belt Certificates are issued by Gracie Barra Brasil. This is an important detail to be noticed and reflects Master Carlos Gracie Jr.'s desire to maintain the connection with the origins of Jiu-Jitsu. Despite the accelerated growth the gentle art Carlos believes to be important for Gracie Barra instructors to maintain a strong connection with Brasil, where everything started.
The List of Certified Gracie Barra Black Belts can be found at our website and will be constantly updated for new GB black belts, new ranks, etc.
In case you have any questions about the Gracie Barra Rank Certification Program, go ahead an e-mail support@www.graciebarra.com. Tey are comitted to get back to you in one day.
Cheers!
GB Association Team