Top 5 Fitness Benefits to Brazilian Jiu-Jitsu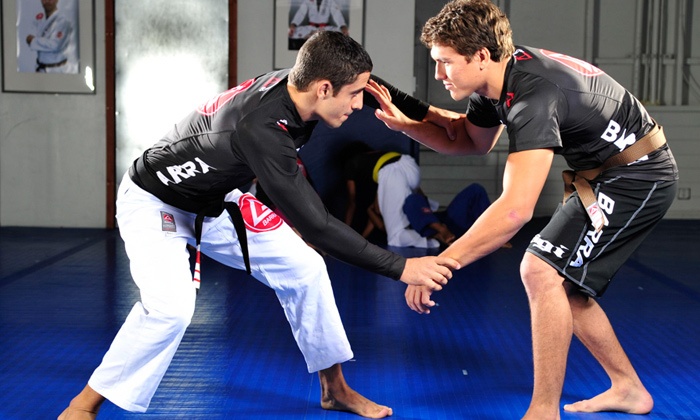 The Benefits of BJJ Are Available to All Kids and Adults in Franklin, TN
Grappling to see the appeal of Brazilian Jiu-Jitsu? Look no further! At Gracie Barra, we make staying fit easy! Our jiu-jitsu fitness classes help you maintain a successful lifestyle. Our full-body workouts increase your endurance, flexibility, focus, and cardiovascular health. Signing up for a BJJ class in Franklin will help with your overall health and fitness. In turn, this helps you burn some calories and can help you lose a few pounds!
1. Our Franklin Adult Fitness Classes Offer Weight-Loss in Franklin, TN
One of the questions we get asked most is if BJJ is good for weight loss? The answer is yes! Brazilian Jiu-Jitsu works every muscle in your body. With our BJJ fitness training, some members notice a difference almost immediately! One of the best parts of our fitness classes? You will hardly notice how hard you are working.
With regular cardio for weight loss, too often we get caught up on how much time is spent on the treadmill or how many calories have been burned. The difference with Gracie Barra Franklin is that your mind is constantly engaged and focused on the technique of BJJ. Begin your fitness transformation journey today and stop staring at the blinking screens on cardio machines!
2. Cardiovascular Health Can Improve from Jiu-Jitsu Training in Franklin
One of the highest benefits of Brazilian Jiu-Jitsu is improved heart health. With the general rule of thumb being about 30 minutes of cardiac exercise between 2 to 5 days a week, our Nashville Jiu-Jitsu gets you on your feet!
Whether you are attending our BJJ studio in Franklin or practicing at home, you can easily reach 30 minutes of cardio. 30 minutes of activity gets your blood pumping and allows you to start working on your heart health.
3. Improve Your Flexibility and Balance with Our Gym in Franklin, TN
At our Franklin BJJ gym, you begin to get more in tune with your body. With regular practice of Brazilian Jiu-Jitsu, you begin to get a better sense of your body and in turn your balance. The various fitness moves that you learn make your body practice flexibility to keep you limber. This is very similar to the benefits provided by yoga in Franklin. Extending your arms, legs, and abdomen are all aerobic moves that help your body with flexibility and balance!
4. Gain Improved Focus and Concentration from Our Franklin Gym
Brazilian Jiu-Jitsu is more than self-defense and martial arts. Students are also learning how to mindfully and intentionally move their bodies. This emphasizes focus and concentration. When practicing BJJ you need to actively observe your opponent and focus on how you can use their movements to your advantage. Think of this as a game of chess.
The skills learned and practiced at our Nashville Jiu-Jitsu classes are skills that help in your everyday life. When you become more in tune with your mental state and concentration you can easily maintain a calm and relaxed mood.
5. Stress Relief from Our Group Fitness Classes
If you've ever seen photos of people after a BJJ training session, a big smile can always be seen! Gracie Barra Franklin offers you one of the healthiest ways to alleviate stress from your everyday life. Some students come into the gym with something on their mind but it is quickly forgotten once they start their jiu-jitsu moves.
Contact Gracie Barra for One of the Top Gyms in Franklin!
When you join Gracie Barra, you join a brotherhood and support system like no other. Our group fitness classes help people with all types of fitness levels. There is no specific "Brazilian Jiu-Jitsu" type. Sign up for our Jiu-Jitsu classes and start seeing improvements on and off the mat today!