Adult Fitness Classes in Franklin, TN
BarraFIT is our answer for students who want an exciting fitness class focused on aerobic exercise and strength training. This class is a Jiu-Jitsu inspired workout that promotes weight loss while increasing your overall fitness in Franklin, TN.
The Gracie Barra Fitness program is based on the same principles and values we teach in our Gracie Barra Programs. Whether your goal is to boost your physical well-being, or you currently practice BJJ, BarraFIT is perfect for you and your family.
BarraFIT is the perfect addition to your fitness routine because it involves easy to learn movements to help you complete the class. Our instructors help students get both the mind and the body in shape so you can achieve more than you ever thought possible. Our fitness classes are a natural addition to Jiu-Jitsu training. This will help you build endurance and practice moves that can later be used in self-defense.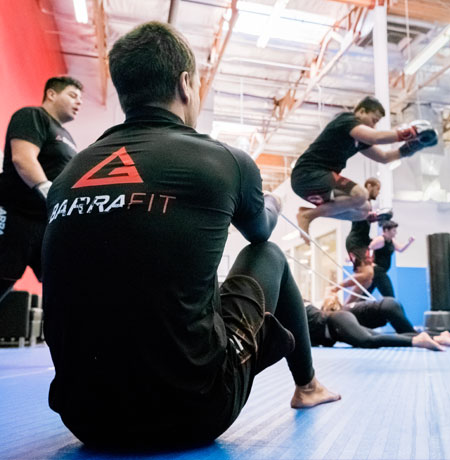 Schedule Your
Free Class
Today!
The Rewarding Weight Loss Class in Franklin
While local gyms in Franklin typically focus on heavy weights, our Jiu-Jitsu fitness classes are never too extreme or intense. Our BJJ martial arts classes are done in moderation and in pace with what is comfortable for you. Over time your body will acclimate to these new and unique moves, and your fitness transformation will take off.
Our weight loss classes are filled with people just like you. Different fitness levels, backgrounds, and martial arts levels make up our Franklin fitness classes. This means you are surrounded by a serious support system to help you achieve your goals on and off the mats.
Benefits of our BJJ Gym in Franklin, TN
• Mental strength
• Motivation
• Cooperation
• Focus and discipline
• Personal growth
Martial Arts Fitness in Franklin, TN
Our BarraFIT program is an excellent way for new students to become acquainted with Jiu-Jitsu and the Gracie Barra School. Our fitness classes utilize the same principles and values used in our Jiu-Jitsu program courses. You will be introduced to the very basics of Jiu-Jitsu while getting in the best shape of your life.
Our fitness program differs from others you will find at a gym in Franklin because we offer various fitness moves to keep your workout exciting and engaging. We also promote a sense of community that encourages all students to keep working toward their goals. The Gracie Barra brotherhood is a support system for students that enhances your workout and help you achieve more during each class. Besides an increase in your overall fitness level, you can expect benefits in multiple areas in your life.
Improved Energy Levels from Our Franklin Martial Arts Classes
When you become more physically active, you stay active. Brazilian Jiu-Jitsu training can give you more energy for your workouts.
Brazilian Jiu-Jitsu Improves Focus
Brazilian Jiu-Jitsu requires serious mental concentration while anticipating your opponent's next move and plotting your plan for self-defense and attack. This same logic helps guide your frame of mind when making decisions on and off the mat.
Weight Loss Experts in Franklin, TN
Lose weight and have fun with a BarraFIT class taught by our certified instructors. Our community feeling will keep you coming back and inspire you to push yourself to the next level. Contact Gracie Barra in Franklin, TN, today for a free fitness class and experience all that Gracie Barra has to offer!