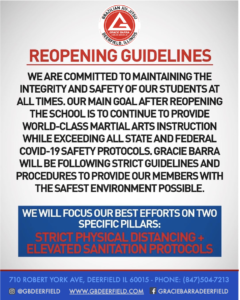 We are beyond excited to announce our Reopening of Youth (4-18years old) In-Person Group Class starting Monday, June 15th!  As always, Gracie Barra Deerfield is ahead of the curve in protecting our students.  Our main goal once we return is to provide all of our students with the highest standard of safety and quality.  We are committed in excelling state requirements, while at the same time accommodating our students needs, and ensuring their safety on the mats.  We will maintain our Live, Interactive Classes through Zoom. We can't wait to see you soon on the mats!  Please read the Reopening Guidelines below.
Please reach out to us on how to reserve for In-person Classes as they are limited.
Stay tuned for our exact date of In-person Reopening to all ages (soon)!