Gracie Barra Ahwatukee 1 Year Anniversary
Gracie Barra Ahwatukee One-Year Anniversary
Something happened in March 27th that would change Ahwatukee, a neighborhood in the southern part of Phoenix. "Something" was born. And this "something" was not a person itself, but a group of individuals determined to change the world, one person at a time.
Gracie Barra had arrived in the Ahwatukee community, bringing Brazilian Jiu-Jitsu with a very unique approach. Having a fun and friendly environment, BJJ started being spread to everyone: Kids, Teens, Men, Women, and began to have a positive impact in those people's lives.
Today, GB Ahwatukee has one year of existence. One year of teaching Kids self-confidence, respect and discipline; Teaching Adults self-defense, a fun workout and the most effective Martial Art; Fighting against Bullying and One year empowering Women.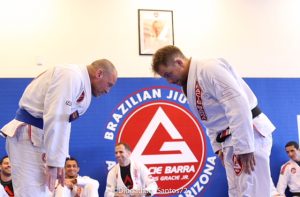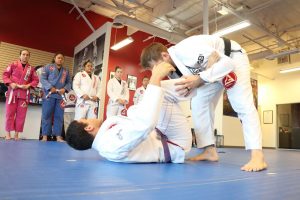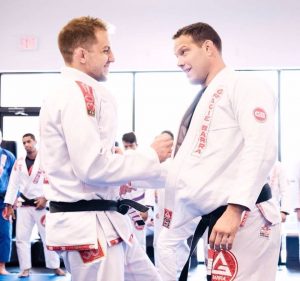 To celebrate the 1 Year Anniversary, the event needed to have something as special and big as the School. So why settle with one day only? GB Ahwatukee decided to make a whole week of events! From Monday through Friday, everyday there would be a special guest teaching classes at night. These Special Guests would be the talented professors from Gracie Barra Arizona, one for each day of the week. As a result, each one of the classes were packed, had an amazing show of techniques and an awesome environment to be.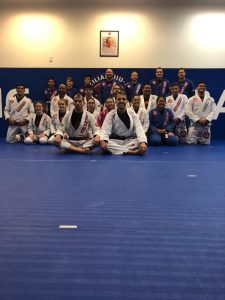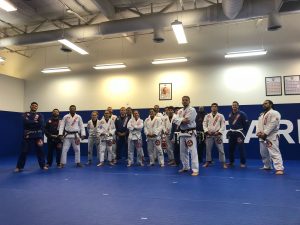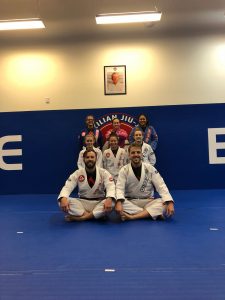 Celebrating our school's first anniversary and our impact on the community
Saturday, April 14th was the big day! A day full of activities for everyone! The event started at 8 Am with an amazing BARRAFIT Class with Coach Vivi Almeida! With the influence of her older brother, Professor Marcio Feitosa, Coach Vivi fell in love with Jiu-Jitsu and is on the daily mission of spreading Jiu Jitsu to as many women as possible!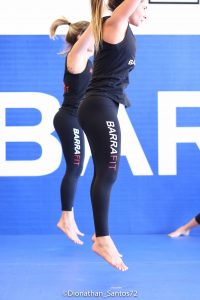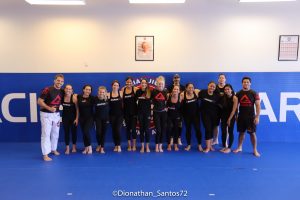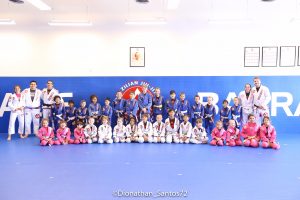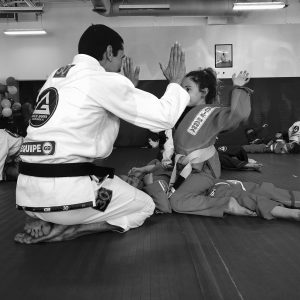 After that, starting at 9 Am, Professor Fernando Nassif taught an incredible Kids Special Class! Professor is one of the best Kids Instructor in the whole country, and a reference in Gracie Barra on this topic.
His classes are always packed, with a lot of fun and good energy! Both his daughters are World Champions at a really young age and are following his steps as young Jiu-Jitsu instructors.
At 10:30 Am, Professor Romulo Barral stepped on the mats to teach an amazing Seminar. Professor Romulo is a 5x Black Belt IBJJF World Champion, and a member of the IBJJF Hall of Fame. He's one of the best athletes Gracie Barra has ever produced, and a incredible instructor, having a couple of his students achieving the status of World Champions as well. With a unique and incredible way to teach Jiu-Jitsu, Professor Romulo's seminar was beyond techniques drilling, but was really conceptual and intelligent.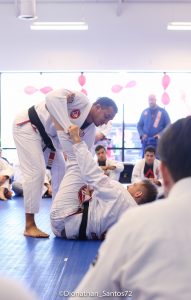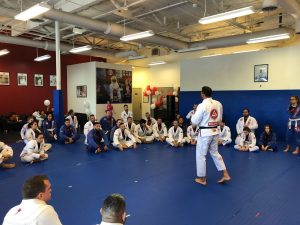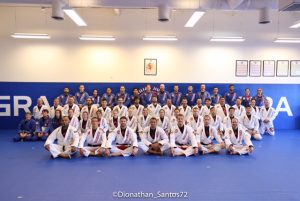 In the end, there was a really special belt promotion: The first 2 GB Ahwatukee Blue Belts! After the ceremony, the whole team got together at the Foothills park for a Potluck Party.
"It's been an amazing 1st year for Gracie Barra Ahwatukee and we're looking forward to the amazing future that awaits for us. GB has helped changing lives and making the world a better place. We really believe that Jiu-Jitsu is for everyone, and we want to keep making a difference in our community by teaching this amazing Martial Art.

We want to give a special thanks to the Gracie Barra Arizona Team for making this possible. And an even more special thanks to the Gracie Barra Ahwatukee students. This is all because of you and it's all to you!"

Professor Luis Freire and Coach Lucas Norat