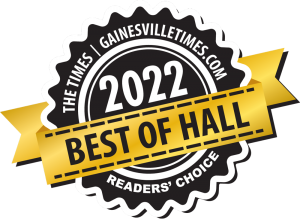 Gracie Barra Gainesville is the only Brazilian Jiu-Jitsu academy in Hall County to win the 2022  "Best of Hall" Readers' Choice award.
What makes Gracie Barra Gainesville so special?
1.  Our location – We are conveniently located off of Dawsonville Highway with easy access from Gainesville, Dawsonville, Cumming and other surrounding areas.
2.  Our facility – Is large (~3,000 square foot) and state-of-the-art, with an elevated training space to soften impact on the mats, his and her locker rooms (both with showers), filtered water bottle filling station (offered at no cost) and ample mat side seating with additional seating from our bright and open lobby.  All of this is backdropped by beautiful Lake Lanier.
3.  Our instruction – We have the highest ranking instructors in Hall County, with 4 Brazilian Jiu Jitsu Blackbelts on our team:  Head Instructor Nielsen "Griilo" Nunes (4th degree), Eric Moody (1st degree), Ray Goodie and Mike Foster.  All of our Blackbelts are under Professor Fabio Costa.
4.  Our lineage – We are proud of our Carlos Gracie Jr. lineage.   Grand Master Carlos Gracie (founder of Gracie Jiu Jitsu) –> Master Carlos Gracie Jr. (founder of Gracie Barra) –> Professor Fabio Costa
5.  Our culture – We live the family values, where we are here to help each other in our BJJ journeys.  We train together, lift each other up and have many special events throughout the year to celebrate each other and what our family has accomplished.  We are inclusive of all walks of life and value the diversity of our members.  It is our family values and diversity that make us Stronger Together!
6.  Our memberships – Are one flat monthly fee with no hidden or surprise charges (e.g., registration fee, belt promotion fees, etc.)  and include unlimited training for our Brazilian Jiu Jitsu, Kickboxing/Muay Thai, Judo and Competition training classes.
7.  Our people – From the moment you walk into Gracie Barra Gainesville, you will feel welcomed into our family.  Our staff, students and parents are wonderful people.  Each of us love sharing the beauty of the "Gentle Art" of Jiu Jitsu and we can't wait to share it with you.
As the African Proverb says, "If you want to go fast, go alone.  If you want to go far, go together."  Come join the family at Gracie Barra Gainesville where we will reach our goals, etc. TOGETHER!
Our Weekly Schedule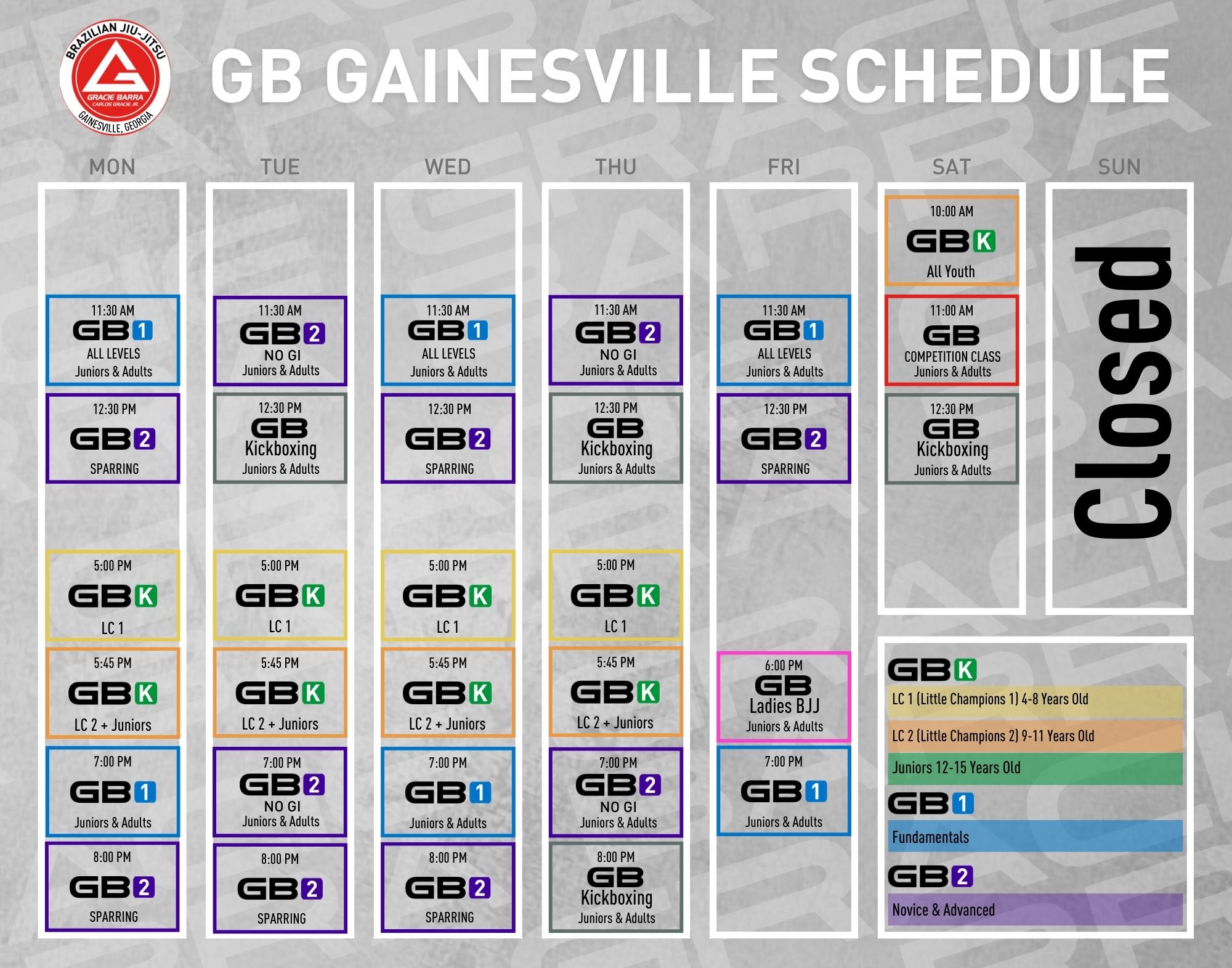 Our Instructors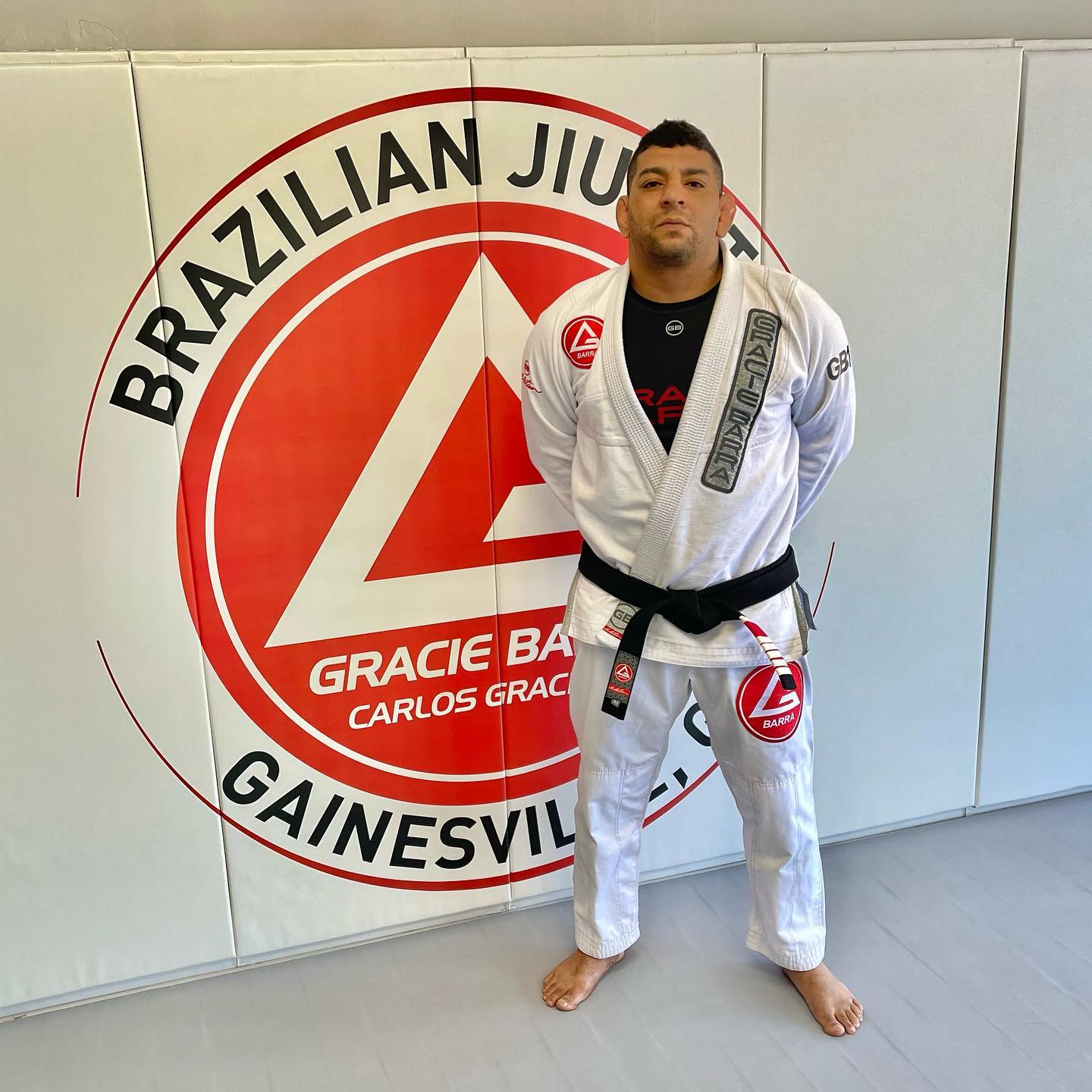 Nielsen "Griilo" Nunes
ICP6_Revisited, CPR
Professor Nielsen "Griilo" Nunes was born and raised in Brazil and has been doing Jiu Jitsu for 26+ years.  As a 4th degree Black Belt, Professor Griilo is known for his world class Jiu Jitsu.  His depth of knowledge and encouraging style make him one of the best instructors in Georgia.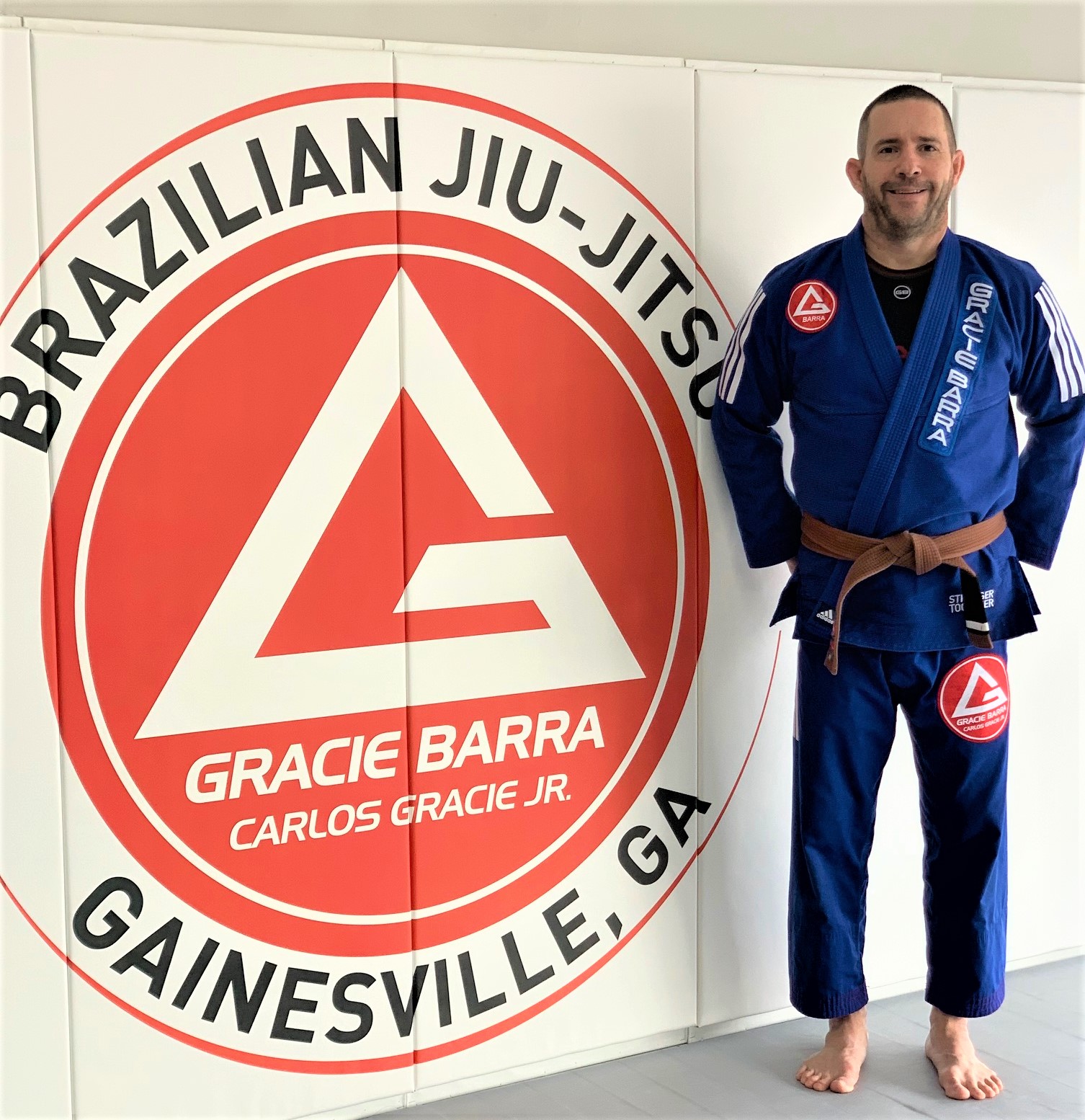 Shawn McMorrough
ICP6_Revisited, CPR
As owner of Gracie Barra Gainesville, Shawn is also a coach that brings 12+ years of Jiu Jitsu experience on the mats. Shawn started his journey under Renzo Gracie lineage and joined the Gracie Barra family back in 2017, where he received his Purple and Brown belts under Gracie Barra 4th degree Black Belt, Professor …