Free Women In Charge Program!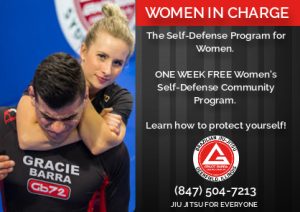 Women In Charge Program: Empowering Women Through Jiu-Jitsu!
The Women in Charge Program is about creating a better future. This better future is one that helps to promote a healthy community which respects women and teaches women how to be independent and strong.
Our ONE-WEEK FREE Women's Self Defense Program will prepare you physically and mentally to deal with a potential attack.
In this structured program we will cover the most common attacks against women. We will teach you first how to prevent them, and then give you the training to respond effectively!
Besides developing vital life-saving skills, you will also have a lot of fun while training with us, and you'll probably lose a few pounds too!
We are pleased to announce our FREE ONE WEEK Women In Charge Program in December. The classes are available to both members and non-members.
December 3rd, Tuesday: 10 – 11am & 7:15 – 8:15pm
December 5th, Thursday: 10 – 11am & 7:15-8:15pm
December 7th, Saturday: 10 – 11am 
Classes will be held at Gracie Barra Deerfield, located at: 710 Robert York Ave. Deerfield, IL 60015.