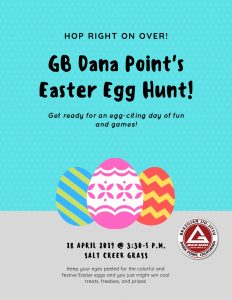 Little Champs 1 & 2 classes will be cancelled this Thursday in exchange for an Easter Egg Hunt at Salt Creek Beach. We'll have our tent set up with some balloons to make it easy to find us.
The Salt Creek Beach parking is pay by the hour so be sure to bring lots of quarters to feed the meter. It may also be beneficial to find a friend or another family to car pool with. Or, if you can, find parking close by and walk.
We look forward to seeing all of you there this Thursday.
Salt Creek Beach grass @ 3:30-5 pm