Professor Charles Gomes
ICP6, ICP6_Revisited, CPR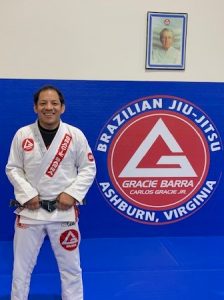 Professor Charles Gomes
Black Belt professor Charles Gomes, martial arts instructor in Ashburn, VA
BJJ Rank: Black Belt 2nd Degree
What BJJ means for me: When you think of jiu-jitsu you may think of submissions you see on the UFC, but for me jiu-jitsu is so much more than what happens on the mats. I look at my life through the lenses of jiu-jitsu and Gracie Barra. In life, as in jiu-jitsu, you can do all the right things yet still get caught in a submission. How you react to being caught is what will determine the ultimate outcome!
Favorite Quote: "Hard work beats talent when talent doesn't work hard"
Background: I was born in state of Ceara, Brazil. I lived in a small beach city called Iguape, near Fortaleza. When I was 7 years old I moved with my family to Southern California. One of the most significance events in my life was 9/11. That day I knew that I needed to do something to help the country that gave so much for my family and I. I joined the world's finest, the United States Navy, and served from 2002 until 2006. I served as a Damage Controlman (shipboard fire fighter) on the USS John C. Stennis. I have so much respect for those that serve this great nation; it is because of their selflessness that we can be free.
I started to train jiu-jitsu at Gracie Barra Oceanside, CA.  After receiving my Blue Belt, I moved to San Clemente where I trained under Professor Flavio "Cachorrinho" Almeida at Gracie Barra San Clemente.  On December 6th 2014 I received my Gracie Barra Black Belt, and as Professor Flavio always reminds us, "It is not the destination but the journey that will be the sweetest part".  I am very honored and proud to say that I have been a part of the Gracie Barra Family from my white belt to my black belt!
Come join us at Gracie Barra Ashburn as we continue to change people's lives through Gracie Barra jiu-jitsu. #jiujitsuforeveryone
Professor Charles
Black Belt 2nd Degree