Gracie Barra Northwest Regionals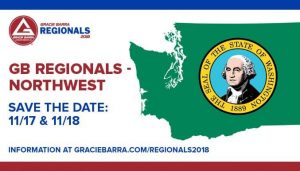 Welcome to the 2018 Gracie Barra Northwest Regionals! We are looking forward to having everyone from the Gracie Barra Northwest join us….
DAY 1
GB COMPNET NORTHWEST CHAMPIONSHIPS – SATURDAY NOVEMBER 17TH, 2018
It's Jiu-Jitsu competition day.
The first day of the GBR will be dedicated to the Gracie Barra Competition Team. The renowned EQUIPEGB involves not only GB Athletes defending the Red Shield in tournaments all over the world but also their professors, training partners and supporters who make their dream of becoming a champion of Gracie Barra possible.
The CompNet will be hosting the first Gracie Barra Northwest Championship giving GB Students from Washington, Montana, Idaho, Canada, Wyoming and Oregon the opportunity to compete, learn and celebrate in a safe, friendly and yet highly technical environment.
The morning of the Tournament Day will be dedicated to GB Kids ages 3-15. As a reminder, you pick the age group of the age your child will be in the year of 2018, so wether he's turning 10 in December or turned 10 in January, he's competing with the 10 year old Age Category, please choose accordingly.
The afternoon will be dedicated to Juvenile and adult divisions white to black belt.
We have added an amazing bonus to the Tournament day, 2 FREE SEMINARS!!!  The GB Kids Seminar will be exploring strategies for competition and we will also have an Adults Seminar.
The Gracie Barra Regionals is a family event envisioned by Master Carlos Gracie Jr. to give an opportunity for GB members in the Northwest region to come together to Learn, Laugh, compete and celebrate.
Children up to age of 6 does not pay to be an expectator and every kid competing up to age 12 can bring one parent at no cost, everyone else it will be $10 expectator fee at the day of the event charged at the door.
DAY 2
THE GB LEGACY AND GB TRAINING DAY – SUNDAY NOVEMBER 18TH, 2018
Day two is dedicated to Keeping Alive the Legacy of Gracie Barra and Master Carlos Gracie Jr.
In the morning we put our GB Gis to immerse on an amazing Jiu-Jitsu Journey. Some of the best and most recognized athletes and professors from our team will be joining forces in a "never seen before" series of Master Classes and Seminars bringing your Jiu-Jitsu game to a whole new level.
In the afternoon we will put our red 2018 competition shirt on and have live sessions giving you the opportunity to participate in live workshops, roundtables, speeches, and practical group exercises addressing topics such as GB History, GB Philosophy, Jiu-Jitsu Entrepreneurship, GB Teaching Method, Leadership and the Brazilian Jiu-Jitsu Lifestyle.
We will focus our sessions around the 3 pillars of Gracie Barra highlighting the vision of Master Carlos Gracie Jr, providing you tools and information to deliver Jiu-Jitsu for Everyone in each city in the world!
The GB Training Day is founded on the Jiu-Jitsu for Everyone approach.
This setup will allow us to host Jiu-Jitsu Master Classes that meet specific learning needs and make sure the GB Training Day is attended by everyone from young children, teenagers, ladies, and beginners to high level students, black belt professors, and world champions.
The Training Day will end with an epic Drilling and Training Session and the official GB Northwest Regionals Group Picture.
Link to sign up:
https://graciebarraevents.smoothcomp.com/en/event/1119