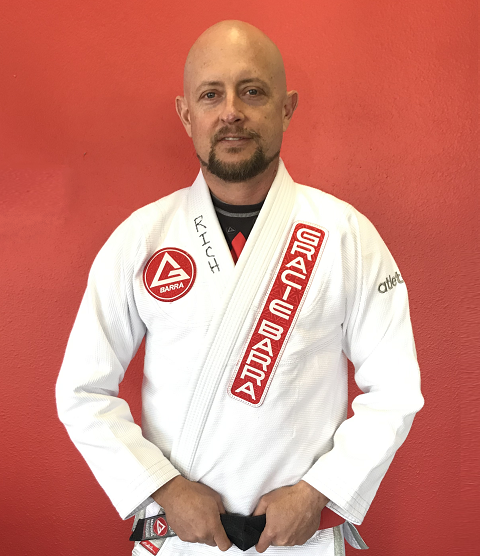 Professor Richard Henderson
ICP4, ICP5, ICP6, ICP6_Revisited, CPR
Professor Richard Henderson is the Owner and Head Instructor at Gracie Barra Rohnert Park and a Black Belt under 4th Degree Black Belt Professor Flavio Almeida.
Professor Richard began his jiu-jitsu journey in the early 1990s after watching the first UFC and being amazed that such a small fighter (Royce Gracie) could be so successful against much larger opponents. Searching for technique over strength, he began informal training with a group of friends in a garage and eventually found himself attending the Gracie Academy in Torrance, CA. But without local access to an academy or the opportunity for regular training, he gradually lost touch with jiu-jitsu as his career and family took priority.
It wasn't until 2007 that Professor Richard would again cross paths with jiu-jitsu. Working as a commercial real estate broker, he was introduced to a new client looking to open a small jiu-jitsu academy. A strong believer that everything happens for a reason, he helped his client (Professor Bill) find a location and immediately signed up – becoming an "official" Gracie Barra White Belt!
With a shared passion for jiu-jitsu, Professor Richard and Professor Bill quickly became friends. Over the coming years their friendship and mutual respect would grow. More than just a student, Professor Richard became a trusted advisor to the academy and was involved in many of the business operations. And in late 2015, nearly 8 years after returning to jiu-jitsu – there was an opportunity for Professor Richard to take sole ownership of Gracie Barra Rohnert Park.
Whether it's explaining basic concepts in the Juniors' program, increasing students' proficiency with techniques in the Fundamentals and Advanced classes – or simply talking bjj philosophy with the Masters' students, you can find Professor Richard on the mats sharing his love of jiu-jitsu with others.
"One of my absolute favorite things about teaching jiu-jitsu is the sense of community that we're building. We have students of all ages and from all walks of life. But when we're on the mat, we're all the same. We're all experiencing the same challenges and we're all working towards a common goal. Jiu-jitsu is one of life's great equalizers. But even though you train as an individual, you also cannot get better without your training partners. It doesn't matter what you do for a living, how much money you make or what your level of education is – once you put on the Gracie Barra uniform and step on the mat, you're an important part of the team." – Professor Richard