What You Experience With Our Adult Martial Arts in Chandler
Our adult Jiu-Jitsu programs are specifically designed with each student's personal achievement in mind. Your personal goals, such as fitness or self-defense, will be taken into account when you sign up. Gracie Barra students see improvement not only athletically, but also mentally as they incorporate Gracie Barra's proven principles into their lives.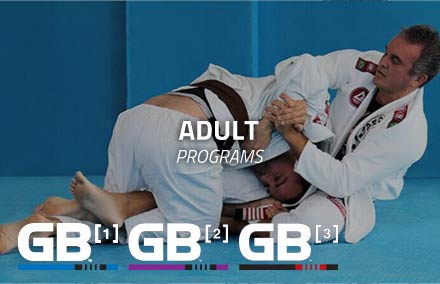 Engaging Adult Brazilian Jiu-Jitsu Classes in Chandler
With Gracie Barra there are no teams, the only competition you have is with yourself. We offer a welcoming yet challenging environment where our coaches motivate and guide you to get you in the best shape of your life.
From the very beginning of Gracie Barra, Master Carlos Gracie Jr. has had one goal in mind: Jiu-Jitsu for Everyone. For over 30 years, we have offered classes for adults that teach people of all backgrounds and skill levels the art of Jiu-Jitsu. Our structured curriculum is designed specifically to help you succeed during your training in the art of Jiu-Jitsu.
Jiu-Jitsu Physical Benefits
As you learn and grow in the art of Jiu-Jitsu you will naturally develop increased physical fitness. Jiu-Jitsu is the perfect whole body workout. Our adult classes feature high levels of calorie burn and mental stamina. This not only translates into weight loss but also increased flexibility and stamina.
Jiu-Jitsu Mental Health Benefits
The mental stamina we practice in our classes provides you with proven thought processes that you can apply to your everyday life. We practice self-discipline and self-control in class. These practices are built on and can be applied to help you navigate any situation. This thought process can be applied in your everyday life to reduce stress and improve productivity and self-esteem.
Brazilian Jiu-Jitsu for Self Defense in Chandler, AZ
Many people come to us asking if Brazilian Jiu-Jitsu is good for self-defense. The answer is yes! Brazilian Jiu-Jitsu can offer the most realistic self-defense against attacks that occur in the real world. At Gracie Barra, our teachings also focus on strengthening the mind to help you steer the situation away from conflict in the first place. Our adult BJJ lessons provide the best self-defense classes in Chandler, AZ.
We offer a wide range of adult Jiu-Jitsu classes in Chandler so students can choose the class that best suits their needs. We have three tiers of classes that address varying degrees of skill and knowledge. They are as follows:
GB1 This course can be thought of as Jiu-Jitsu for beginners. This course teaches the fundamentals and principles of BJJ as well as the skills you need to grow personally in a Jiu-Jitsu lifestyle.
GB2 Advance your Jiu-Jitsu game flow during this course. Take your training beyond the fundamentals and begin to hone the principles you need to succeed, such as discipline, respect, commitment, and leadership.
GB3 This program is designed to help students achieve Black Belt excellence. At this stage, a student will begin applying what they learn during their Jiu-Jitsu training to everyday life.
Schedule Your
Free Class
Today!
Train at our Germ-Free Facilities
Our Chandler martial arts school adheres to a strict standard of cleanliness and hygiene set by Gracie Barra. Our staff does the following to keep you safe:
Cleans the facilities constantly
Washes GB uniforms on a regular basis
Cleans mats on a daily basis with a specially designed cleaning agent that neutralizes bacteria, fungus, and odors
Jiu-Jitsu classes at Gracie Barra are perfect for any adult in Chandler, AZ who wants to learn a new skill in a safe, challenging, and family-friendly environment. We offer programs for all skill levels, so you can choose to focus on the fundamentals of BJJ or train to get your Black Belt. Contact Gracie Barra today for a free class to get started.