Our Team
Owner, Head Instructor-Black Belt

ORLANDO SANCHEZ
ADCC World Champion
2x ADCC World Champion Finalist
Coach on UFC's The Ultimate Fighter
IBJJF World Champion
IBJJF Brazilian National Champino (Brasileiro)

Weight and Absolute Division

3x IBJJF Pan American Champion
3x IBJJF North American Champion
2x Abu-Dhabi Trials Champion
Abu-Dhabi World Pro Championship Silver Medalist

Weight and Absolute Division

Abu-Dhabi World Pro Championship Bronze Medalist
American National Championship Silver Medalist
Abu-Dhabi Trials Bronze Medalist
No-Gi World Championship Bronze Medalist
Gracie Nationals Champion
Orlando Sanchez was born in La Canada, California in 1982.  He played sports in his youth, getting though college on a football scholarship.  After his sporting career finished, he struggled to find his place in the world.  At the age of 26 and through the incentive of a good friend, Orlando turned his focus to martial arts. Muay Thai eventually led him to Brazilian Jiu Jitsu and he started competing regularly, reaching the level of brown belt in an astounding 3 years.  After a great competitive year as a brown belt, where Orlando won several important tournaments such as the Pan American Championships and the Brazilian Nationals, he was awarded his black belt by Professor Romulo Barral in September of 2012.  Through his years of competing, Orlando has had the chance to train with many of Gracie Barra's exquisite coaches and competitors eventually becoming the regional director for the Los Angeles area.
Several years ago Orlando built Gracie Barra Pasadena from the ground up and it has quickly become one of the largest Brazilian jiu jitsu schools in the area.  He then took his blueprint for success and started Gracie Barra La Canada another successful school that continues to grow and serve the community.  From there he went on to purchase Gracie Barra West Covina where he plans to use that same successful blueprint to continue to learn, grow, and share this amazing martial art with the world.
Instructor-Black Belt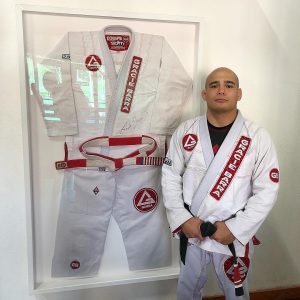 Donald Flowers
Professor Donny Flowers is a First Degree Black Belt.  He was born in the Philippines and grew up in New England in the state of Maine.  He first stepped on the mats in the year 2000 as a sophomore at Biddeford High School.  He then went on to wrestle for the University of Southern Maine where he became team Co-Captain his junior year.  He soon discovered Brazilian Jiu Jitsu and worked his way up the ranks to Purple Belt.  His goals in BJJ and MMA brought him to the state of California.  Teaching Brazilian Jiu Jitsu has been a full time job for Professor Donny since 2012.  He has a Amateur MMA record of 4-2 and he recently became a 2018 IBJJF Pan American Finalist in the Black Belt Master 1 Light-Featherweight division.  His primary focus now is training and competing in BJJ and also teaching full time.  His experience caring for people with developmental disabilities and coaching kids from ages 2 and up, is what makes Professor Donny most proud.  Professor Donny is a Gracie Barra Certified instructor.  He is also certified with the IBJJF (International Brazilian Jiu Jitsu Federation) and coaches wrestling for La Canada High School.