GB Interview: Amber Freitas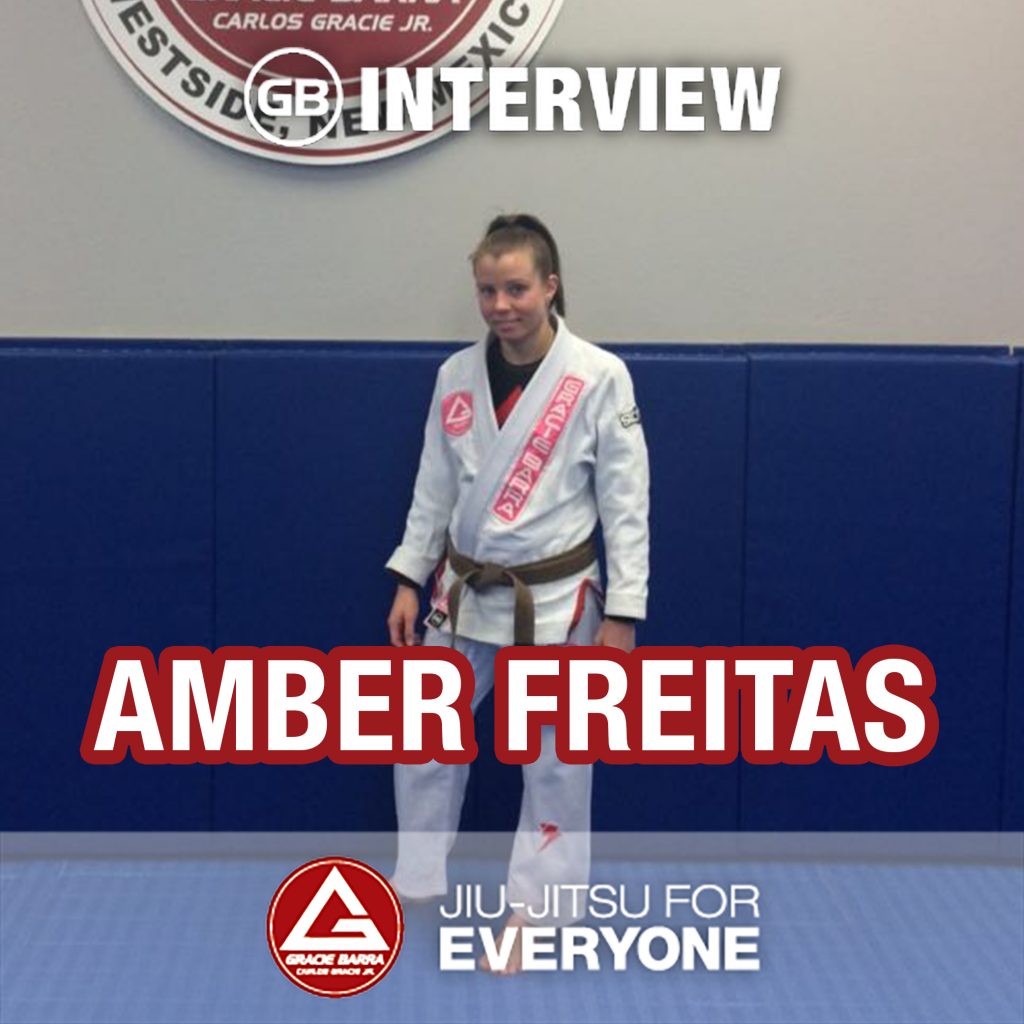 1. When did you start training Jiu-Jitsu? 
    ⁃    I started training jiujitsu in 2010
2. Where did you start training ? Where do you train now? Who's your instructor ?
    ⁃     I started training at Gracie Barra New Mexico in 2011 and my instructor is Rafael "Barata" De Freitas
3. What took you to start competing?
    ⁃    When first started jiujitsu I always wanted to try competition but I was scared to try. I always said when I got my blue belt I'll start competing. Once i got my second stripe on my blue belt my husband gave me that extra push to start competing, and I haven't looked back!
4. Tell us a little bit about your training routine?
    ⁃    Monday-Thursday I have strength and conditioning training every morning 9-10am. Then I have jiujitsu training Monday/Wednesday 1215-145 and 6-830pm. Tuesday/Thursday I have jiujitsu training 1215-115 and 6-8pm. Friday, Saturday, Sunday I work full time at the VA hospital from 730am-8pm
5. What's your favorite position or submission ?
    ⁃    My favorite position is back or mount and my favorite submission is the Omoplata/ Omoplata crucifix.
6. How is your tournament preparation ? How long before pan ams did you start prepping ? Did you do anything different?
    ⁃    I keep the same routine when prepping for a tournament and usually start prepping 8 weeks out because that's when i usually start my weight cut. I start getting into the competitors mindset by pushing the pace, increasing the speed and endurance,  to try to simulate the fatigue I will feel during the fight. I always push past the burning and tired feeling because i know i will be feeling that in the fight and i have to keep moving. I start to implement specific and situational training to help simulate certain positions(good and bad) that I'll be in at the tournament. I drill more during the week and when it starts getting close to the tournament I'll drill with my husband after I get off work.   This time I tried to not stress to much about the outcome and my weight. 
10.Did you abdicate of anything with the championship in mind? What was your hardest sacrifice if any?
    ⁃    When preparing for competition I always give it my all because I do not want to have any regrets once it's over. If that means sacrificing sleep in order to drill late at night when I get off work, sacrificing temporary happiness as in  not indulging and staying on a strict diet in order to make weight and feel good for training and the competition, Or sacrificing some time with friends or family in order to get more mat time in I do. Some days are harder than others but when I think about caving into cravings or skipping training I just tell my self " In the end this will all be worth it. You don't want to have any regrets and wish you've done more. You want the gold Metal more than you want this piece of chocolate! You got this!"
9. Tell us about your future plans! What's your next dream?
    ⁃    My next dream is to be 2018 world Gi champion! I have tried so hard to get to the top and always come up short.  I'm training hard to hopefully make this year my year!
10. Who's your idol in Jiu-Jitsu?
  ⁃    I have several people who's Style, game and technique I love;                                      
Males: Rafael Barata freitas, Mendez brothers, Cobrinha, Bruno malfacine            
Females: Bia Basilio, Mackenzie Dern, michelle nicolini, Ana Laura Cordeiro, Gezary Matuda
    ⁃    These just name a few, I don't have one specific idol or person
11. What do you do to control your emotions the day before or the day of the tournament ?
    ⁃    I talk to myself and give myself positive pep talks. I try to push all the negativity out and only think positive. I don't think about the fight until the ref calls us to step on the mat and by then it's to late to be nervous. I do this because I like to act first and not react to them. I also know that everyone is feeling the same way so I just need to go out there and have fun, I don't let other people's energy affect me. I just focus on my self and what I need to do, what I'll will do to win, and I will win.
12. Do you work with anything else rather than Jiu-Jitsu? Do you go to school? Full time Jiu-Jitsu?
    ⁃    I work full time as a Nurse tech (CNA) at the veterans hospital, three 12 hour shifts a week
    ⁃    I train jiujitsu full time also, I love jiujitsu and It's mine and my husbands life. I plan my life around jiujitsu. I eventually want to finish school to get my RN, but right now I'm enjoying training and competing.
13. Send a message to the next generation or who is just starting!
    ⁃    Embrace the jiujitsu lifestyle, it will change your life for the better. It will teach you how to keep going when life gets tough and give you the confidence you need to succeed at anything you put your mind to.  Never give up, jiujitsu will get hard and will test you but that is what will bring out the best in you. A black belt is a white belt that never quit, just remember that!
14. Have you ever thought about quitting? How did you go about ?
    ⁃    I have thought about quitting before, just out of frustration or because I feel that I'm stuck in a rut and my jiujitsu isn't progressing or because every tournament I did I lost and i would start to loose my confidence. I felt this a lot during my blue belt. But every time I felt this I would always tell myself "tomorrow is a new day, and a fresh start". No matter how much I didn't want to train I would force myself to train and keep trying. Eventually the negative feelings would pass and I could see my game improving and my confidence would improve and I would feel motivated again. Now I know that every jiujitsu competitor has or will feel this throughout their career and We will have our ups and downs. But I also know it's temporary and the negative feelings will pass. I never give up.
15. What does Gracie Barra or the Red shield represents and means to you ?
    ⁃    Gracie Barra means to me love,strength, pride, respect, unity,  family, health, and happiness. Gracie Barra has given me the opportunity to meet amazing people that I could call my friends. It has changed my life for the positive by, giving me a purpose or direction in life, has giving me motivation to live a healthy life style. It has thought me courage, strength, how to face my fears, how to be humble  and how mentally and physically strong I truly am. It has given me confidence within myself.  Jiujitsu led me to meet my amazing husband and is giving me the opportunity to travel and compete. It has given me the gift to help change other people's lives through jiujitsu.