Free Anti bullying course 2018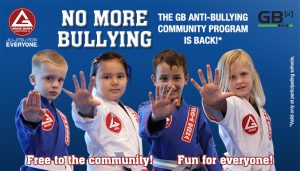 Hello Everyone,
our school is offering the Encinitas community an awesome Free anti bullying course to ensure the kids are going back to school with the confidence they need to deal with bullies and other uncomfortable situations. The Anti Bullying classes are FREE for kids of all ages and will consist of 4 classes on 4 consecutive Saturdays. Dates are:
Class 1 : 08/25
Class 2 : 09/01
Class 3: 09/08
Class4: 09/15
If you are  not a member of our school yet , please click on the link below for more information and to sign up
See you on the mats,
GBE TEAM.