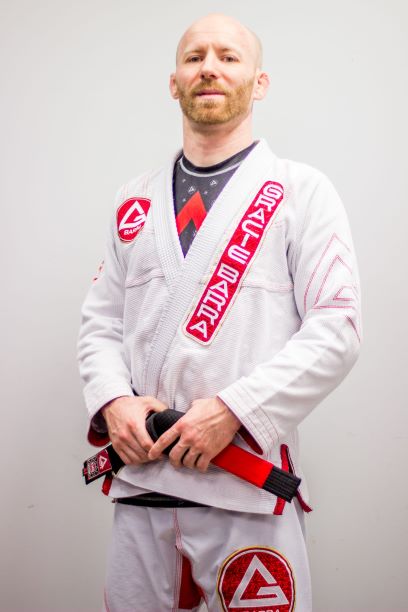 2. James Harnish – 1st Degree Black Belt
ICP5, ICP6, ICP6_Revisited, CPR
Professor James Harnish,
James was born and raised on the East Coast in the small town of Truro, NS Canada. In his early childhood days he played baseball for a few years then got into racing Moto-Cross competitively till he was about 16 years old. In his late teens he wanted to get into Martial Arts to learn how to defend himself but he did not make his way to one untill he was in his early to mid 20s. That is when he found Brazilian Jiu-Jitsu!
He thought he wanted to get into MMA so he joined the local kickboxing/Brazilian Jiu-Jitsu club, MarMac Athletics, at the age of 24. He tried a couple of kickboxing classes but figured he should start from the ground up and that is when he found Brazilian Jiu-Jitsu! At the time there was only No-Gi classes and from his first class he was hooked. He decided to focus all his energy into getting better at Jiu-Jitsu. He trained at MarMac for about a year and a half but then the Jiu-Jitsu program fizzled out. He was left without a place to train, that's when he found Gracie Barra Truro. There, he trained from white to brown belt under professor Chris Hughes.
Unfortunately after James got his brown belt the school where he was training at had to close its doors so he was again left without a place to train and also without a mentor because he wanted to stay loyal to GB. His good friend and teammate ,Ryan Ritcy, had previously introduced James to Professor Flavio Almeida who eventually took him under his wing as his student which he was very grateful for. Thankfully the Jiu-Jitsu program started back up at MarMac Athletics but MarMac was not affiliated with GB. The owner of MarMac respected the fact that James was loyal to Gracie Barra, their methods and their philosophies. James was able to stay loyal to GB and continue his journey to pursue his own personal goals/dreams and also to further his development as a Jiu-Jitsu practitioner as well as an instructor.
James competitive mindset from Moto-Cross helped him greatly when he decided to start competing in local Brazilian Jiu-Jitsu tournaments which he did very well in, always finding his way onto the podium. James then wanted to test himself further by traveling and competing internationally at the IBJJF events such as Worlds, No-Gi Worlds, Worlds Masters, No-Gi Pan Ams, Montreal Open and Toronto Open where he did not find much success untill he was a Brown Belt and won Gold in his weight division and Silver in the absolute at the IBJJF Toronto Open in 2016 and also at the Montreal Open where he took silver in his weight division, then at No-Gi Pan Ams in New York City where he took bronze in his weight division in 2017.
James passion for Jiu-Jitsu runs deep and he knew when he started teaching from a blue belt that Jiu-Jitsu was what he wanted to pursue, Jiu-Jitsu has changed his life in so many ways and he wants to help change peoples lives through Jiu-Jitsu, just like it has helped him change his!