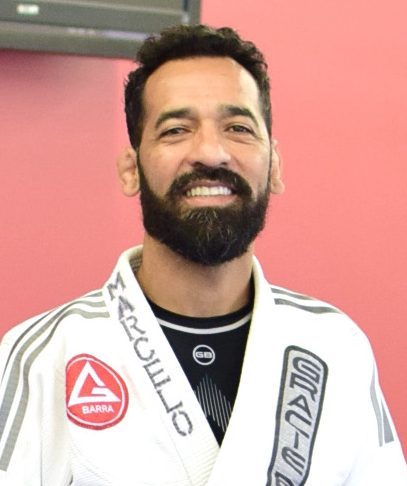 Professor Marcelo De Souza
ICP4, ICP5, ICP6, ICP6_Revisited, CPR
4th Degree Black Belt
Professor Marcelo De Souza was born and raised in Rio De Janeiro, Brazil.  He began training in 1994 at the legendary Gracie Barra headquarters in Barra da Tijuca, Brazil under Master Carlos Gracie Jr. and Prof. Marcio Feitosa and was mentored by them to eventually teach at the school.  He has since been an accomplished competitor and world known instructor.  After 10 years of training everyday, three times a day, Prof. Marcelo was awarded his Black Belt from the hands of Master Carlos Gracie Jr. in 2004.  He was part of the original team that came to the United States in 2005 to open the first school in North America and was the Assistant Professor at Gracie Barra Headquarters in Irvine, California which became the new home of Master Carlos Gracie Jr. and Prof. Feitosa.  Professor Marcelo has since gone across the United States helping Academies train new students in the skill, lifestyle and art of Brazilian Jiu-Jitsu.
Prof. De Souza's significant individual competition achievements include:
Brazilian National Champion in 1997
Brazilian National Team Champion 1998
Brazilian State Champion in 2001
Brazilian National Team Champion in 2002
Pan American Games Team Champions 2003
Prof. Marcelo stands out for being a great teacher of Jiu-Jitsu and self-defense, with over 25+ years of experience teaching children, adults and high-level athletes as well as his sense of humor.  He is an outstanding role model and mentor to all of his students.  His life philosophies of training, teamwork, friendship, and the GB Spirit are unparalleled.