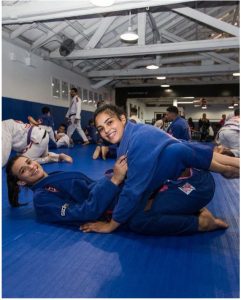 Gracie Barra Georgia Monthly Newsletter: September
"If you want to be a lion, you must train with lions". – Unknown
SPECIAL GUARD MONTH:
Our coaches Thauany, Maynne,  Kaique and  Keanna will be teaching  group private classes specifically  focused on attacking and defending from the guard position.
The classes will be held on every Friday during the month of October from 5-6:30pm.Fixed price for all 4 classes: $60 
Pre-registration is until 09/20 
Any time after that date: $80
Walk-ins on the day of: $25
KIDS CAR WASH:
Our competition kids students are raising money for their Atlanta Open tournament.
They will be washing cars on Saturday, September 14th from 11:30am until 1:30pm.
We ask all of our students come by the gym and support them.
All donations will be divided equally between all kids that will be cleaning the cars.
PARENTS NIGHT OUT:
Our Parents Night Out will be September 14th, from 6-10pm.
For GB members the prices are: $25 for the first child and $15 for each additional one.
For Non GB members the prices are: $30 for the first child and $20 each additional sibling.
WELCOME TO THE TEAM:
It is with a great honor that we welcome coach Kaique Kappler to our gym.
Kaique is a 4th degree brown belt from Brazil, his recent titles are an Atlanta Open champion and Chicago Open champion as well as 3rd place at the Brazilian No Gi championship.
He is definitely an awesome addition to our team.
COACH THAUANY'S SUPER FIGHT:
Coach Thauany will be fighting Alex Enriquez at the Center Stage on Saturday, September 28th.
Doors open @6pm, fights will be starting @7pm.
Tickets are available at the front desk.
CONGRATULATIONS:
Rodger Felty for earning his black belt and becoming the newest Professor of the GBGA Headquarters.To our coaches and students for their outstanding performance at the Master and Kids worlds in Las Vegas, NV.
Coach Thauany brought home another Gold, Prof. Marcia , coach Maynne ,  coach Kaique and coach Keanna won bronze.
Greg Williams fought very well, we are all very proud of his performance.
UNIFORM RENTAL POLICY:
Just a reminder that since July 1st, any part of the uniform that needs to be borrowed can be rented with a cost associated with it. Please keep in mind that we are having to wash, dry and restock these pieces after each use and get them ready for the next class or Intro Student.
If you need to rent a piece of the uniform, we can charge it to the card on file in case you don't have your purse/wallet with you. Also, please keep it in mind that unless your size is available for rental at the time of use, we may not have the resources to rent to you. Thank you so much for your understanding and please let us know if you have any questions, comments or concerns regarding this.TOP: $10
PANTS: $10
ENTIRE UNIFORM: $15RASH GUARD: $10
THURSDAY BREAKFAST:
Just as a reminder that we get together every last Thursday of the month after the 7:30 am class for a group class potluck breakfast! Everyone is welcome to join us and please feel free to bring something delicious!  This month it will be held on 09/26/19.
GRACIE DIET: 
Grapes are one of the best fruit to help protect against cancer, eye problems, cardiovascular disease, and other health conditions.  It's rich in fiber and potassium.
Regardless of how sweet the grapes are, in the Gracie Diet, grapes are considered an acid fruit and it can only be eaten by itself.
Frozen grapes are a great snack during summer time!
UNIFORMS: 
We are reinforcing the students to add their name onto their uniform.  It helps the other students to get to know each other.  As far as dress code goes, all students must have a clean Gi, and GB rash guard for both Gi and No-Gi classes.