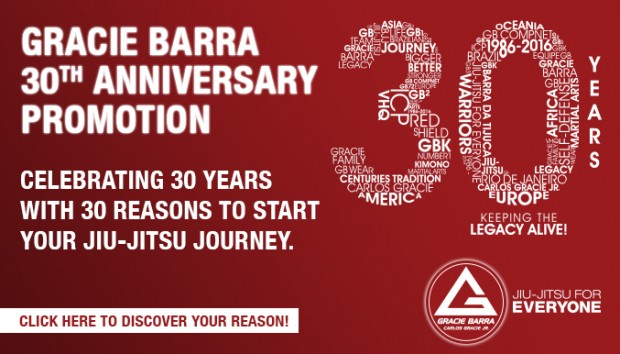 If you ever needed a reason to begin you Jiu-Jitsu journey, your search ends today. This month Gracie Barra is celebrating 30 years of Jiu Jitsu and GB is giving you not one but THIRTY reasons to start training today.
1 – Get in the best shape of your life!
2 – Surround yourself with great people who will help you accomplish your goals!
3 – Have a mentor that will walk you through your success as a martial artist!
4 – Get inspired to achieve more!
5 – 30% OFF – After all we are celebrating 30 years!!!!
Click here to Find a GB School NEAR you and learn more about the other 25 reasons why JJ will change your life for better!!!!
* Campaign Starts in February!
*Valid only at participating schools.
*Valid for new students only.
Gracie Barra – Jiu-Jitsu for Everyone
Gracie Barra Schools please check the program at vhq.graciebarra.com