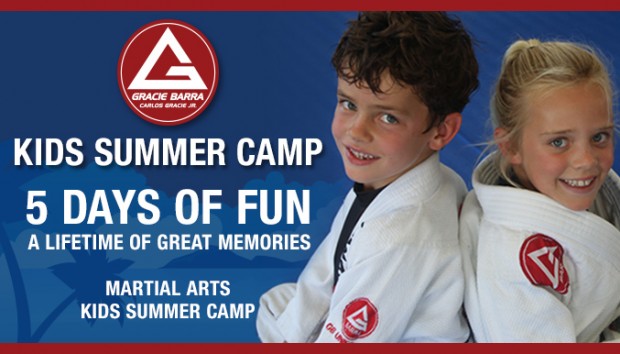 GRACIE BARRA BRAZILIAN JIU-JITSU is pleased to announce that will be offering a MARTIAL ARTS SUMMER CAMP, open to children ages 5 to 14 year old, over the summer break.
Our martial arts summer camps offer an amazing combination of martial arts instruction, life skills, self-defense skills, team work, fitness, and lots of fun. Our instructional staff is committed to making sure your child has a fun and safe summer with us while learning the most effective martial arts available.
GRACIE BARRA BRAZILIAN JIU-JITSU
Our martial arts summer camps are open to everyone.No prior martial arts experience is required! All of our martial arts summer camp instructors are full-time martial arts instructors with years experience teaching children. There's no one more qualified to give your child the best summer vacation of their life!
Classes taught during our Kids Martial Arts Summer Camps offer instruction in the following topics:
• Brazilian Jiu-Jitsu
• Judo
• Self Defense
• Bullying Prevention
• Basic Portuguese lessons
If you have a child age between the ages of 5 and 14 year old, then I urge you to get him or her involved in our Kids Martial Arts Summer Camps. Your child will gain confidence, discipline, respect for others and learn life skills that will help shape him or her into a stronger adult.
How much does it cost?
The cost to participate in our 5 day Summer Camp is only $199. All our students will receive a $50 discount on the camp. The discount is also available for our adult students who wish to register their kids, our a family member in our camp.
Our camp will:
• Increase your child's self-confidence and self-esteem
• Improve your child's focus and self-discipline, leading to better behavior
and better grades
• Provide your child with the skills and self-confidence to stand up to
bullies and to avoid peer pressure
• Improve your child's fitness level and athletic ability, while providing a
constructive outlet for their youthful energy
• Provide your child with valuable, battle tested, real self-defense skills
• Build life skills that your child will have for the rest of their life
• Learn new skills and have a great time while making new friends.
Schedule & Activities
*Brazilian Couture and Portuguese lessons not available in certain locations
Week #1 July 13 – July 17 Kids 5 to 9 yrs old
Week #2 July 20 – June 24 Kids 10 to 14 yrs old
8:40 – Doors open
9:00am – Class starts
9:00-9:15am – Warm up
9:15-9:45am – Brazilian Jiu-Jitsu/Technique & Drills
9:45-10:15am – Judo/Teory & Techniques
10:15-10:30am – Self Defense – Anti Bullying
10:30-11:00am – Snack Break
11:00-11:20am – Gracie Jiu-Jitsu history class
11:20-12pm – Brazilian Culture & Portuguese Lessons *
12:00pm Closing • Parents should arrive by 12 Noon to pick up campers.

Frequently Asked Question
Is my child going to learn effective Martial Arts or just some fancy looking
moves?
Our camps provide instruction in the most effective method of Self Defense in the world.
Does my child need to have any previous Martial Arts experience toparticipate in the summer camp?
Our summer camps are open to everyone – no prior martial arts experience is required.
Are these Martial Arts safe for kids?
Your child's safety is our top concern. All of our camp instructors have experience teaching martial arts to children in a controlled, safe environment.
Is food provided for the kids?
No. We recommend the parents to prepare a snack including food and drinks of their choice for the kids to have during the "Snack Break".
Is there a discount for families interested in signing up 2 kids or more?
Discount Policy:
Attention: in order to receive the discounts listed above the kids have to be part of the same household. Family members or relatives who are not part of your household will not qualify for the discount.
1st camper Full price $149/$199
2nd camper 25% discount $112/$149
3rd camper 50% discount $74/$99
4th camper FREE $0
Do I receive a discount for referring someone?
YES! For every referral who turns out signing up for the camp you will receive a $20 credit to be applied towards your bill. The discount is applied on top of your total balance. For every child referred by you, a $20 credit will be applied towards your balance. In case you have already paid for the camp we will cut you a check for the amount of your credits.
To find out more about our Kids Martial Arts Summer Camps check a GB School  Near you!
 *School participation may vary.