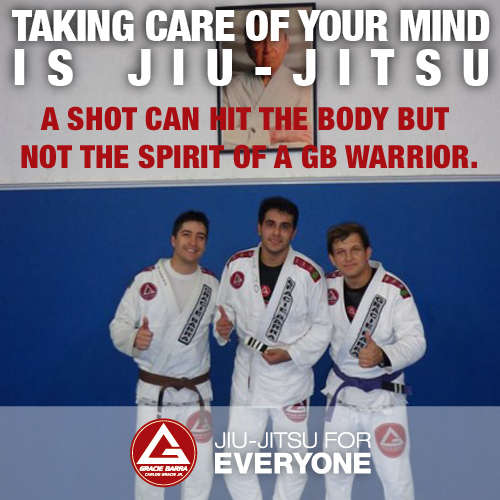 Jiu-jitsu lovers or not, we all know that sport has the power to transform lives. But when it comes to Jiu-jitsu and Gracie Barra, we are not talking about a simple team. We're talking about a gentle art school that has embraced the BJJ as a lifestyle and began to teach it to its GB legacy members. Teaching that fighting is not limited to the combat during competitions is one of our missions. Thanks to that, we can see every day normal people turning themselves into super beings and overcoming life's obstacles through the gentle art.

We are all equal when it comes to these challenges. Some days we are victims of stress, in other ones we overcome that, even being aware that the fight has not ended. We are surrounded by several factors that make us vulnerable to many problems, including the social ones. Although we may master effective techniques for self-defense and ground fight, nothing can protect us from the constant threat of violence spread in the society we live.
And on a given day, late last year, returning from a pre-college exam, David Fialho, white belt from GB Lorena (SP, Brazil), suffered a robbery attempt by two teenagers. After being approached, before he could even turn around, one of the robbers shot him. Both ran without taking anything, as David told us, "I got shot in the arm. The projectile went through the armpit and thorax and ended up fracturing a rib and perforating one of my lungs."
Caught by surprise, the white belt could have had his mats journey interrupted from that very moment on. His usual good class attendance level and excitement for the upcoming regional competitions might be converted into just another number to the statistics of violence victims in the cities. Fortunately, it was not this way.
Our warrior was sent to the hospital, where after undergoing a series of tests and x-rays, was diagnosed with a bullet lodged in the thorax and with his 4th right rib fractured. Despite the incident, David went to work the next day, but his employer's doctor referred him for further tests in order to get a prognosis.
Back at the hospital, a new surprise: "Besides that broken rib, I had a projectile lodged in my lung. That is to say, I had been practically breathing with only one lung for four days. I was hospitalized immediately, but due to lack of an expert, I didn't get the emergency surgery until the next day, after the specialist arrived," said David.
In some cases like David's, the victim can die in a matter of a few hours, according to the doctor Katia Froufe. Luck or miracle, our warrior had a pneumothorax drain implemented, as the projectile remained lodged.
It had been some months being unable to do any physical activity until school classes began, which kept this white belt away from the mats for more than 6 months. The distance from jiu-jitsu classes did not prevent the contact with his training friends, who always questioned him about the return to the mats. In a situation like David's, many would have given up or chosen to stop permanently.
But have you ever heard that phrase "Partners in training, friends for life"? Well, it fit perfectly to the life of this warrior, "I can say that the team spirit among colleagues, the respect and consideration that we have developed for each other on the mat and under the discipline and GB spirit were responsible for my persistence – even with new obstacles to overcome – with the gentle art practice. This shows that the relationship between members of Gracie Barra goes far beyond the mats, beyond sport," said the current 3rd degree white belt.
Now, he returned to the mats and is gradually recovering his "fuel" with breathing exercises to strengthen the injured lung. "I'm training under a bit of a delayed pace and somewhat breathless due to the injury in my lung, but it is a matter of time until I reach my team's level again (laughs)," proudly says David Fialho.
Persisting even when all seems lost is the greatest evidence that a true warrior can show. The true warrior is not just that guy who joins every competition and trains with no rest. Being a warrior is having a spirit like one. It is to continue in his/her journey, regardless and facing the ups and downs. It is being mentally and spiritually strong, even when we are physically weak. That's all about being a GB warrior.
OSS