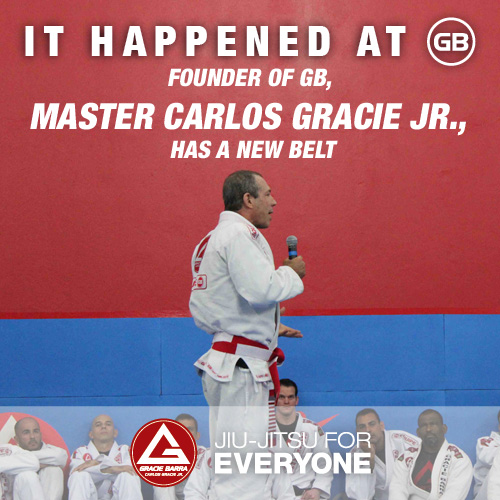 Last weekend (April 24 and 25th), Campinas, Brazil, held the second edition of the GB Conference in the country. The team, founded in 1986 and with more than 200 school owners attending the event, saw its leader receiving the 8th degree black belt – the red and white belt.
Officially recognized by the International Federation of Jiu-Jitsu (IBJF), the red and white belt is the continuation of the black belt path. After 6 degrees of black belt, which represents a 50-year period in graduation, one may finally reach up to the "Coral" belt (black and red). The black-and-red belt graduation should last at least seven years. It is noteworthy that a belt graduation period is based on the actual presence on the mat; that is, it's not a matter of taking the black belt, standing still and even so, getting a new degree after the passing of some time, as Carlos Gracie Jr. himself said during his graduation ceremony: "If you give someone a black belt today and this guy spends 10 years out of the jiu-jitsu, without training, without proving that he is active in jiu-jitsu, those 10 years will not count. If you go back after 10 years from now, you will be a black belt with no degrees at all. The degree is for that guy who is active, within the jiu-jitsu."
In terms of presence, Master Carlinhos – as he is affectionately named by his pupils, needs no comment. Always in a good mood, the son of Grand Master Carlos Gracie trains every day, which gives him an incredible willingness and much strength during the rolls. The days until the red and white belt were not counted by the Master, something that was visibly noticed by his calm face at that moment. This is quite unlike what many people would do, counting every hour and minute for a new graduation. The time has passed in a natural way for the Master, among trainings, injuries and classes, normal habits for a whole life dedicated to the gentle art.
59-year-old, Carlos Gracie Jr, son of the Brazilian jiu-jitsu creator, concludes another cycle, celebrated in a meeting whose purpose was to continue his work. The old belt was replaced by a new graduation and the power to an old dream: to take the Jiu-Jitsu for Everyone to a GB school in every city in the world. Surrounded by his followers – men and women willing to fulfill the mission to carry out his dream, Carlinhos was fervently applauded and had at his waist, from the hands of the Master Mauricio Robbe, two new colors. For the founder of GB, it is clear that the new belt not only means his activity time in the gentle art, but mainly the milestone of 59 years exclusively devoted to a sport that has been changing, day by day, thousands of lives around the world.