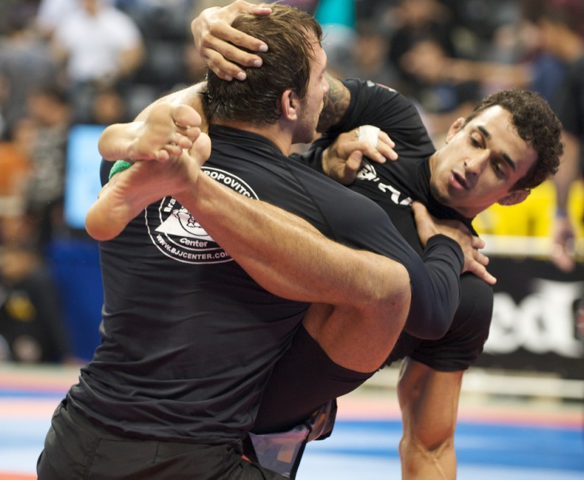 What hasn't been said about Romulo Barral? This 3 time black belt world champion is considered one of the greatest competitors of all time. Having started Jiu Jitsu at the age of 14 at the famous Gracie Barra Belo Horizonte under the tutelage of Vinicius "Draculino" Magalhães Barral has been making Jiu Jitsu headlines ever since. Now the 29 year old black belt has finally opened up his first school Gracie Barra Northridge. His school's opening was such a big event that it was featured in the 28th  episode of Budo Videos Online's hit show Rolled Up. Professor Romulo was kind enough to take time out of his busy schedule to answer some questions about what he has been up to.
You finally opened your first school in Northridge, California. How do you like having your own school?
I love it! It's a dream come true to have my own school and to help change peoples lives with the Jiu Jitsu life style .
Why did you pick Northridge as the location to open your school?
I like this area, there is a big university across the street from my gym and a lot of nice people here. I really enjoy living in the valley .
Who are some of the people who are helping you run that school?
I have the best people to help me with the academy! My wife Janaina and my good friend Jaeson Bianchi take care of almost everything. Jaeson is doing a really great job running the kids program at the academy.
How do you balance your schedule to run your school while still trying to be on top of the competition world?
I have a great support network.  My wife Janaina, my friend Jaeson and of course all of my students.
What is your training schedule like?
Right now I have guys here for a training camp and we are training all day everyday! We train Jiu Jitsu three times on Mondays and Fridays. Tuesdays and Thursdays we do two Jiu Jitsu trainings and strength and conditioning. Wednesdays we train Jiu Jitsu once and then we all run together. Saturdays we do conditioning and one Jiu Jitsu training .
You took 42 athletes to the GB Compnet 13 tournament. What did you think of that experience and what is your vision for that tournament?
It was a great experience seeing my students competing. The tournament is a great idea having all the GB students competing and putting together all that the GB instructors taught them.
Tell us about your effort in bringing athlete's from Brazil to make our Gracie Barra team stronger.
I am very competitive and I believe GB is the best team of all the time. I think if all the GB instructors do the same thing we will have the strongest team in the World. I want to see GB on top again and believe that I can help play a part in that.
Who are some of the people that you have brought in?
I have brought in blue belts all the way to black belts here to train with me from Brazil. At blue belt I have Pedro and Gabriel, at purple I have Felipe Miranda, at brown Felipe Pena and Frankly, and at black belt I have Claudio Matos Caloquinha. I also have Mitch from Canada here and many of the GB professors come here to train with me as well, and of course all of my students.
How do you encourage your students to compete? What do you do that gets them so excited about competition?
I really don't push them. If they want to I will help them anyway I can mentally, physically, technically, and with their diets. Basically anything they need to improve so that they can do well I want to help them with. I think they all like to compete since I am still training and competing .
You got your black belt from Professor Vinicius "Draculino" Magalhães. What is one of your greatest memories from training with him?
I have many great memories from our training. One recent memory was at the 2011 World Championships. I had lost my second fight in the absolute and I didn't even want to do my weight class. Draculino was there coaching me and he pushed me hard to fight and do my best to win.  He told me  "Go get your gi! I never taught you to quit and you never did! Today is not going to be that day." That was enough to push me to get on the mat and do my best.
What was one of the most important lesson Professor Draculino taught you?
He taught me pretty much everything, but the most important lesson was how to be extremely professional in my career. Not only as a fighter and competitor, but also as a leader. He taught me how to not only make good fighters but to help create good people too.
Who are some of your all time favorite competitors in both Jiu Jitsu and MMA?
I have a lot Jiu Jitsu heroes! I will name a few for you; Roger Gracie, Braulio Estima, Flavio Almeida, Marcio Feitosa, Erick Wanderley, Cristiano Titi, and Samuel Braga. These are my favorite fighters on my team Gracie Barra. I also really like  Ronaldo Jacare, Rubens Cobrinha, Andre Galvao, Fernando Margarida, Rodolfo Vieira, Marcus Buchecha, Braga Neto, Marcio Pe de Pano, the Mendes Brothers, Saulo Ribeiro, and Xande Ribeiro.  My list is very big I like a lot of different fighters. For MMA  I really like; George St Pierre, Rafael Sapo Natal, and Frankie Edgar.
What are your plans for the future both as a competitor and an instructor?
I want to compete for a little bit longer at a high level. I plan on teaching for the rest of my life. I want to help people improve their health and their person through the Jiu Jitsu lifestyle.
Rolled Up episode 6: Open Guard Goodness with Romulo Barral
Rolled Up episode 7: More Open Guard Goodness with Romulo Barral