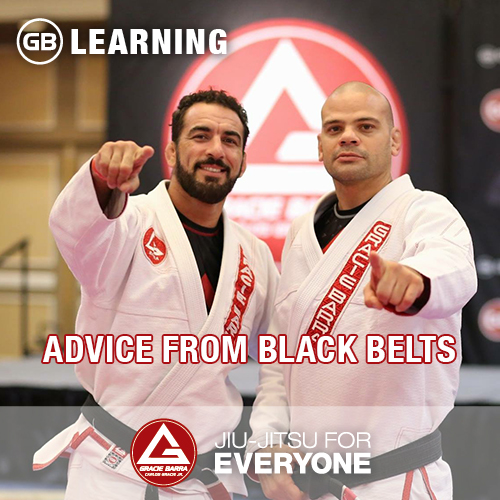 Advice From Black Belts
Over the last several years I've had the opportunity to interview multiple black belts from Gracie Barra. From World Champions of jiu-jitsu all the way to instructors starting new academies in different parts of the globe.
Certain common themes emerge from the different conversations revealing the mind set of those students of jiu-jitsu who began at white belt and persevered all the way to black belt and beyond.
1)  A love of jiu-jitsu
Again and again the various black belts expressed a love for training. For being in.the academy around friends who shared the same love for jiu-jitsu. There is a joy of sharing the art with new students and creating new training partners and friends.
Prof. Randall Huot : "I try to make them aware that jiu-jitsu is a lifestyle and philosophy that will change their lives in profound ways, and not just in regards to physical health. Yes, jiu-jitsu will get you in great shape, but more importantly you will acquire a skill set that has been shown to have real-world applications and that will foster a confidence and sense of self-worth that you just can't get from a membership to a gym. "


No challenging pursuit is without its obstacles. Jiu-jitsu is no different. Going to the academy through periods of both ups and downs requires more than just a desire for the next belt. They love practicing the art and being at the academy.
2) Positive self belief
"Leave your ego at the door" is an axiom in jiu-jitsu. It is good advice because your ego is going to be tested! Your resolve to overcome obstacles in training is going to be key to your perseverance over your bjj career.
Preparing for a high level competition, trying to learn advanced positions and go to a higher level in your jiu-jitsu require a positive mindset to tackle something that is currently beyond your reach.
Positive mind set is about setting higher and higher goals and working through the inevitable difficulties with the reward at the end.
A great example of a positive mind set is Lucio "Lagarto" Rodrigues is overcame a cancer diagnosis to return to world level competition.
GB : A few years ago, you successfully overcame cancer and returned to training and competition.
Can you tell us about that experience and what it taught you about your life?
 
Lagarto : "That cancer just knocked on the wrong door ;))
I didn't change anything in the lifestyle Carlos Gracie Jr taught me.
I looked at it as a challenge I had to overcome.
It's funny to say it, but it was a very good experience, things I learned I would not have learned in any other circumstances.
Appreciate every second as your last in every little detail, life becomes so beautiful."
3) Be humble and open to new learning
Gracie Barra offers an annual Instructor Certification Program ICP where top professors from around the GB network share their experiences. I was at first surprised at how many of the instructors like Draculino from GB Texas made the point about being open to new information and continuing your learning throughout your jiu-jitsu career.
GB: How do you feel about the current popular sports bjj strategies that emphasize positions like berimbolo, inverted guard and lapel guard?
Professor Draculino: " I am more in favour of the evolution.
I actually like and appreciate the new techniques such as inverted guard, berimbolo, and lapel guard. They are all good.
I don't have anything against them. I think that it is part of the evolution of the sport.
I think that hey need to be taught, they need to be understood. Even if you want to defend against them.
When you mind is closed you are shut off to new information and continued growth. "
If Gracie Barra professors with 20+ years of experience are open to new information, we would do well to follow their example.