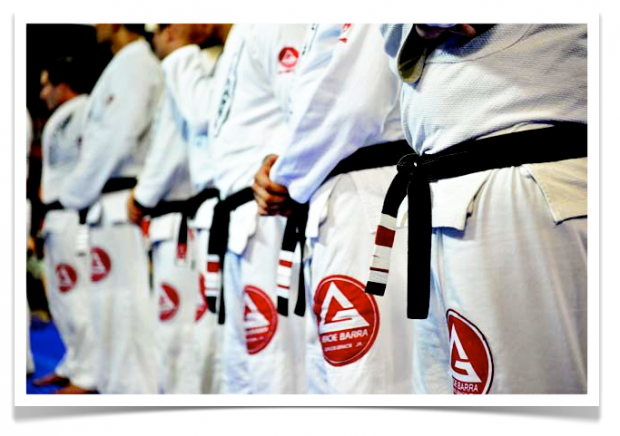 Gracie Barra is an outstanding organization focused on providing the highest level of Brazilian Jiu-Jitsu instruction as a tool for individual growth, as well as strengthening of families and communities for people of all ages, genders and backgrounds.
While this definition may seem obvious for those familiar with the organization, GB's unique philosophy and vision inspires its instructors, administrative staff and other members, to embrace the ambitious challenge of bringing GB Brazilian Jiu-Jitsu to as many people as possible or, using Master Carlos' words, to establish a GB school in each city in the world.
At the moment you decided to become a Gracie Barra member, this challenge became yours. Like the many people who came before you, your life will be partially or fully dedicated towards the accomplishment of that vision.
Therefore, it is essential to have a deep understanding of the origins of GB and how its philosophy, vision, methods and tools were forged.
The Black Belt Certification
The gentle art is based on the fundamental principles of balance, efficiency, effectiveness, adaptation, mutual support, and leverage. During practice, the student is constantly making use of these principles to accomplish a desired goal, be it a sweep, a take down, an escape, or a choke, to name a few examples.
A persons progress in Brazilian Jiu-Jitsu is a consequence of mastering these principles. It is natural for the student to draw parallels between the challenges faced on the mats with the challenges faced in his/her daily life. Once that happens, the student begins a process of personal transformation leading to significant improvement in his or her lifestyle and well being.
Being a GB Black Belt means being in an advanced stage in the process of improving the quality of life through the practice of Brazilian Jiu-Jitsu. The GB Black Belts have experienced a significant improvement in their lifestyle and well-being through the practice of Jiu-Jitsu.
The GB Black Belts are committed to develop themselves to their fullest potential, always seeking to attain perfection of character.
If you are a Gracie Barra Black Belt, join us for this amazing project to create a global database. Let's tell the world about us! To participate, receive a certificate and be listed on the website, fill up this form.
GB Black Belts Database
Gracie Barra Association awards all Gracie Barra Black Belts with a certificate of honor, recognizing their rank and achievements. You can consult the databse of all Gracie Barra Black Belts here.