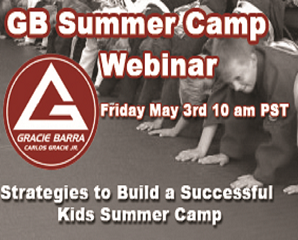 Strategies to Build a Successful Kids Summer Camp 
Running a kids camp at your school over the summer is an excellent way to increase revenue, grow your student enrollment, and spread awareness about your school throughout the community. The GB Kids Summer Camp is a place where fun, learning and practicing the art of Brazilian Jiu Jitsu Lifestyle is taking place. A safe, well-staffed, energetic and positive environment is key to developing our future leaders.
On Friday May 3rd from 10am to 11am PST Gracie Barra Association will be holding an online webinar to discuss the benefits of running a kids summer camp at your school along with the procedures and policies necessary to run a successful, safe, and fun camp.
Take a minute to register by clicking the link below.